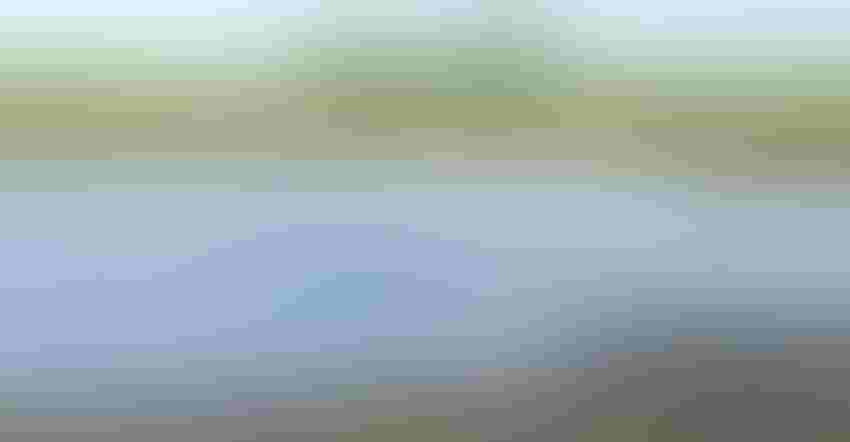 SATURATED SOILS: How much rain can young crops tolerate early in the growing season?
Rod Swoboda
Heavy rain dropped 2 to 5 inches across northeast Iowa on June 9. Some areas of western Iowa also received up to 5 inches of rain in a 24-hour period. Flooding occurred on cropland, although most is short term.
The ponding on lower areas of fields eventually drains off. However, it raises questions. How long can young crops withstand the standing water? Will you need to replant those areas? Will flooding of fields early in the growing season set up disease issues for corn and soybeans later?
Iowa State University Extension field agronomist Brian Lang says concerns about ponded or flooded crops don't evaporate when the surface water leaves. If the soil stays saturated for an extended period, bad things can still happen. He offers the following observations regarding early-season crop tolerance to flooding.
How long can corn survive?
Young corn plants can survive if there is only two to four days of flooding. Plant survival greatly increases if the growing point is not completely submerged, or if it is submerged for less than 48 hours. Also, the warmer the weather, the shorter the survival period. If temperatures are greater than 77 degrees F, that warms the water enough so that the plants may not survive if they are underwater for 24 hours.
Keep in mind while soils are saturated, nutrient uptake is reduced, and corn plants are more susceptible to certain diseases such as root rots, crown rot and Crazy Top. Once the water recedes, growth resumes in a few days.
Beans more susceptible
Soybean plants in the vegetative growth stage can tolerate fields being flooded for 48 hours or less with little adverse impact. Fields flooded for four days usually cause some reduction in node development, resulting in shorter plants and some yield reduction. With six days of flooding, expect large yield reductions, and after seven days, significant loss of stand.
Clay soils dry slower than silt loam soils, and this has a more significant adverse impact on the crop. Research has found that flooding at the V4 stage of soybean plant growth showed a yield loss of 1.8 bushels per acre per day on clay soils, and eight-tenths of a bushel per acre per day on silt loam soils.
While soils are saturated, N-fixation will be reduced and plants are more susceptible to infection from root rot diseases such as pythium, phytophthora, fusarium, sudden death syndrome and brown stem rot.
Alfalfa can suffer from silt
Alfalfa plants can usually withstand flooding for up to three to four days without damage. Alfalfa plants usually recover from silt deposits of less than 2 inches. Silt deposits over 2 inches on the plants will weaken the stand, and you may need to regrade and re-establish the alfalfa seeding in places. Areas of the field where the crop is silt-covered either needs rain to wash off the silt, or you need to chop the crop and spread it back onto the field.
Do not harvest a silty hay crop for feed. It has a high ash content and possible microbial contamination. While soils are saturated, N-fixation and nutrient uptake by the alfalfa plants will be reduced.
Pasture precautions for grazing
Most perennial cool-season grasses can withstand flooding for seven to 10 days. A possible impact of flooding on grass pastures may be excessive sediment deposits. Most perennial forages can produce new shoots and tillers if sediment deposits are less than 2 inches. If crusting occurs, you can use a light tillage operation to level the sediment and enhance recovery of the forage plants.
With deeper sediment on the pasture, plants can suffocate and result in substantial stand loss. In these areas, mechanical removal of the sediment is preferred to reduce plant loss and reduce the need for reseeding.
Of concern with sediment deposits is possible microbial contamination. If the water flowed past manure piles or overflow of sewage treatment plants, it may contain microbes harmful to grazing animals. The general recommendation is to wait one to two weeks after the water has receded to allow microbe populations to diminish. The pasture should then be safe to graze.
About the Author(s)
Subscribe to receive top agriculture news
Be informed daily with these free e-newsletters
You May Also Like
---