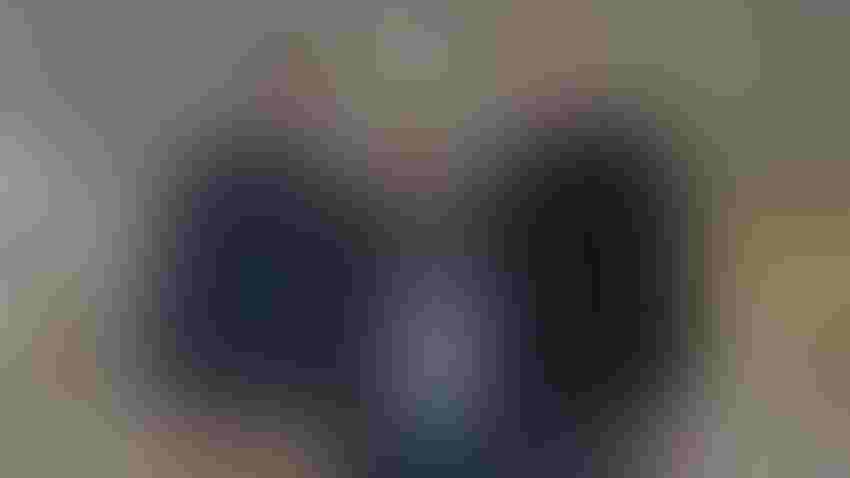 IN TRANSITION: Highland Family Farms, consisting of Gabe (left), Kristin and Pat Duncanson, along with Pat's brother Tom, is an operation in transition, and that is reflected in the farm shop-office-living quarters being completed just west of Mapleton, Minn.
Photos by Kevin Schulz
Highland Family Farms is in transition, and the owners saw a need for their facilities to transition as well.
Pat and Kristin Duncanson, along with their son, Gabe, and Pat's brother, Tom, envisioned the need over the years for an improved shop to be central to the working of Highland Family Farms, near Mapleton, Minn.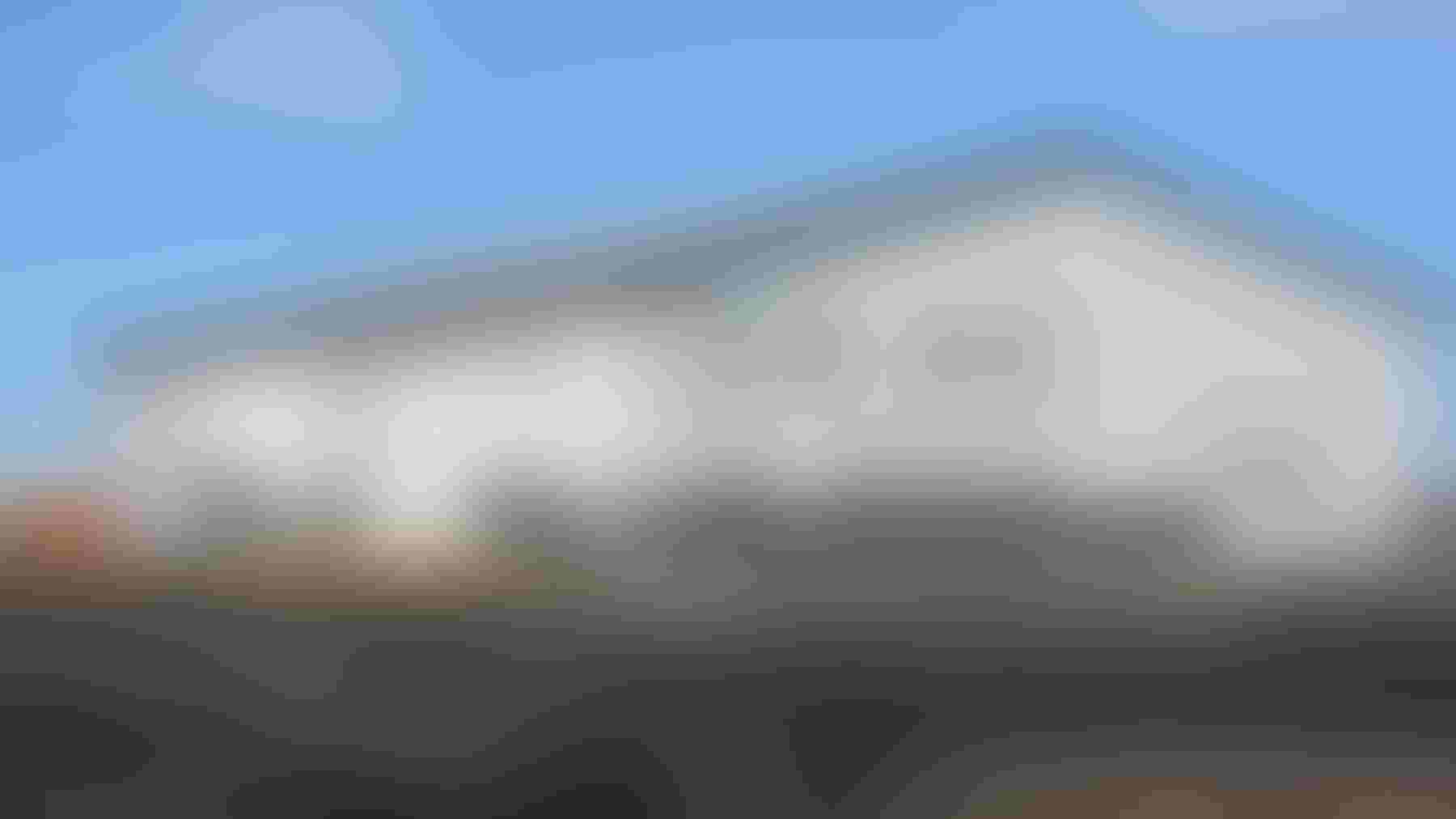 ALL-IN-ONE: Upon completion, the 80-by-124-foot building will be the base for the center of operations of Highland Family Farms, complete with shop, offices and living quarters.
"We need to have a base for the center of operations on the farm," Gabe says. For the past three to four years, the shop work had been done in a cold storage building on the family's homesite, and the office has been in the home.
"We needed a place to work on equipment in the wintertime, and usually this time of year [late February] is a time of the year that we should really be going through equipment meticulously, servicing things ourselves," Gabe says. "Having a heated space will give us the opportunity to do that and maintain our equipment a lot better."
Minnesota winters can be brutal on farmers trying to get equipment ready for spring when working in non-climate-controlled workspaces, especially winters that push up against planting season.
"When it finally does warm up, in late March or whenever we can work outside, the amount of time we have to get all the equipment ready versus when we need to be ready to go to the field is just too short to get it all done," Pat says. "It's not impossible to work in a pole shed nine months of the year — a lot of farmers do it — but those couple of months in the winter, if you're going to actually do anything, I'm going to say it requires someplace that's climate controlled."
Like most grain farmers, the Highland Family Farms crew moves grain all winter, and they also have multiple hog sites that require snow removal, so "having a dependable place to put a snowplow, bringing that equipment in and melting it off and ensuring it will start," is essential, Pat says. "And God forbid if anything breaks — we have a place to fix it."
As the family operation grows, they also saw a desire for more professionalism, and they created an office atmosphere, replacing what was done at the kitchen island. "We look forward to moving the office out of the house," Kris says, "and to have an office for Gabe that overlooks what's going on in the shop — yet allows him to have a desk to get his portion of running the farms in his ground done in an office setting."
Satisfying the needs
Housing all of this is an 80-by-124-foot structure, 80 by 100 feet of which will be the working shop. The extra 24 feet will house multiple separate offices, a conference room, a full kitchen, a bathroom, a shower and storage on the main floor.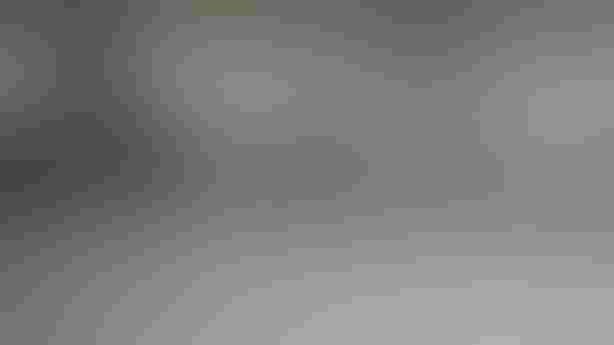 SETTING THE BASE: The crew from Tolzmann Construction of Wells, Minn., maneuvers the concrete for the floor of the new shop area at Highland Family Farms.
Kristin will create meals for the farmworkers from the new kitchen.
The second level will have more storage, as well as a bunkhouse with a kitchenette, for when son Ben returns to help with farming (Ben currently lives in Washington, D.C.), or possibly seasonal employees if the operation has employment needs.
Pat and Ben handle a majority of the farm's financial matters, and Ben also returns in the spring and fall to help as needed.
Pat and Kristin even see a time when they may be the ones coming from afar to help on the farm when needed, and they would use the new living quarters.
Fluid layout
The concrete for the shop floor was poured March 28; thus, it isn't properly cured to allow use for this spring's preparations. As they see this shop as a transition piece for the farm, the exact layout of the inner workings of the shop area are fluid. The in-floor heat makes for comfortable heating and is cost-effective. Two overhead doors on the west side (the larger of the two is 26 feet wide), one on the east side, and a 42-by-19½-foot cantilever door on the north side all allow easy access for equipment.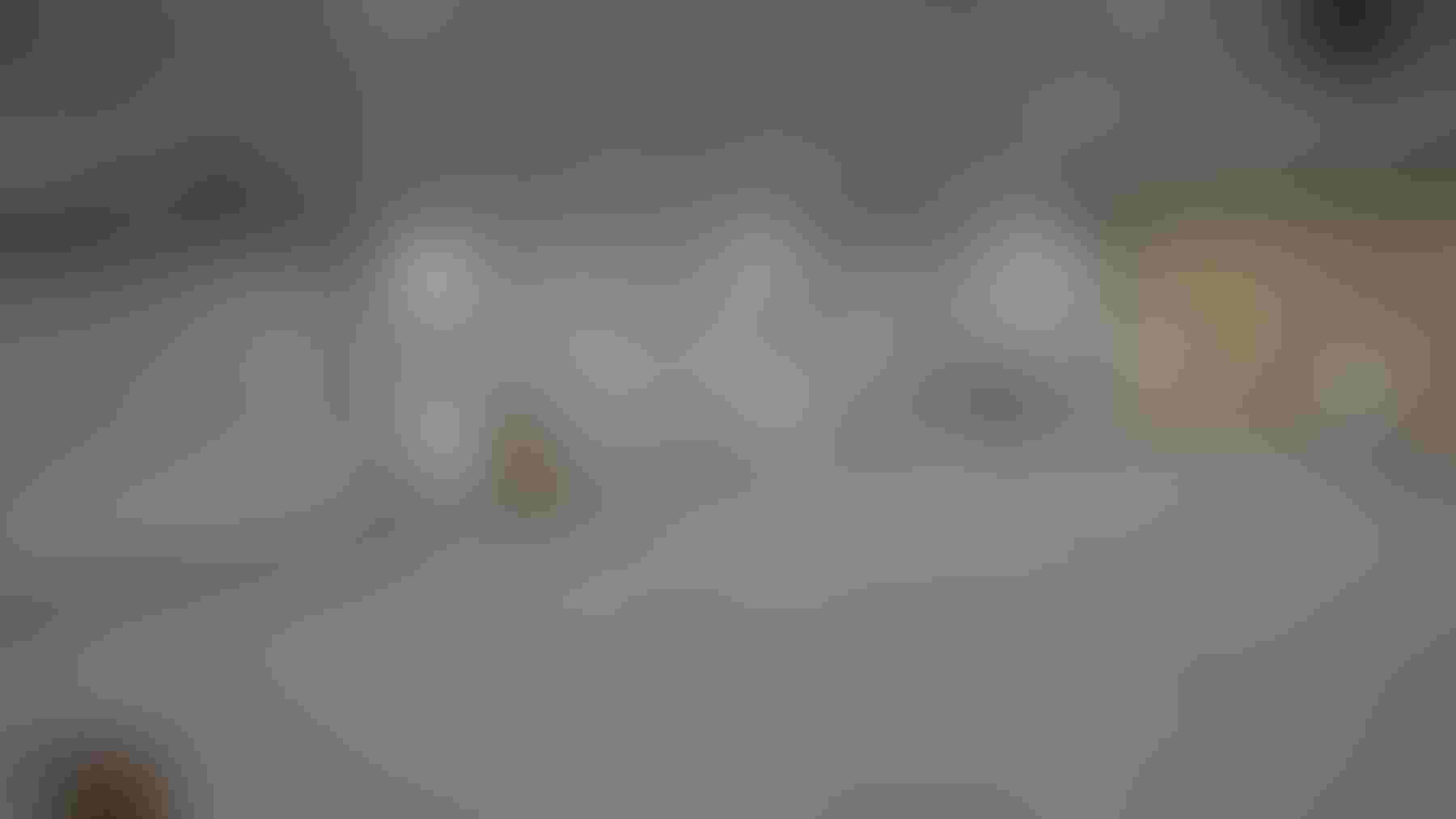 EASY ACCESS: Overhead doors on the west side and north end (as well as one on the east side) allow for the ability to pull in large equipment easily — in addition to adequate room to work on and clean equipment year-round.
There are two floor drains in the shop area, and Gabe sees the benefit of having a wash bay to be able to bring equipment in for a thorough cleaning — especially in the winter to rinse off salt.
"We needed a place where we could get our combine in in the middle of harvest if we're running snow through it and we needed to defrost a combine," Gabe says. In addition to the existing shed not being heated, the doors aren't high enough to get a combine in without folding down the grain hopper.
To allow for enough room, they went with 20-foot EPS panels placed on a 1-foot concrete stem wall, to allow for 18-foot overhead doors.
A portion of the existing shed is also for grain storage, "so it will be nice to get that storage back," he says.
Diversified farm
Highland Family Farms consists of corn, hybrid cereal rye, and both food-grade and seed-grade soybeans, in addition to cover crops. This past year was their first year being certified organic on 100 acres of soybeans.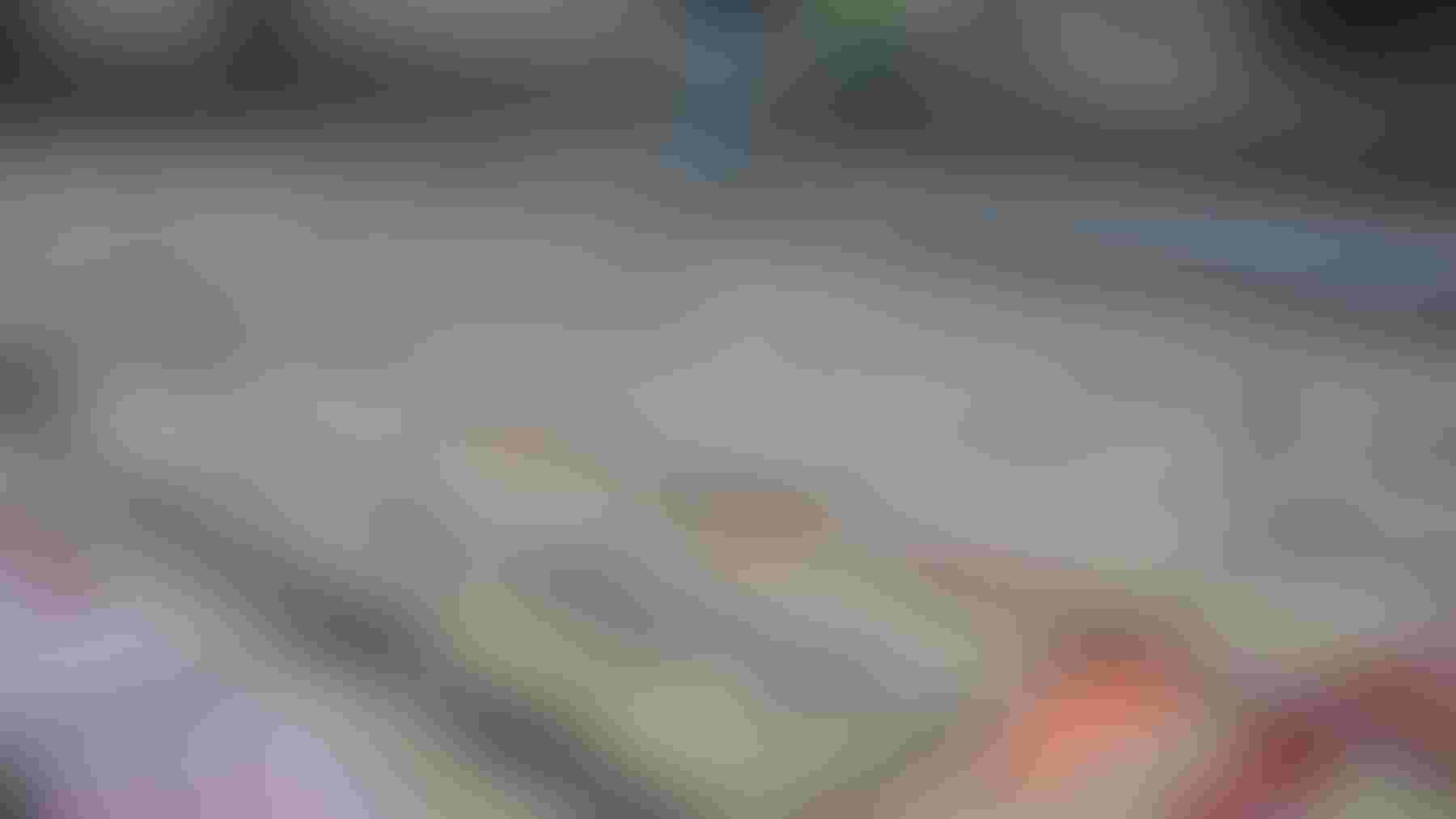 COMFORT, EFFICIENCY: In-floor heating will not only provide a more comfortable area when working on equipment, but it also will make overall heating of the structure cost-effective.
Also under Highland Family Farms are seven hog sites, on four of which HFF owns the pigs; on the other three, HFF manages the operation.
Highland Family Farms is in transition, as Pat and Kristin eye the time when Gabe and his oldest brother, Ben, "and potentially other family members involved more of the business side of the farm, having a more professional atmosphere where we can have a little bit of structure of 'OK, this is the farm side,' and then we get back into our houses — that's the family side," Pat says. Pat and Kristin also have a daughter, Claire, and son Sam.
Though this new shop-office-living quarters will be the business center of the operation, Pat sees it serving a dual purpose for the growing family. "It's going to be a part of our family enjoyment unit," he says, "so I expect there'll be a basketball hoop and maybe a pickleball court."
Kristin also sees this facility fulfilling the Highland Family Farms mission of being sustainable and regenerative, "and define those as you will, but we're hoping that this building can be LEED-certified [Leadership in Energy and Environmental Design] long-term. That's just a part of our makeup and one of the pillars of being conscious of our resources."
Subscribe to receive top agriculture news
Be informed daily with these free e-newsletters
You May Also Like
---