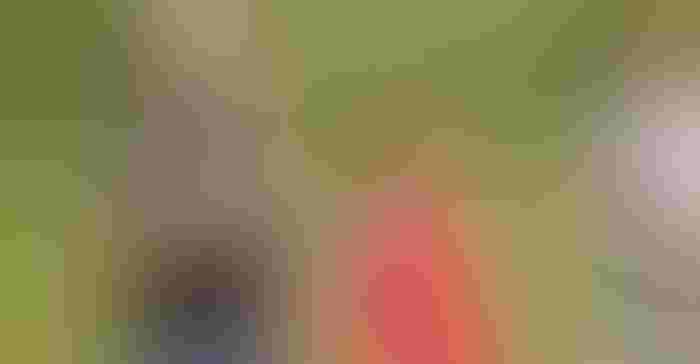 Herbicide resistance in weeds – in particular, Palmer amaranth – has been described as a "wicked problem." It's a problem the Iowa Pest Resistance Management Program has been working to address, particularly in Harrison County, Iowa, where the focus since the program's inception has been resistant weeds like Palmer amaranth, waterhemp, marestail and giant ragweed.
Larry Buss, an Iowa Master Farmer in Harrison County, notes Palmer amaranth was first discovered in Iowa in his county in August 2013.
"It had been growing for some time before that because there were several plants at the site, and the site was southwest of Modale. I had read about what a scourge it was to some locations in the south and southeast parts of the U.S, but I confidently felt that I would be long dead before it ever got up here in the area I farm in," Buss says. "Once it got here, I was a vigilante, because I knew what it would do. I naively thought that we could eradicate it in Iowa."
It's hard to say for certain, but Buss theorizes that Palmer amaranth seed may have been brought in through industrial waste that was applied on a field prior to 2013 to improve organic matter.
Then, in 2016, many growers across Iowa enrolled new acres in the Natural Resources Conservation Service's Conservation Reserve Program (CRP), Environmental Quality Incentives Program (EQIP) and other conservation programs. In a number of cases, native prairie seed mixes designed for these programs were contaminated with Palmer amaranth seed from outside the state.
"We found out a lot of the seed came out of the South and Southeast and had Palmer seed in it. So it pretty much got spread all over the state because we planted it," Buss says. "In 2017, the Iowa Legislature finally added Palmer amaranth to the Iowa noxious weed list. I just don't think that they knew what a scourge it was before then. That's how it got spread around. Locally, it is spreading."
In 2015, the Iowa Department of Agriculture and Land Stewardship, and Iowa State University held a meeting to discuss the threat of herbicide-resistant weeds, in addition to other resistant pests. The idea for the Iowa Pest Resistance Management Program (IPRMP) was born out of that meeting, and the program was officially launched in early 2017. As part of that program, four pilot projects were kicked off in different parts of Iowa, including central, northeast, northwest, and west central Iowa in Harrison County. In Harrison County, the focus initially was Palmer amaranth, but has since expanded to include waterhemp, giant ragweed and marestail.
"Within a month or two of the announcement, I was organizing a team here in Harrison County. And that team still exists today – farmers, landowners, local agronomists, local crop advisers, local lenders, and some Iowa State Extension agronomists and educators, chemical and seed company representatives and farm organizations," Buss says. "We knew that we would not get much interest in pest resistance management with other farmers if we just focused on Palmer, as Palmer was not considered a widespread problem. So we expanded it to include waterhemp, marestail and giant ragweed, which most farm operations deal with."
The program has involved testing for resistance to different herbicide groups in different weed seed populations. More recently, it's also involved additional methods for weed suppression – like cover crops. However, a big part of the effort has been community outreach and working with farmers, agronomists and other members of the community to raise awareness on the severity of the issue.
"To me, it's a change of the mindset that pest resistance is here, and we have to deal with it. I tell people that pest resistance needs to be considered in your cropping decisions, just like fertilizer, just like your seed, just like anything. It's that important," Buss says. "Resistance is here, and its impact to agriculture in terms of increased costs, decreased yields and decreased profitability is coming faster than we used to think it would come."
Resistance here to stay
In the fall of 2018, 2019 and 2020, the group collected weed seeds from around Harrison County and sent the seeds to a lab at ISU to test for resistance to various herbicides. Results so far are showing weeds are getting more resistant.
"We sampled a few random locations in 2018. We had some waterhemp, some Palmer amaranth and some giant ragweed," Mike Witt, an Iowa State University Extension field agronomist and member of IPRMP in Harrison County, explains. "At Iowa State, they grow them up in the greenhouse, spray them in a spray chamber, let them grow and count the number of survivors. The higher the weed survival, the less effective the herbicide. In 2018, we had some cases where we didn't have 100% survival after applying glyphosate and some other herbicides. We had some Palmer amaranth populations that were susceptible to Group 27 herbicides, and some were not susceptible."
Different populations of randomly collected weed seeds were again tested in 2019 from across Harrison County. Populations were considered resistant when 20% of the plants survived and reproduced seed, after a rate of four times the normal rate of an herbicide was applied. Meanwhile, a 30% threshold was used for 2,4-D and dicamba when applied at the normal rate.
"We had about 30 waterhemp populations in 2019, and ISU did the exact same screening," Witt says. "We have confirmed resistance in almost 100% of these populations for herbicide Group 2 and Group 5, which is not shocking. Group 9 – that's glyphosate – we had about 95% confirmed resistant."
Meanwhile, 100% of the population had two-way resistance to groups 2 and 5. More than 65% had three-way resistance to groups, 2, 5 and 9, while about 27% of the population had resistance to groups 2 (ALS inhibitors), 5 (photosystem II inhibitors), 9 (EPSP synthase inhibitors), and either group 14 (PPO inhibitors) or 27 (HPPD inhibitors). That's not surprising, considering more weeds are resistant to herbicide groups 2, 5 and 9 than most other groups – with some exceptions.
Witt notes the survivors from these populations were also screened for 2,4-D and dicamba.
"They were screened at a one-time [1x] rate, and we had probably about 10% roughly that were susceptible at a one-time rate to 2,4-D and dicamba," Witt says. "They are not confirmed resistant, but they are one-time rate survivors. ISU is retesting the seeds from the F1 generations in the laboratory this year. The goal is to see if they can grow those out, spray them at a four-times rate of 2,4-D and dicamba or higher, to see if they survive."
Jason Sporrer, agronomy sales manager at Agriland FS and a member of the Harrison County group, notes treatments that had overlapping residuals with multiple effective modes of action, including a burndown, a pre- and a postemergence herbicide, saw greater control compared to those with just a single pass. In most case, the more residual, the greater the control.
"Locally, we've had a push on this for about five to six years now. I would say our residual programs have probably increased 15% to 25%. I think growers are using residuals, and in many cases, overlapping them. You're going to see more of it in 2021," Sporrer says. "Part of the reason is higher commodity prices, especially on soybeans. The prices of certain Group 15 herbicides have also fallen in the marketplace. With those price reductions, now, for $10 an acre you can apply a good, healthy rate and get two or three more weeks of residual control."
That's especially important with weeds like waterhemp, which have long germination periods.
"A lot of times, waterhemp doesn't start to germinate until the residual from your pre is about done. It's almost like it's trained. It's adapted, it's shifted later and grows fast," Witt says. "Waterhemp can grow about 0.7 inch a day. Palmer amaranth is 1.2 inches a day. That research data is out of Kansas State University. When you get that growth rate, and it comes on late, it creates a problem."
"You have to get out in front of it. If we're going to wait until we see weeds and then spray, we're losing tools every day," Sporrer adds. "It's a proactive approach to weed control."
A group effort
As Buss notes, slowing the spread of pest resistance is truly a community effort. This includes growers, university researchers and educators, agronomists and ag lenders, as well as government agencies, and herbicide and seed companies.
"EPA, herbicide companies and seed companies are a part of the community as well. If we're really going to get on top of this thing, we've all got to be working together," Buss says. "As an example, we really needed glyphosate in soybeans when glyphosate-tolerant soybeans were introduced in the 1990s; but we didn't need it in corn, as other herbicides were very effective and the rapid growth of the corn plant shaded weed competition. But glyphosate was developed for corn genetically, and it was registered by EPA for corn. Subsequently, the use of glyphosate was widespread as it was low-cost, and initially, very effective. I think if it had not been for its use in corn, the effectiveness of glyphosate would have lasted a lot longer than it did."
That's why various stakeholders are involved in the IPRMP.
"We've got a pretty diverse group, including farmers, seed and chemical representatives, lenders, Extension, agronomists and retailers," Sporrer says. "Everyone has a stake in it. I think it helps from an agronomy sales position. If this group promotes sound agronomic practices like using beefy preemerge programs and overlapping residuals, it also helps our business and brings value to the growers we work with."
While the spread of Palmer amaranth and other herbicide-resistant weeds cannot be completely stopped, the group hopes to help slow its spread by raising awareness through community outreach.
"Honestly, I think that's the biggest part of the outreach battle – you can't catch the horse once it's out of the barn," Witt says.
"Through our outreach and the programs we've had since 2017, people are getting the message that pest resistance is here, especially with weeds. With weeds, our biggest challenge right now is to realize that with Palmer amaranth, we've got a very wicked and aggressive weed that must be stopped. We know what to look for – and we need to be vigilant, because it does move," Buss says. "Generally, every summer somebody sees a quirky-looking weed, and it turns out to be Palmer. Because of this program's efforts, people know what to look for, and they're actively looking for it."
Subscribe to receive top agriculture news
Be informed daily with these free e-newsletters
You May Also Like
---