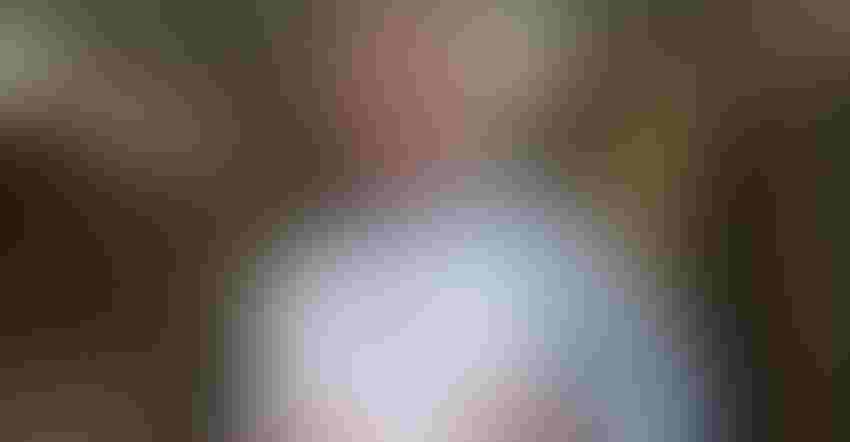 TILE DRAINAGE: "Installing tile is one of the best things you can do to improve the productivity of a farm if the ground needs tile," says ISU's Charles Brown. "But if the land doesn't need tile, you don't need to pay the extra money to install it."
Installing drainage tile in a field can make things look better. Wet spots disappear. Crops grow greener, healthier. But does it really pay? Will a tile drainage system put dollars and cents in your pocket? Charles Brown, an Iowa State University Extension farm management specialist in southeast Iowa, addresses that and related questions in workshops he presents on the economics of farm drainage.
First thing to consider in answering that question is how do you measure "pay"? How soon you can get in the field after a rain can make a difference, notes Brown. So can yield, and the cost of installing and maintaining a tile drainage system. Are you looking for a tax deduction? Yes, there is a tax deduction for putting in tile — which can help make it pay.
By installing tile in fields or areas of fields where drainage is needed, you can get more consistent yields. Brown has firsthand experience on his family's farm in northern Wapello County. "It's no fun getting stuck," he says, "and no fun lifting up implements to avoid the wet places. Having to farm around wet spots reduces your efficiency."
Other advantages of improved drainage include earlier and more timely planting, improved harvesting conditions, less wear and tear on equipment, less power required for field operations, a better plant stand, less plant stress, fewer plant diseases and less soil compaction. Tile reduces the financial risk associated with poorly drained fields.
Use a partial budget
Brown suggests you try partial budgeting to help with your decision on whether to install tile drainage. Look at what will change from an income standpoint if you add tile. Calculate the area of improved production and how many more bushels you will sell. Choose a long-term price for your budget.
As a rule of thumb, he uses some estimated yield advantages. For tiling very poor to poorly drained soils, figure a 54-bushel-per-acre increase for corn and 18 bushels for soybeans. If land is somewhat poorly drained, pencil in a 30-bushel yield increase for corn and 12 bushels for beans. On moderately well drained to somewhat poorly drained soil, it's a 12-bushel increase for corn and 5 bushel for beans.
Also, look at what will change from a cost standpoint if you install tile. In your budget include cost of tile and the change in spending for inputs to produce a crop on former wet spots.
First, figure the cost of tile and installation. This will vary, says Brown, but as a rule for 3-inch diameter tile, it's about 60 cents per foot for cost of tile and installation. For 4-inch tile, it's 80 cents per foot; 5-inch tile, $1 per foot; 6-inch tile, $1.65 per foot; and 8-inch tile, $2.40 per foot.
These prices are based on a wheel tiling machine. The cost varies by installation method and area. Tile can be "plowed in" at around half the cost of using a wheel machine, especially for the small-size tile. "Be sure to get accurate cost information for your area," he says. "Cost varies with location, pattern tiling, hookups, etc."
Added variable expenses
You may have additional expenses associated with growing a bigger crop on a field or parts of a tiled field. Additional variable costs include seed, fertilizer, interest, and hauling, drying and handling the grain you produce if you put tile in and the field produces more bushels. Also consider the tile repair cost you'll incur over the years. There may be washouts or blowouts; tiling isn't just a one-time expense.
About 10 years ago, Brown installed tile on his farm, on two sets of ground. One is a flat 60 acres of Mahaska Taintor soil — a good, productive soil that sometimes needs tile. He also has some hill ground. "Side-hill seeps were always wet, and when we couldn't get through them to plant, we didn't raise a very good crop," he says. "So we put tile in to drain the seeps. Now we farm across them, and those areas work as well as the rest of the ground. We are getting more yield; my hill ground is producing just as good or better in some years, than my flat ground. You can make a huge difference by putting in tile."
To calculate your drainage cost per acre, one way is to take 43,560 square feet per acre and divide by your line spacing, which will give cost per foot of tile for the laterals. You need to calculate the cost of putting in a main line and other costs, too. Your partial budget also needs to look at the change in revenues.
A helpful farm drainage worksheet lets you plug in the numbers for your field and do the calculation. It is available on ISU's Ag Decision Maker website.
Landlord or tenant?
There are different ways to look at tile cost and returns. A lot depends on whether you own and operate the land or if you are a landlord and rent it to a farmer. Owner-operators have the full cost and benefit shown in the partial budget process. If you are a landlord, however, you need to somehow recover the cost of putting the tile in, and there are some options. Most landlords aren't going to put tile in out of the goodness of their heart. They will probably want a little more rent. Landlords can also get tax benefits for doing this. Tile is a depreciable asset and may be available for Section 179 expense election or bonus depreciation, depending on the rental arrangement.
In some cases, a tenant is willing to pay for tiling, if the landlord will let them put it in. If a tenant pays for tile and installation, here's what Brown sees happening in many cases. The tenant will need a long-term lease, say seven to 10 years. Cash rent will be fixed for term of the lease or indexed, and the rental rate should reflect untiled land. When the lease expires, the cash rental rate is adjusted to the market.
Also, in this situation, the tenant could depreciate the tile. The landlord will own the tile at the end of the lease. Keep in mind a five-year lease or longer in duration must be recorded at the county courthouse.
Get your agreement in writing
"If you can get a long-term lease as a tenant, what you need to be concerned about is if you pay for the tile and installation, what happens if the landlord decides you can't farm the ground anymore and you are only in year three of the long-term lease?" says Brown. "There has to be a written agreement in place where the landowner will reimburse the tenant on a pro-rated basis for the cost of the tile — if such situations arise."
It's always wise to have a written lease, not just a verbal lease, he emphasizes, and examples of written leases can be found on the ISU Ag Decision Maker website.
Subscribe to receive top agriculture news
Be informed daily with these free e-newsletters
You May Also Like
---