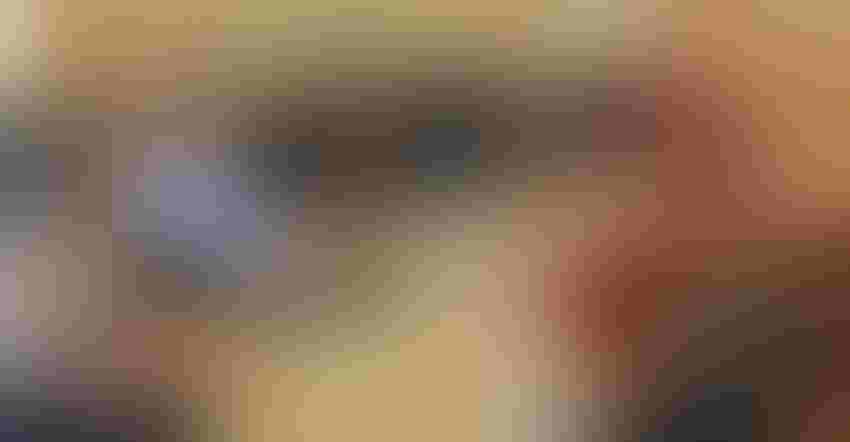 NAFTA IS NEEDED: Secretary of Agriculture Sonny Perdue (right) says the Trump administration is aware of agriculture's concerns about the North American Free Trade Agreement.
In Des Moines last Friday, U.S. Secretary of Agriculture Sonny Perdue told farmers to expect a "bumpy ride" as the Trump administration renegotiates the North American Free Trade Agreement.
It was Perdue's fourth trip to Iowa since he was confirmed as USDA chief. He joined Rep. David Young, R-Iowa, in Des Moines to visit about farm issues with a group of farmers, farm organization leaders and reporters at a Hy-Vee restaurant for breakfast. He met later with a group at Rain and Hail Insurance Co.
Regarding NAFTA, "This is not going to be a smooth negotiation," Perdue said. "We already see that. The U.S. has brought forth significant issues that Mexico and Canada don't like. But that's part of the negotiation."
For example, U.S. officials have proposed limiting Mexican truckers from making long-haul runs in the U.S.
Perdue optimistic for good agreement
Perdue says President Donald Trump is a tough negotiator who wants a "more U.S.-friendly" deal than is in place now. NAFTA negotiations have been extended through March. The next round of talks among representatives of the three countries will begin later this month.
"I think we'll end up with a good agreement for American farmers and agriculture. But it may be bumpy in the meantime. There may be speed bumps that create anxiety," Perdue said.
He added, "Farmers don't need more to be anxious about in these times of low commodity prices. The administration, the president, know how important ag trade is, how important NAFTA has been to American agriculture. I'm hopeful we will get a good deal at the end of the day."
Farmers worry about possible NAFTA pullout
Farmers and others attending the meetings with Perdue expressed concern that states dependent on exports would be hurt severely if NAFTA disputes don't get resolved. "Hang on and don't get overly anxious. I think we'll get a good NAFTA agreement" is the USDA secretary's advice.
Perdue downplayed recent reports that USDA is working on contingency plans for a U.S. withdrawal from NAFTA. He said it was premature to discuss publicly any possible contingency plans. "I want the administration to be aware there could be devastating price changes if NAFTA isn't renegotiated," said the former Georgia governor. Attendees told Perdue farmers would need an increased USDA financial safety net if they lost the NAFTA agreement.
In late October, 85 major farm and food organizations sent the Trump administration a letter warning that withdrawing from NAFTA "would cause immediate, substantial harm" to the U.S. food and farm sector and "to the U.S. economy as a whole."
Another farm financial crisis feared
Iowa Farm Bureau President Craig Hill said withdrawing from the 23-year-old NAFTA agreement would "desecrate the trust" other countries have in the U.S. and "devastate the marketplace."
Hill and other farmers are worried withdrawing from NAFTA would spark a farm crisis similar to the 1980 U.S. grain embargo on Russia. When the embargo took place, the land market declined, grain prices declined, and the U.S. lost long-term opportunities.
The 1980s farm crisis was one of the worst economic downturns in history; Iowa's unemployment rate hit 9.1%, Hill noted. "When you have big crops and are sitting on that much surplus, you can't do anything to interrupt demand whether it's ethanol, ag exports or livestock production. You do any harm to demand, and it has a devastating effect on markets."
Prices already below cost of production
Corn and soybean prices for many Iowa farmers are already below cost of production. Farmers have struggled for three years; many now face another year of red ink. Of course, it's not only farmers who are hurt by low commodity prices. Much of Iowa's manufacturing industry is tied to farming: from farm equipment to meat processing to ethanol and biodiesel.
Last year the U.S. exported $3.2 billion in corn to Canada and Mexico, $3 billion in soybeans and $1.6 billion in pork. Farmers are worried Canada and Mexico would look to other nations for corn, soybeans, pork and beef.
Perdue is concerned about the low prices U.S. farmers are getting for crops. He also said Trump believes the U.S. is unable to get the best deal possible "unless you're willing to walk away from a deal." Perdue added, "The president is focused on trade deficits, and we've seen these trade deficits with Mexico grow since NAFTA was put in place."
Status of Northey's nomination to USDA job
Perdue was asked about Iowa Secretary of Agriculture Bill Northey's nomination to be USDA undersecretary for farm production and conservation. Sen. Ted Cruz, R-Texas, is maintaining a block on the U.S. Senate vote to confirm Northey for the job until Cruz gets a meeting with Trump to discuss the Renewable Fuel Standard.
Perdue noted it's been U.S. policy not to "negotiate with hostage-takers." Perdue told reporters his comment was a joke, but he repeated his frustrations with the Senate confirmation process.
"We need Bill Northey in the job he's been nominated for at USDA," said Perdue. "We are almost 10 months into this administration, and I need his leadership. USDA needs him to help deliver customer service to our farmers, FSA offices, NRCS offices," said Perdue. "It's frustrating not being able to have our undersecretaries in place."
A quality candidate for USDA undersecretary
Perdue called Northey an "authentic farmer, an experienced leader whose expertise is needed." Perdue added, "I wish I would have brought my 'Free Bill Northey' T-shirt."
Northey is caught in a flap between the petroleum industry and supporters of ethanol and biodiesel. Iowa's two U.S. senators, Chuck Grassley and Joni Ernst, both Republicans, last month helped stop Environmental Protection Agency efforts to decrease the amount of renewable fuels that the RFS says must be blended into the nation's fuel supply.
Iowa is the nation's biggest producer of ethanol and biodiesel. The petroleum industry opposes the biofuel mandate and has frequently sought ways to weaken the RFS or repeal it. EPA is scheduled to announce by Nov. 30 the volume requirements for blending biofuel in the nation's motor fuel supply for 2018 (ethanol) and 2019 (biodiesel).
Subscribe to receive top agriculture news
Be informed daily with these free e-newsletters
You May Also Like
---