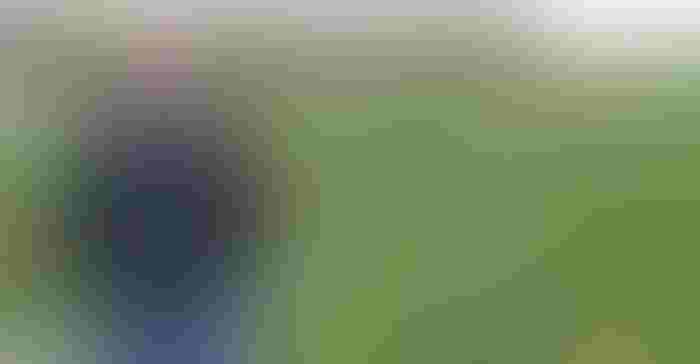 Water quality demonstration farms in the Blanchard River watershed are getting plenty of interest from farmers next door and across the state, but nonfarmers are taking an interest, too. The media presence at a recent farm tour included reporters and photographers from the Toledo Blade and the Cleveland Plain Dealer, as well as a TV reporter from Toledo's WTOL.
The group studied the mechanical details of a strip-till fertilizer application rig, hiked across a soggy waterway to learn about two-stage ditches, and pulled on plastic booties to walk through a biosecure hog barn to learn about manure nutrient management.
Tom Henry, an energy and environment writer for the Blade, says Lake Erie algae blooms in recent years have increased interest among his readers in what happens across the watershed. "There's a heightened awareness of farming and agriculture." Water quality issues are essentially land-use issues, so it's important for the public to learn about how land is managed, he adds. "I don't know if people truly understand the pressures on agriculture."
The Blanchard River Demonstration Farms Network is a joint effort of the Ohio Farm Bureau Federation and the USDA's Natural Resources Conservation Service along with the participating farmers. The purpose of the project is to help farmers find the right combination of practices to reduce nutrient loss while maintaining profitability. At the same time, the demonstration farms can help nonfarmers see what farmers are trying to accomplish, says Aaron Heilers, project manager for the demonstration farms. "We're in the beginning phase of figuring out what works and what doesn't." When nonfarmers see the practices farmers are already using and the research that's being conducted, they have a better appreciation for the farmers' efforts to protect water quality, he explains. "Part of our goal is to take a step back and stop pointing fingers at each other."
Adam Sharp, executive vice president for the Ohio Farm Bureau Federation, says the demonstration farms are also helping build connections between farmers, associations and agencies, as they all work toward improving water quality while maintaining farm productivity. "Food production and water quality are not mutually exclusive goals," he says.
The demonstration farm network was launched in September 2015, and the five-year project includes both in-person and online virtual tours of the production practices and research projects on the farms. The three farms included in the demonstration farms network were selected because of the farmers' interest in conservation and because the farms are representative of the area. To learn about upcoming tours or view videos online, visit Blanchard Rivers Demonstration Farms. 
Reducing rates
For Bill Kellogg, who farms with his son, Shane, in Hardin County, conservation is nothing new. He's been working to find better ways to hold nutrients on his farm for years. What is new for him is sharing his business with other farmers and the public. "This is out of my comfort zone," he admits. But, he adds, farmers need to accelerate their efforts to protect water quality to avoid regulations that restrict farming practices. "We don't want people coming and telling us what we can and cannot do. We're trying to be proactive and do the right thing," he explains.
The Kelloggs have 305 acres committed to the demonstration project, but they're following the same practices on all 5,000 acres they farm. Using strip tillage and variable-rate subsurface fertilizer application has allowed them to reduce fertilizer rates, says Shane. "We're at least 33% more efficient because it's going in a 9-inch band." The fertilizer placement is also improving productivity, he adds. Last year, for instance, their corn remained green and healthy, when corn in neighboring fields started firing because of dry weather. "Our fertilizer was concentrated enough we didn't see that," he explains.
Changing their fertilizer application practices required a considerable investment, Shane adds. The strip-till application rig cost $177,000, and they also needed a new tender to carry the fertilizer. However, reducing fertilizer use by about a third will help them recover the cost. "It should pay for itself. It's just going to take some time."
Besides the conservation practices the Kelloggs use on their cropland, they are also establishing pollinator habitat on some land that is less productive for row crops. "I make fun of myself because I worked my whole life to eradicate milkweed, and I've got milkweed seed I'm going to plant," says Bill.
Filtering nutrients
Chris Kurt, who farms 470 acres in Hardin County, was living in the Toledo suburb of Whitehouse in 2014 when algae in Lake Erie contaminated the city's drinking water. "I had a few days without any water," he recalls. That experience reinforced his interest in reducing phosphorus loss from farmland. "My hope is to be part of the solution."
Before signing on with the Blanchard River Demonstration Farms Network, Kurt worked with The Nature Conservancy and the Hardin Soil and Water Conservation District to install a two-stage drainage ditch on his farm. The structure of the ditch stabilizes the banks and creates a wider area for growth of vegetation, which traps sediment and takes up nutrients from drainage water.
Kurt has also installed phosphorus removal beds along waterways to pull phosphorus out of water as it leaves a field. The beds are filled with treated and prewashed slag left over from steel manufacturing, and the slag forms a chemical bond with the phosphorus.
In addition, Kurt's farm is one of 20 northwest Ohio farms included in an edge-of-field monitoring study that compares the water quality impacts of different management practices in side-by-side field tests. To meet phosphorus reduction goals, phosphorus losses need to be reduced by an average of 1 pound per acre throughout the western Lake Erie basin, explains project manager Aaron Heilers. So far, Kurt has found that nutrient loss was five times lower when fertilizer was placed in direct contact with soil. The paired test sites are offering farmers more data to use in making management decisions, Kurt says. "This is going to put the science behind it."
Managing manure
For Duane and Anthony Stateler, who farm in Hancock County, manure from their 7,000-head hog operation is an important source of nutrients for their 600 acres of crop ground. Like Kurt, the Statelers have one of the state's paired, edge-of-field water quality monitoring stations to compare production practices.
The Statelers use cover crops and drainage water management to help hold nutrients on fields. They use a coulter system to inject liquid manure 4 to 5 inches below the soil surface, and they're developing a system for variable-rate manure application. That way nutrients will go where they're most needed, Anthony says.
The edge-of-field research has given them some baseline data, and further research will help them determine which practices are best for protecting water quality. "That's the main reason we signed up — to put some proof out there," Anthony notes. The goal is to improve water quality for everyone, he adds. "We drink the same water as everyone else."
Subscribe to receive top agriculture news
Be informed daily with these free e-newsletters
You May Also Like
---