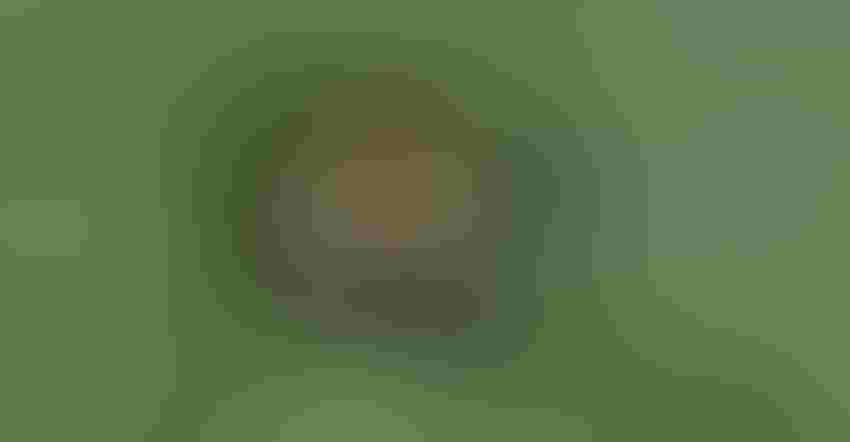 STINKY PROBLEM: The southern green stinkbug has made its way to Washington state, but a new program will have farmers help track the insect.
Herb Pilcher, USDA Agricultural Research Service, Bugwood.org
Spiders use webs to trap tasty bugs for dinner. Now farmers, commercial growers and gardeners can use a different kind of web to track two new bugs that have found their way into the state of Washington.
The Washington State Department of Agriculture has launched a new crowd-sourcing initiative to monitor two new pests that have recently been detected in the state. The colorful new bugs are the lily leaf beetle, which is a bright red as an adult; and the southern green stinkbug, which has a multicolored appearance dominated by a green body.

RED TROUBLE: The lily leaf beetle is new to Washington state and is a concern for both commercial growers and home gardeners. (Photo by Mariusz Sobieski, Bugwood.org)
These bugs are worrisome for commercial growers and gardeners and are the focus of a new crowd-sourcing initiative to detect the critters. WSDA is asking those who see these insects to submit photos and pest locations to its Exotic Pest Survey page (agr.wa.gov/PlantInsects/InsectPests/Exotics). Data from the sightings offer added information for monitoring and managing the pests.
The state has a strong track record of detecting new pests. In a release about the crowd-sourcing initiative, Chris Looney, WSDA entomologist, notes that citizen reports of unusual insect activity account for about 30% of total exotic pest detections since 1990. Both of the new pests — the lily leaf beetle and the southern green stinkbug were first noticed and reported by alert gardeners in western Washington.
Adds Looney: "What makes crowd-sourcing possible for the lily leaf beetle and southern green stinkbug is that both of these insects look very distinctive. They are not easily confused with other native insects." He notes that these unique bugs should be easily apparent, making the crowd sightings a reliable source of information for the state.
The reporting system has just gone online, but already WSDA has reported that the two new pests are much more widespread than originally believed.
Community involvement is key for the initiative. WSDA is partnering with the Washington State University Extension and Master Gardener programs to educate the public about these pests and encourage more online reporting.
WSDA encourages state residents to visit the page and report what they find.
Source: WSDA
Subscribe to receive top agriculture news
Be informed daily with these free e-newsletters
You May Also Like
---