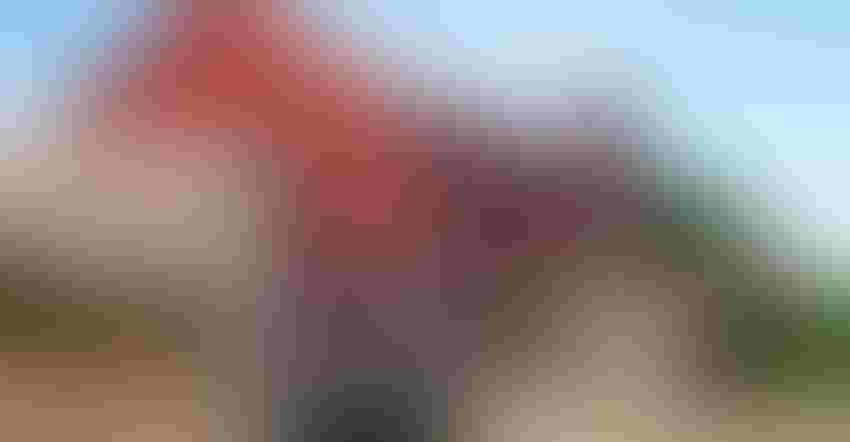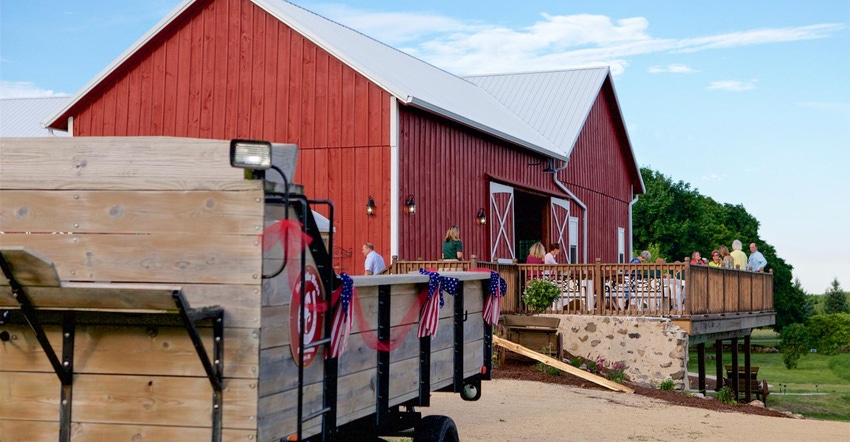 FOLK SONG FARM: The main level of the barn at Folk Song Farm is a big, open space where the Mayers have held corporate events, life celebrations including weddings and receptions, ice cream socials, an ecumenical church picnic and 4-H meetings.
Courtesy of Folk Song Farm
Dairy farmers Dwight and Shelly Mayer of the now eighth-generation Mayer Farms at Slinger, Wis., "made kind of a shift" five years ago, according to Shelly, after asking themselves, "How can we operate a business without growing in size?"
Their answer was in diversifying the business. Their first move was to begin raising dairy steers.
"We got a license from the state of Wisconsin to sell direct," Shelly says. They always had breeding age bulls from the 60-cow combination of registered purebred Brown Swiss and Holstein cows they milk. "So, we started raising them as steers, either Brown Swiss or Holstein. We castrate them at 5 months and raise them with the heifers. At 13 months, they go out with the cows, eat at the bunk and on pasture."
At slaughter weight, the steers go to a nearby butcher, who cuts them into steaks and roasts or makes hamburger and sausage. The Mayers sell directly to consumers from a farm store that's open from 1 to 5 p.m. Wednesday through Sunday, and at nearby farmers markets, this year concentrating only on the market at West Bend.
"It's worked real well," explains Shelly, who has a full-time job off the farm as executive director of Professional Dairy Producers. "Our meat is in such high demand we can't keep up, and the customer can pick up whatever they want ... they can buy a single cut or 100 pounds, if they want."
Adding another enterprise
Then, they exercised an opportunity to keep Dwight's grandmother's family farm at nearby Richfield in the family. They contracted with Amish woodcrafters to restore the 1853 barn to its original state, visited other event barn locations, developed a business plan, and opened Folk Song Farm — as named by Dwight's Aunt Marge — as an agritourism destination with a museum in the lower level and an event space in the main level. It's located in rolling hills and forested land within view of the historic Holy Hill site, and just around the corner and down the road from their home farm.
"It's beautiful ... a beautiful setting," Shelly says. "We're lucky, and there's a lot of heritage in the area."
The development "was kind of a process," she continues. "We started restoring the barn in August 2014. We set up the museum."
The main level is a big, open space where they've held corporate events, life celebrations including weddings and receptions, ice cream socials, an ecumenical church picnic and 4-H meetings. Two or three times over the summer they host a farm-to-table dinner, where they hire a professional caterer and provide a lot of local produce, ice cream and their own homegrown beef.
The barn has a capacity of 320 guests, but COVID-19 has challenged everyone, Shelly acknowledges.
The barn is open between mid-May and mid- to late October nearly every weekend, she says, noting that often requires being up early on Saturday, working in the barn until the wee hours on Sunday and then returning later in the day for another event.
Family operation
A dairy farmer herself from Richland County, Shelly says she and Dwight — "Ike" to friends and relatives — began their romance as many 4-H livestock project youngsters do, at a cattle show. Both attended the University of Wisconsin-Madison, and in professional life gained the business background to operate their enterprises.
Mayer Farms has 200 acres and Folk Song Farm another 48, plus they rent 60 acres to provide additional land for their yearly rotation of hay, corn and soybeans, with some sudangrass and sorghum for heifers. The dairy herd, equally divided between Holsteins and Brown Swiss, is on pasture and fed a total mixed ration planned by their nutritionist.
The Mayers' children — Devin, Cassandra Strupp and Dylan — work off the farm, though Cassandra and Devin both assist in the mornings and evenings at Mayer Farms.
Dwight and Shelly both credit Dwight's late father, Richard Mayer, with being a "wonderful influence and mentor."
And while the beef sales and event hosting add to the farm's income (and workload), all in all, Shelly remarks, "We still love working with the cows and dairy farming."
Buchholz lives in Fond du Lac, Wis.
Subscribe to receive top agriculture news
Be informed daily with these free e-newsletters
You May Also Like
---