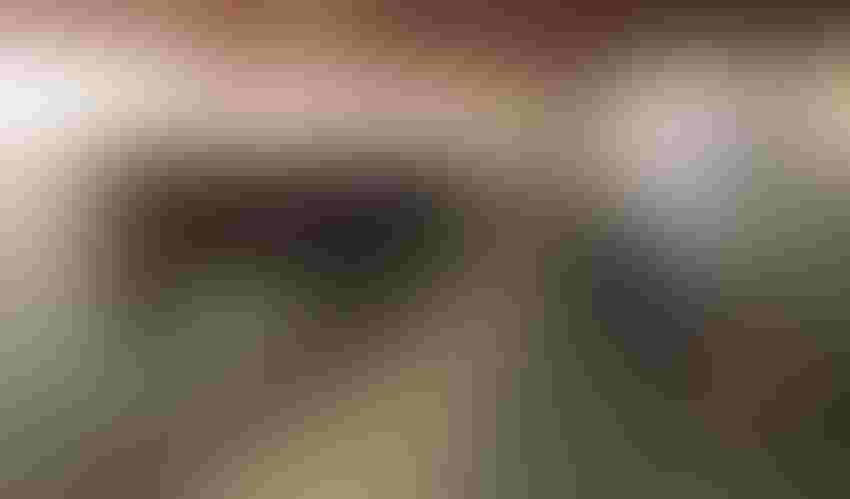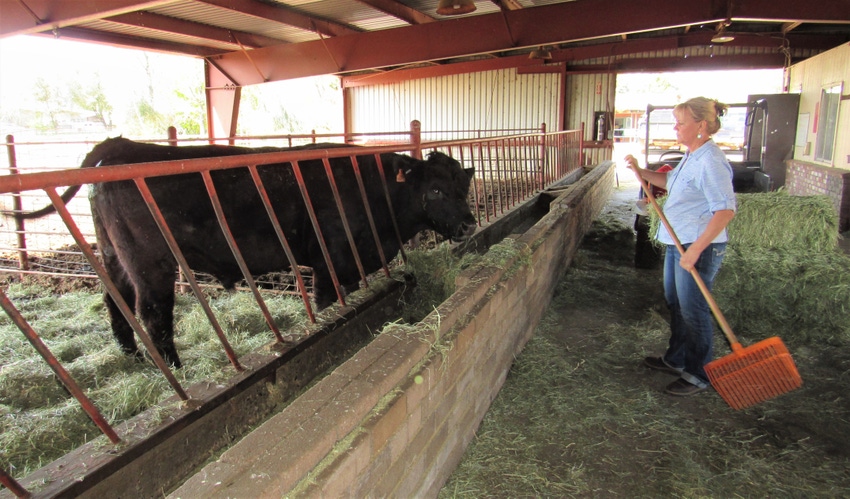 Agriculture instructor Trena Kimler-Richards feeds a cow in the barn of the Shasta College farm in Redding, Calif. The farm is operating with limited staff during the coronavirus shutdown.
Tim Hearden
When colleges and universities across the country closed to students last month as a precaution against the spread of the coronavirus, there was one program that couldn't be transferred to the digital world – the campus farm.
Even if the classrooms are empty, somebody still must feed and care for the animals and tend to the crops that are normally grown as a teaching tool or for research.
At the California State University-Chico farm, 15 full-time employees are working staggered shifts with a very limited number of students, farm administrator Dave Daley said. The farm has beef and organic dairy units and also includes fruit and nut orchards and row crops.
"Because we are a farm, we have some flexibility that the rest of the university does not," Daley said. "We aren't open for educational purposes, but we are open for the essential function of growing food. We've essentially closed the farm – we have a locked gate – but employees and student employees can come in and care for the livestock and the crops.
"We have a fairly careful biosecurity program," he said. "We don't let the public come on right now."
The farm usually hosts as many as 50 students in a day, Daley said. A small handful of students are on the farm now doing tasks like milking, but they're employees and not volunteers, he said.
"It's work experience, but it's a job at the same time," he said. "They gain a lot of experience there that really helps them in the future."
Farms follow guidelines
Chico State is one of four universities in the CSU system with full-scale farm programs; the others are California Polytechnic University, San Luis Obispo; Cal Poly Pomona; and California State University, Fresno. The farms follow guidelines issued by the state Department of Food and Agriculture and the U.S. Department of Homeland Security, Daley said.
The University of California has nine Research and Extension Centers that grow crops primarily for research and hosting grower field days, in addition to the student-run farm at UC Davis.
Many rural community colleges have farms, too, including Modesto, Butte and Shasta colleges in Northern California. At Redding's Shasta, a dormitory operated to immerse students in farm operations is still open, albeit with fewer students, farm manager Jonas Lindblom said. The students are paid for farm work, he said.
"We have two or three at all times," Lindblom said. "It makes it a little more difficult because we have to check them in and out … When we have to go outside of the campus, security has to check us in."
UCANR working remotely
Most employees for the UC's Division of Agriculture and Natural Resources are working remotely during their normal business hours and visiting sites in person for essential duties such as feeding animals, officials said. All the UC Cooperative Extension's in-person seminars and workshops scheduled for April were cancelled.
At the research centers, UC leaders are considering which projects should continue and which ones could be postponed, said Mark Lagrimini, UCANR's vice provost of research and extension.
"With the research that can go forward, we're making sure that protection is provided for the workers and students," Lagrimini said. "We do have staff out there working right now. We have over 500 projects going on. We're in the process of going through 500 projects and making sure they are all able to be conducted safely. It's a big job.
"If there's research that can be postponed, we're asking them to postpone it," he said. "We're only asking for those things that are absolutely critical – if you stop right now, you'll lose a lot of data or lose trees. We've got to make sure animals are taken care of. We're scaling back right now, but we're not shutting down."
Extension advisors and specialists are also working on ways to help communities. For instance, the UCCE in Sonoma County developed an online food distribution directory with CropMobster, a resource platform.
"By changing our relationship to food waste, we can use excess, high-quality food to feed people in need," UCCE Sonoma County director Stephanie Larson said in a news release.
Recruiting headache
Perhaps the biggest hardship for college and university agriculture programs is the timing of the coronavirus outbreak and resulting closures, officials said. Early spring is usually the time prospective students visit the farms and decide where to enroll, they said.
In some cases, graduating high school seniors have received acceptance letters from several universities, Chico State's Daley said.
"If they applied to three or four, they may not have decided" where to go, he said. "If they never visit, it's going to be harder for them to know where their comfort level is.
"For people who don't have a connecting point, this is going to be a really interesting time for them as they try to make their decision," he said.
Subscribe to receive top agriculture news
Be informed daily with these free e-newsletters
You May Also Like
---