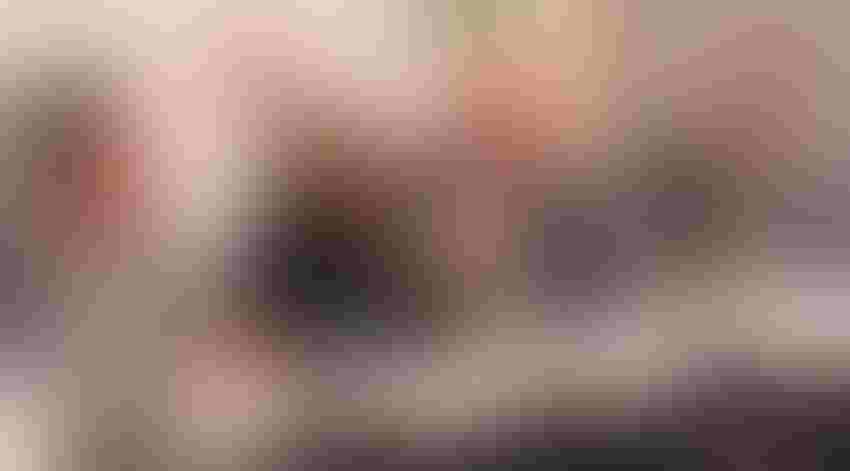 California Department of Food and Agriculture secretary Karen Ross speaks during a meeting of the state Food and Agriculture Board in Tulare, Calif., in February.
Tim Hearden
The nearly two-month fallout from the coronavirus outbreak and resulting business shutdowns is taking a toll on California agriculture, as farms are scrambling to enhance safety precautions even as they're losing customers and income.
Survey results unveiled May 5 by the California Farm Bureau Federation show that lost markets and off-farm income related to the COVID-19 pandemic are proving doubly difficult for many farmers and ranchers, as more than half say they've lost sales and nearly half say they or a family member has lost off-farm income.
According to the voluntary survey taken in April, about three-quarters of the more than 500 respondents said they've been able to avoid furloughing or laying off workers. But about one-third reported being unable to do routine planting, cultivating or crop care because of a lack of required PPE such as respiratory protection, according to the Farm Bureau.
"Farmers and ranchers are doing all they can to maintain essential activities and provide plentiful, safe food," CFBF President Jamie Johansson said, "but there's no question the pandemic has put a strain on rural California."
Scrambling for PPE
The organization's survey was released as the State Board of Food and Agriculture was receiving a report from members of a business recovery task force set up by Gov. Gavin Newsom, which includes representatives of Western Growers, the Almond Alliance, the United Farm Workers and individual farms.
Growers and farm organizations told the board they're scrambling to find such equipment as masks and gloves for their employees while in many cases reconfiguring their operations to accommodate physical distancing, including creating barriers between workstations.
Garrett Patricio of Westside Produce, a Firebaugh, Calif.-based grower, processor and shipper of melons, said he's encountered long wait times for gloves, masks and sanitizer and has had to spend extra for them.
"We bought 1,500 cotton masks that we're handing out to employees and we've given every employee two masks so they can wash one and wear one," Patricio said during the online meeting. "We felt it was better that the employees had them in their hands rather than us handling them.
"We've also bought about 5,000 surgical-type masks" in case people forgot to bring their cotton ones, Patricio said. Also, the heavy cotton masks aren't as suitable for workers in the Imperial Valley, which is already seeing 100-degree temperatures, he said.
"It's a challenge for us as we're learning on the job what's working and what's not working," he said.
State Food and Agriculture secretary Karen Ross said the state is working with manufactures to secure the N95 masks that are required for applying certain pesticides. She said equipment will likely be distributed through county agricultural commissioners who are part of their local emergency response teams.
Planning for reopening, harvest
The more than two-hour discussion sought to shed light on how ag and food service will proceed as businesses begin to reopen and as the growing season begins to attract more workers.
Newsom announced on May 4 that the state was moving into its second phase of ending lockdowns, which have required the state's nearly 40 million residents to mostly stay at home since mid-March. The virus had killed about 2,200 state residents as of May 4, according to Johns Hopkins University data.
Kim Ruiz Beck of Dinuba, Calif.-based food processor Ruiz Foods said the company immediately had about 200 of its employees start working from home and started focusing on maximizing safety for its roughly 1,900 other plant workers. The plant installed partitions between workers, began requiring masks and is now pursuing a plan to test its entire work force, she said.
"We've had 70 test positive who were asymptomatic, so we've had to take a pause at some of our locations and finish testing," she said. "I think there's a need for more timely testing because by the time you get the test results back, somebody could be exposed again."
Farms lost customers
In the Farm Bureau survey, nearly 57 percent of the farmers and ranchers interviewed said they had lost customers or sales during the pandemic, with most citing stay-at-home orders that had closed customers' businesses.
Forty-two percent said they or a family member lost off-farm income, mainly because of workplace closures or to care for children home from school or child care, according to the organization.
Only 20 percent reported employees unable to work, mostly because the workers were considered a high risk for the virus.
"Just as in the rest of society, the effects of the pandemic have reverberated throughout rural California," Johansson said. "There's no aspect of farming, ranching or agricultural business that has been spared."
Need for broadband
Glenda Humiston, vice president of the University of California's Division of Agriculture and Natural Resources, said the increased reliance on web-based working, communication and education emphasized the need for improved rural broadband internet service. The university is considering installing signal towers at its Cooperative Extension offices and facilities that growers can access for automated field work, she said.
"We've known for years that rural areas are not well served," Humiston said. "California is a leader in emerging technology … but the reality is a big chunk of California is still underserved or unserved (by broadband).
"We are having some luck in developing public-private partnerships," she said, "but the reality is public investment is going to be critical for this."
Subscribe to receive top agriculture news
Be informed daily with these free e-newsletters
You May Also Like
---