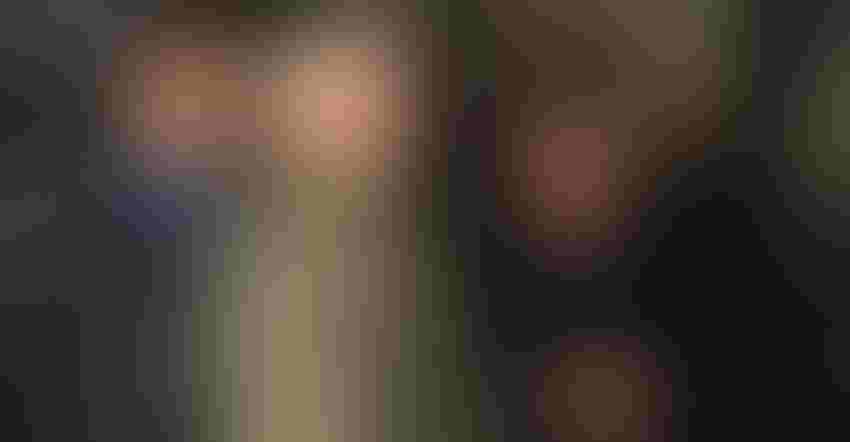 HIGH-TECH: Julie Maurer (right), co-owner of Soaring Eagle Dairy in Manitowoc County, Wis., explains to American Farm Bureau President Zippy Duvall (center) and Wisconsin Farm Bureau Federation President Jim Holte (left) how new software works in the milking parlor at the dairy.
During a visit to Manitowoc County, Wis., on Oct. 13, American Farm Bureau President Zippy Duvall said making progress on the North American Free Trade Agreement has been very difficult, but he's working on it.
'Do no harm to NAFTA'
"NAFTA has been very good to U.S. agriculture," Duvall said. "We went from $8 billion in trade per year before NAFTA to $38 billion today. We need to keep telling the (Trump) Administration, 'do no harm to NAFTA.'"
Duvall said trade is the No.1 issue facing U.S. agriculture.
"As the president of the largest U.S. farm organization, you have to realize 95% of the world's population lives outside of our borders," Duvall noted. "Why should we deny our farmers and agribusinesses the opportunity to sell to people outside of our borders?"
Duvall said he is frustrated with the progress made so far on negotiations with NAFTA.
"All of these other countries and the European Union are creating trade agreements with other countries and we need to get these agreements made and get on with business," Duvall said. "Having a trade treaty is critical to our farmers. We are the No.1 agricultural country in the world. We don't want to be following other countries -- we need to be leading."
Immigration reform
Duvall was asked about whether there has been any progress made on immigration reform.
"We have been working with Rep. Goodlatte on immigration," Duvall said. "He's been working on a guest worker program that provides less regulation which is especially important for smaller farms. But [Goodlatte] realized he didn't have enough votes last week to get his bill out of committee."
Duvall said he believes a guest worker program is what Wisconsin farmers and farmers throughout the country need.
"If you're a squash grower and you have 10 acres of squash to pick and you can't find anyone to pick squash that's a disaster and that's happening all over our country," Duvall said. "I think we can get a program that gets workers here for two to five years. We need to sit down and work this out. A farmer could work this out much quicker than the politicians are."
Duvall was asked if he thinks the U.S. Ag Secretary Sonny Perdue, also from Georgia, is doing a good job.
"I think Secretary Perdue has identified that trade and labor are agriculture's two biggest issues," Perdue said. "Secretary Perdue did a great job explaining to President Trump why we couldn't pull out of NAFTA."
Duvall spent three days in Wisconsin touring farms and agri-businesses in Manitowoc County from Oct. 12 through Oct. 14. During his trip, he toured Soaring Eagle Dairy, an 1,100-cow dairy farm owned by the Jim Fitzgerald family near Newton. He also held a question and answer session with local media.
Manitowoc County is celebrating its 75th year in Farm Bureau and members invited Duvall to visit Wisconsin and help them celebrate.
Duvall, a third-generation poultry, cattle and hay farmer from Georgia, said he used to be a dairy farmer, too.
"I've learned a lot about the quality of work farmers do here whether it's a cheese plant, a feed company or a dairy farm," Duvall said. "There's excellent farms and infrastructure here in Wisconsin. I dairy farmed for a living and I know what it takes to get the job done. It's excellent here."
Subscribe to receive top agriculture news
Be informed daily with these free e-newsletters
You May Also Like
---