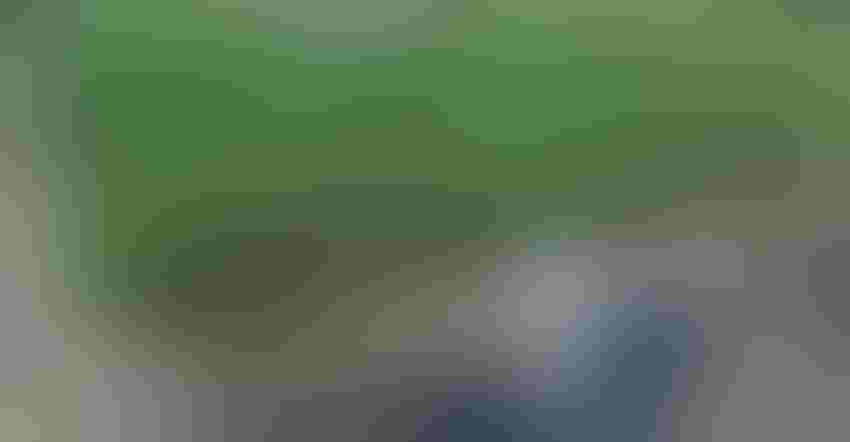 SHOWING POTENTIAL: University of Illinois researchers exhibit alley cropping practices at the Farm Progress Show in summer.
"Agroforestry for Food," a multifunctional woody polyculture project implemented by the University of Illinois, essentially incorporates berry- and nut-bearing shrubs and trees in an alley cropping system. Through this system, rows of shrubs or trees are planted within alleys of hay or row crops. According to Sarah Taylor Lovell, UI department of crop sciences agroecologist, this system is set up to mimic habitat, providing carbon storage and nutrient-holding capacity of a natural system.
From a practical producer point of view, rows of trees and shrubs could be planted in a linear pattern 30 feet apart or more, to be able to fit farm machinery to work the crops between the rows of woody plants. Lovell and her team are three years into the project. Their trial, established on a 30-acre agricultural research site near the UI Energy Farm, consists of 12,000 woody plants, including seven combinations of species in commercial-scale plots, ranging from simple two-species combinations to much more diverse and complex scenarios that include multiple species of trees, shrubs and forage crops.
UI researchers are quantifying their results by measuring crop productivity, management strategies and potential economic returns. Some of the woody species being tested include chestnut, black currant, hybrid hazelnut, apple, amelanchier, American hazelnut, aronia berry, elderberry, pecan, persimmon and plum, with an alley composition in pasture mix.
Current research efforts actually originated from a pilot study in 2012 that looked at woody polyculture systems, taking inspiration from Midwestern oak savannas. A demonstration plot for this project was also established and on display at this year's Farm Progress Show in Decatur, Ill., in August.
Objectives of the current research are to compare performance and yield of woody polyculture treatments of increasing levels of diversity; determine the ecosystem services delivered by these systems compared to conventional agriculture and native ecosystems; characterize the life cycle environmental implications of a transition to these systems for food production; and finally to examine the barriers and drivers of adoption of these systems by growers.
"The biggest barrier for adoption of these systems by farmers seems to be the longer time period before the systems become productive," Lovell says. "The tree and shrub crops we are looking at require a high initial investment, and they don't reach optimum yields for several years."
Depending on the system, some of these types of alley cropping management practices can be eligible for federal programs, where there is cost-share for plants and an annual rental payment, says Lovell. "Alternatively, tree and shrub species can be selected for their high-value products like fruits and nuts that would fit into local markets," she explains. "The conservation gains are tremendous, with great improvements in soil retention, wildlife habitat, nutrient capture and carbon sequestration, among others." You can learn more about the UI research at agroforestry4food.com.
Subscribe to receive top agriculture news
Be informed daily with these free e-newsletters
You May Also Like
---