Ag leaders push for quick solutions to pressing problems
Ag leaders push for quick solutions to pressing problems
"We retreated from TPP and are now in the crazy stage of renegotiating agreements that are already working well, like NAFTA. Mend it - don't end it," says Jim Mulhern of National Milk Producers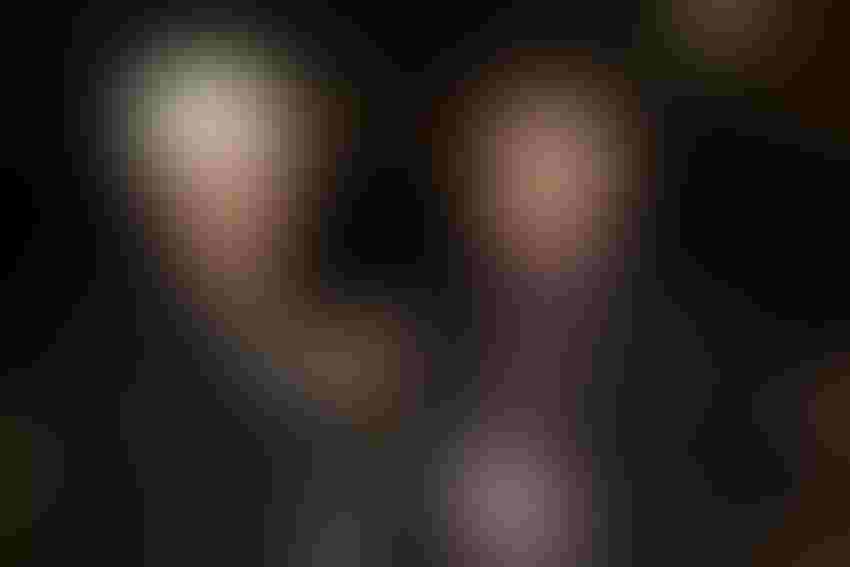 Kevin Rogers (left) of the Arizona Cotton Growers Association and Ken Williams of the Arizona Nursery Association visit during a December Agribusiness Roundtable held at Tempe, Ariz.
More than 300 members of Arizona's agribusiness industry gathered in early December in Tempe to hear a national perspective on front burner pressing agricultural issues including the next farm bill, NAFTA, and labor.
The agribusiness roundtable included a powerhouse group of national leaders with different perspectives but similar interests - milk and egg producers, beef and pork growers, grain and feed representatives, plus vegetable growers, the cotton industry, and those representing Farm Bureau and agriculture departments.
Event publicity read, "Agribusiness is a vast support structure that forms one of the largest economic segments on the planet. It's a huge industry that, in the eyes of many, is invisible, and we need to understand what Washington D.C. has in mind for us."
In introducing the 3rd annual event, David Rousseau of the Salt River Project set the stage with a subtle acknowledgment that, "The changing political climate has made things interesting."
The event, sponsored by the Arizona Department of Agriculture and the Agribusiness & Water Council of Arizona, keyed in on prospects of the next federal farm bill to benefit certain industry segments. The expert opinions varied widely on the possible timing of the legislation, plus the ultimate content.
Dr. Gary Adams, president of the National Cotton Council and member of USDA'S Agricultural Policy Advisory Committee, shared his concerns on cotton bales and seed in the next farm bill.
"We're coming off the largest crop we've seen in a few years, about 21 million bales nationally, with 500,000 of those from Arizona production. Three quarters of the crop will be exported so we're dependent on open-market channels."
Although behind-the-scenes legislative activity is bustling, the timing of passage for the farm bill is uncertain.
"We expect sometime in early 2018 that the U.S. House Ag Committee will take the lead in committee action and mark up in the first quarter with Senate action to follow," Adams told the crowd.
He hopes the legislation will move along in a timely fashion yet the process could be delayed until fall when the focus shifts to midterm elections. Adams hopes the bill moves before that.
Whatever happens time wise, Adams said, "Our key priority is to return eligibility back into Title 1 in some policy form involving either lint or cottonseed, or some combination of both to take into consideration the full value of these two revenue streams."
Fellow panelist Eric Wilkey, president of Arizona Grain at located at Casa Grande, Ariz. and the vice-president of the National Grain and Feed Association, expressed optimism for farm bill passage in 2018, yet noting, "With the slow pace of Congress that's always in question."  
Citing common concerns over labor, regulatory costs and burdens, and low margins, Wilkey asked the audience, "Why don't aggie folks get on the same page?  Each of us needs to check our thinking and ask what we're doing to positively impact all areas of agriculture."
While farm bill discussions with their omen of spending cuts took the headlines, there was also comment on growing export opportunities though the proposed Trans-Pacific Partnership TPP, NAFTA 2.0 negotiations, and politics in general as they impact efforts to feed a hungry world.
Jim Mulhern, president and chief executive officer (CEO) of the National Milk Producers Federation who directed the establishment of the Dairy Margin Protection Program in the proposed farm bill, called trade policies his No. 1 concern.
"The world market is growing more rapidly than the domestic, and exports are critical to the future of many of us," said Mulhern. "We retreated from TPP and are now in the crazy stage of renegotiating agreements that are already working well, like NAFTA. Mend it - don't end it. We should be growing, not receding from the world stage."
Barbara Glenn, CEO of the National Association of State Departments of Agriculture, said, "It's a new day in this administration and there's a high degree of acceptance in the concept of enhanced state and federal partnerships."
Glenn warned that NAFTA negotiations are at a critical juncture now and any effort to withdraw from the agreement would devastate the agricultural community."
Tom Nassif, president and CEO at Western Growers, and Paul Schlegel of the American Farm Bureau Federation (AFBF), expressed concern over the nation's dwindling labor pool. 
"Over the last 60 years, the number of people who work on farms has dropped from 10 million to 3 million with roughly one third of those being hired hands," Schlegal said. "Estimates are that we would lose $5 to $9 billion in production if we lost the existing pool of undocumented workers - workers who will go away if they don't have legitimacy."
The AFBF leader noted it's difficult to devise a system to meet all interests, but agriculture needs a flexible, adaptive system to get workers where they are needed to work.
Nassif said agriculture should be allowed to do business in a productive and profitable way, not saddled by government regulations. In California, he said the government hates farmers and wants their land, water, and workers.
"Stop putting chains on us," Nassif said. "It's not like people are rushing to farms and saying, 'Please hire me and let me work in your fields. We need laws that will attract a workforce willing and able to do those tasks. Current immigration policies do not satisfy our need and will not solve our problems."
Acknowledging "it's easier to sell fear than science," Alison Van Eenennaam, animal genomics researcher at University of California, Davis, provided a credentialed voice on controversial scientific topics. 
"It's not uncommon to have pushback against technology (like the advent of pasteurization in 1924)," she stated, and then noted, "The silent majority in the middle haven't made up their minds yet so we're listening to the squeaky edges. But ultimately companies will stop investing in research if evolving technological innovations aren't being used in agriculture," Eenennaam said.
Subscribe to receive top agriculture news
Be informed daily with these free e-newsletters
You May Also Like
---