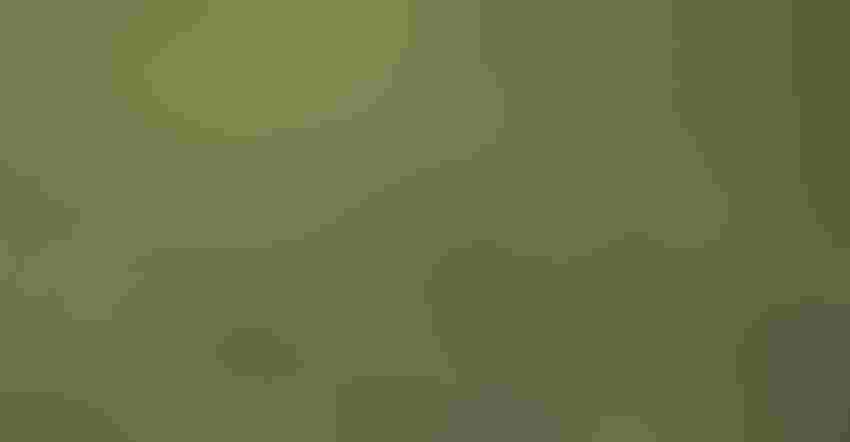 INSURANCE ARGUMENT: A monster hail storm that hit Kansas on the night of May 14 provides an illustration of why farmers so strongly support crop insurance. This field in Scott County was just one of many that were wiped out in the storm, which destroyed thousands of acres of wheat.
Photo courtesy of Kansas Wheat
As the 2018 Farm Bill (Agriculture and Nutrition Act of 2018) heads to the floor for debates and amendment votes, ag-related organizations are weighing in on amendments and on the main provision of the bill.
The National Association of Wheat Growers sent a letter to the House advocating for strong crop insurance.
"NAWG continues to push back against any amendments that would undermine the current structure of the crop insurance program as well as other amendments that would hurt farmers," said Jimmie Musick, Sentinel, Oklahoma farmer and NAWG president. "Proposing significant restrictions on crop insurance ignores the needs of rural America and will increase the cost of program for all farmers."
NAWG opposes Amendment #93, offered by Rep. Tom McClintock, R-Calif.,  that would phase out the farm safety net, including federal subsidies for crop insurance, the Agriculture Risk Coverage program, the Price Loss Coverage program and sugar policy.
Additionally, NAWG voiced opposition towards Congresswoman Virginia Foxx's, R-N.C., Amendment #32 which cuts the sugar program, ultimately outsourcing U.S. sugar jobs to subsidized foreign industries.
 "Net cash farm income for wheat farmers is expected by USDA to be down 21 percent this year compared to last year, which is why we need to pass a Farm Bill that works for all growers who can then have access to these beneficial programs," Musick said.
Commodity groups also voiced strong opposition to a bipartisan amendment offered by Reps. Dave Brat, R-Va., and Earl Blumenauer, D-Ore. that would overhaul the rules for checkoff programs.
In a letter to both Ag Committee Chairman Mike Conaway, R-Texas, and Ranking Member Collin Peterson, D-Minn., more than 30 ag groups argued that the amendment, proposed as way add transparency to the programs, would instead "take control away from producers and gut the programs that U.S. agriculture relied on to build demand for our products."
The American Soybean Association also sent a letter to all House members, asking them to oppose all amendments that might cause the bill to fail to pass.
ASA strongly supports House passage of the legislation, which would clear the way for the Senate Agriculture Committee and the full Senate to act on their version in June and for Conference in July.
Ag Committee Chairman Mike Conaway. R-Texas, has stated that anyone wanting to offer an amendment should be required to commit in advance to support passage of the final bill, regardless of whether it passes or not.
With all Democrats prepared to vote against the Committee-passed bill due to its tightening of SNAP (food stamp) eligibility requirements, the bill will require 215 Republicans, representing a majority of current House Members, to vote in favor.
House Speaker Paul Ryan is supporting the Committee bill as a step forward in his agenda for welfare reform, but 16 right-wing groups including Heritage Action are actively lobbying members of the conservative Freedom Caucus to vote against it.
Conservation groups are also part of the chorus against the bill.
The Izaak Walton League of America objects to the bill, which would reduce farm conservation programs by almost $1 billion over 10 years.
Several amendments were approved Wednesday.
An amendment from Rep. Steve King of Iowa to allow contracts through the Environmental Quality Incentives Program with drainage districts to provide irrigation or improve water efficiency was added, along with one from Rep. Mike Rogers of Alabama to allow SNAP recipients to buy multivitamins with the benefits.
An amendment from Rep. Jodey Arrrington of Texas would allow rural hospitals to refinance their debt using USDA loan programs was approved.
Rep. Glenn Thompson of Pennsylvania offered an amendment that would give high priority to research efforts on chronic wasting disease.
Subscribe to receive top agriculture news
Be informed daily with these free e-newsletters
You May Also Like
---