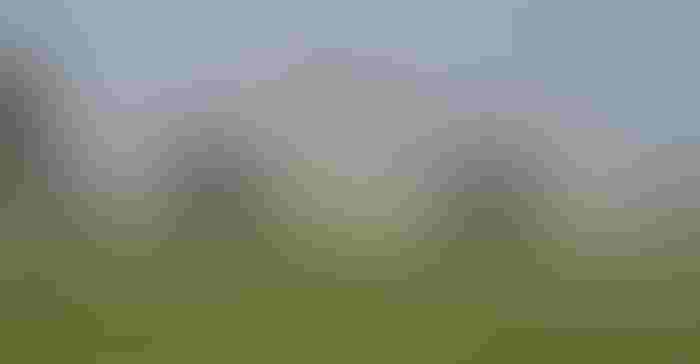 Over a period of four decades, Mann Family Farms near Marshalltown put up 10 grain bins and accessory items to store 285,000 bushels of corn. But on Aug. 10, disaster struck. In less than 30 minutes, a derecho storm packing straight-line winds of 106 mph demolished the entire complex, including both 92-foot grain legs.
"I live about a mile south of the bin site that sits on the homeplace. Around noon, it became extremely dark, rain began, a hurricane gale kicked in, the power went off, and when items started hitting the house, my wife, son and I went to the basement," says Glen Mann, who farms with his son, Bennett; and his younger brother, Duane; and Duane's three sons, Derek, Devan and Decker. "After the storm passed, a call came from the road maintainer who relayed the bin site had suffered severe damage. There were a few tears when I realized that all our work had been totally destroyed."
Looked like crushed soda cans
The 80,000-bushel bin, reduced to half its circumference, came to rest 40 yards from the floor and had fallen on a tractor. Another bin that held 25,000 bushels peeled back from the foundation, lost its roof and was pushed against two other structures that remained upright. As the tops flew off two other bins, their sides crumpled and looked like crushed soda cans. Both legs, the grain conveyer and pipes landed in the center of everything above the dump pit.
"My guess is the large grain bin to the south went down first. Since the catwalk was tied together with the main cross auger, tension grew tighter on all the cables and they began to snap, allowing both legs to bend and gooseneck as they fell. When we started constructing the storage site in 1979, our game plan was to upgrade and add new technology every year," Glen says. "It's rather ironic now that I recall a comment that Dad made one time: 'If anything ever happens to all this maze of steel, it will be one big mess.'"
Perfect landscape prior to derecho
Glen notes that over a period of 30 years the farm spent more than a $1 million to store grain. The entire complex was condemned by their insurance company since nothing is left to salvage. He hopes the policy will cover up to a couple hundred thousand dollars of the original investment.
In September, all the steel was cut up and hauled away. Initial plans call for rebuilding 150 yards south of the original site. Preparation will begin this fall, but another immediate challenge is disking around 800 acres of downed corn, harvesting the remaining 1,100 acres and finding available storage facilities in the surrounding area.
Full construction will commence in the spring after the ground goes through the freezing and thawing cycle. The end goal is to boost storage capacity by an additional 100,000 bushels, with the core being two 150,000- to 160,000-bushel bins. There will also be a 50,000-bushel wet holding tank, two legs and a 3,000-bushel-per-hour capacity drier.
Donald, the father of Glen and Duane, started his farming operation in 1956 with 120 acres. Today this family farming enterprise raises around 2,000 acres of corn and 1,500 acres of soybeans.
Persinger writes from Grundy Center.
Subscribe to receive top agriculture news
Be informed daily with these free e-newsletters
You May Also Like
---