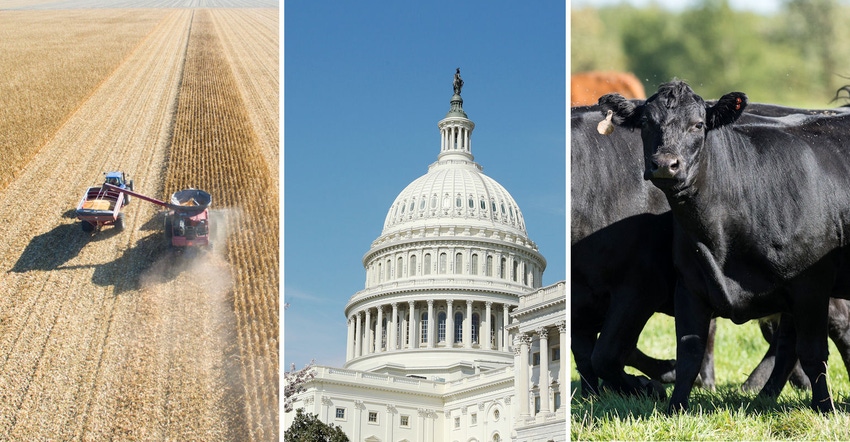 NolanBerg11/flySnow/SteveOehlenschlager/ThinkstockPhotos
Need a quick catch up on the agricultural news of the week? Here are seven stories you might have missed. 
1. NAFTA negotiations are underway this week in Washington, D.C. Some progress has been made, but a sunset clause proposed by the Trump administration was rejected by Canadian and Mexican negotiators. The clause would end the pact after five years unless all sides agree to keep it. Canadian Prime Minister Justin Trudeau has stuck to an optimistic tone, but Mexican Economy Minister Ildefonso Guajardo has said, "there is life after NAFTA." – Farm Futures
2. Washington state officials have been trapping gypsy moths for more than 40 years, but in 2017 they discovered actively reproducing females during summer trapping. This was the first time they found female moths actively laying eggs in the state. – Western Farmer Stockman
3. BASF is buying Bayer's seeds for crops including cotton and soybeans and its Liberty brand of herbicide for $7 billion. Bayer is selling the assets to appease regulators as it moves to complete its $66 billion purchase of Monsanto. The transaction is subject to the closing of Bayer's acquisition of Monsanto and regulatory approval. The companies expect the Bayer-Monsanto deal to close in the first quarter of 2018. – Farm Futures
4. Puerto Rico lost 80% of its crops as a result of Hurricane Maria. The poultry sector lost 90% of its production. Flooding covered 51,000 acres of coastal area. Irrigation systems were lost. Cows and other livestock floated away. – USA Today
5. The Trump administration this week announced it is eliminating the Clean Power Plan and said that wind energy tax credits should be eliminated. Congress voted to extend wind tax credits in 2015. The credit is 2.3 cents per kilowatt hour and it's due to expire in 2022. – Farm Futures
6. Kevin Skunes, Arthur, N.D., has started his term as president of the National Corn Growers Association. Skunes has been an NCGA board member since 2012 and has served on several committees, including resolutions, finance, grower services, trade and biotechnology, ethanol, and the NCGA Foundation. – Dakota Farmer
7. USDA is suspending acceptance of CRP offers since it's getting close to the enrollment cap of 24 million acres nationwide. CREP and CRP Grassland enrollment will continue. – Farm Futures 
Your first bonus is a follow-up on World Dairy Expo, which recently wrapped up in Madison, Wis. Breezy Hill Dairy, owned by Alex and Mary Olson of Dallas, took home grand champion honors at the World Forage Analysis Superbowl Awards Luncheon. – Wisconsin Agriculturalist
Rosiers Blexy Goldwyn-ET was awarded the honor of supreme champion at the 2017 World Dairy Expo on Oct. 7. This winning Holstein cow is owned by Budjon Farms, Vail, Abbot, Van Excel and Woodmansee of Lomira, Wis. – Wisconsin Agriculturalist
Mapleton Vly LT Borroloola, a 7-year-old Milking Shorthorn bred and owned by Mapleton Valley Farms LLC of Oconomowoc, Wis., is the 2017 Wisconsin Cow of the Year. – Wisconsin Agriculturalist 
And your second bonus, because it's been a busy news week, is from the EPA.
The agency announced rules that must be followed when applying dicamba during the 2018 growing season. – Farm Futures
Subscribe to receive top agriculture news
Be informed daily with these free e-newsletters
You May Also Like
---