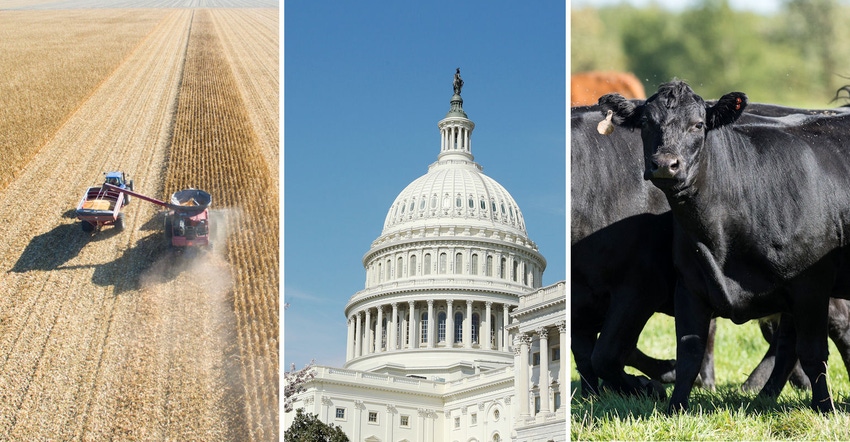 NolanBerg11/flySnow/SteveOehlenschlager/ThinkstockPhotos
New a quick catch up on the news of the week? Here are seven agricultural stories you might have missed.
1. The 2018 Farm Bill is on the way to President Trump's desk and he is expected to sign it. The House of Representatives passed the bill by a vote of 87-13 on Wednesday. The Senate passed the bill on Tuesday. The vote was 87-13. The bill protects and expands crop insurance, allows producers to sign up for the county option under the Agricultural Risk Coverage program or the Price Loss Coverage program annually. – American Agriculturalist
2. The U.S. Environmental Protection Agency and the U.S. Army Corps of Engineers released a revised rule defining what constitutes a "waters of the United States" for purposes of the Clean Water Act. The revised rule drew praise from many agricultural groups. – American Agriculturalist
3. A recent Iowa State University study finds that increases in crop production due to expanding acreage devoted to agriculture in five Midwest states between 2006 and 2016 has reduced the region's soil carbon content and may have contributed to climate change. Chaoqun Lu, assistant professor of ecology, evolution and organismal biology, is the lead author of the study. – Wallaces Farmer
4. Investing in regenerative agriculture has the potential to address climate change, peace and conflict resolution, and the water supply. Regenerative agriculture increases carbon sequestration in the soil. The soil holds more water. - Forbes
5. Agriculture Secretary Sonny Perdue said on Thursday he expects the White House to approve a second round of market facilitation program payments to farmers impacted by ongoing trade disputes. – KFGO.com
6. Former agriculture secretary Bob Bergland, of Minnesota, died Dec. 9 at a nursing home in Roseau, Minn. He was 90. Bergland was a Minnesota farmer and three-term congressman who served as President Jimmy Carter's agriculture secretary. – The Washington Post
7. A California farm has been implicated in the recent outbreak of E.coli illness tied to romaine lettuce. So far, 59 people across 15 states have come down with gastrointestinal illness, which was traced to the romaine lettuce. – U.S. News and World Report
And your bonus.
Officials in New York are promoting farm-fresh Christmas trees this holiday season. It's an $8 million industry in New York state. – WRVO Public Media
Subscribe to receive top agriculture news
Be informed daily with these free e-newsletters
You May Also Like
---