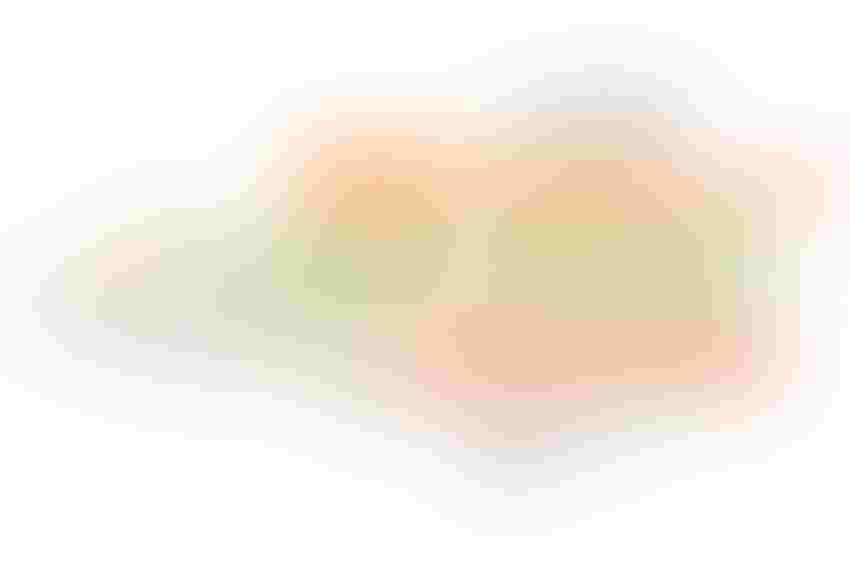 Updated with information from Dannon.
Six of the nation's farming organizations have united to criticize Dannon's decision to convert three of its brands to non-GMO by the end of 2018.
In a conference call, Randy Mooney, a Missouri dairy farmer who serves as chairman of the National Milk Producers Federation, said Dannon should be standing on the side of science and telling the truth about agriculture and sustainability, not trying to make up for lost sales. The only difference between milk from cows fed non-GMO feed is the writing on the carton and the price, he said.
Dannon's Pledge
The six organizations – the American Farm Bureau Federation, American Soybean Association, National Corn Growers Association, National Milk Producers Federation, American Sugarbeet Growers Association and the U.S. Farmers and Ranchers Alliance – unveiled a plan to work collaboratively with food companies going forward.
The Straight Talk campaign will engage food companies in a dialogue on sustainable agriculture production and the marketing practices used to reach consumers.
The six sent a letter to Dannon on Oct. 17 saying the company's Dannon Pledge "would force farmers to abandon safe, sustainable farming practices that have enhanced farm productivity over the last 20 years while greatly reducing the carbon footprint of American agriculture."
Dannon responded, "we were surprised to receive a divisive and misinformed letter about our efforts to continue to grow America's enjoyment of dairy products, including yogurt."
Related: Ag groups take Dannon to task for plan to increase non-GMO feed purchases
In April, Dannon announced Dannon's Pledge, an effort to partner with its dairy farmers in states including Ohio, Indiana, Utah and Kansas and their suppliers to implement sustainable agriculture practices and technology that lead to better soil health, better water management, an increase in biodiversity and a decrease in carbon emissions. They also want to reduce the use of herbicides and pesticides.
Dannon committed to converting its three flagship products  - Dannon, Oikos and Danimals – to non-GMO ingredients. To do this, the feed for the cows that produce the milk for these brands would be non-GMO by the end of 2018. Further, the company committed to labeling products containing GMOs by the end of 2016.
A dairy farmer who sells milk to Dannon says the company is dedicated to sustainability.
"We have a dedicated partner in Dannon who we trust and we can rely on for stable pricing. But even more important is our shared vision for sustainability and animal welfare," said Ken McCarty, a co-owner and manager of McCarty Family Farms, in a media statement. "As far as I know Dannon is the only dairy processor that requires its producers to obtain animal welfare certification, to make sure that on-farm practices are truly best in class."
Tipping point
Mooney said Dannon's announcement that it was moving toward non-GMO milk for three of its brands was the tipping point because of what he's seen happen in the past in the dairy industry. If one marketer does it, the rest follow, he said. It's harder to segregate milk than other commodities. They aren't against choice as organic milk is GMO free, but when large companies require the same thing it affects thousands of acres and will force agriculture to use 20-year-old technology. Agriculture can't sit back and be silent anymore, he said, it must proactively engage food companies to help them understand the implications of their decisions. There is nothing wrong with GMOs.
More production, less energy use
Rather, GMOs have improved sustainability for crops, said Marty Matlock, a University of Arkansas professor of ecological engineering and the executive director of the University of Arkansas Office for Sustainability.
From 1980 through 2011, total corn production increased 101%, while using 30% less land per unit of production and decreasing soil erosion per unit of production by 67%, according to a Field to Market report. Energy use per unit of corn production decreased by 44% while greenhouse gas emissions per unit of corn production decreased by 36%.
Soybean production increased 96% during the time frame, with land use per unit of production falling 35%. Soil erosion per unit of production has decreased by 66% while energy use per unit of soybean production has declined by 48% and greenhouse gas emissions per unit of production have declined by 49%.
Total soil erosion has decreased by 31% for corn and 28% for soybeans, but those improvements were primarily in the first half of the study time frame because of a 21% and 24% increase in planted acres in recent years.
What do consumers want?
Dannon doesn't say there is anything wrong with GMO crops, rather they want to deliver what consumers want.
"We believe the currently approved GMOs are safe," Dannon says in its statement. "Furthermore, we believe that sustainable agricultural practices can be achieved with or without the use of GMOs. However, we believe there is growing consumer preference for non-GMO ingredients and food in the U.S. and we want to use the strong relationships we have with our farmer partners to provide products that address this consumer demand."
Subscribe to receive top agriculture news
Be informed daily with these free e-newsletters
You May Also Like
---