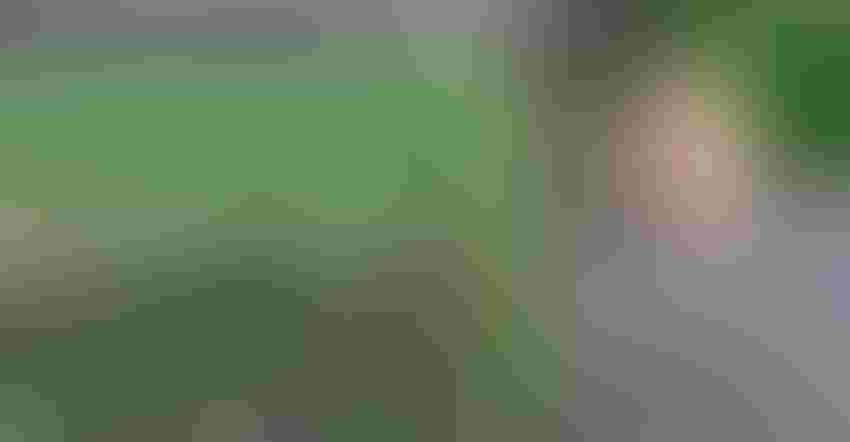 KEEP IT SIMPLE: Farmers seeking solutions to a problem on their farms should be willing to try a practice on a small scale before converting their entire operation. Arlington, S.D., farmer Jesse Hall suggests that farmers keep simplicity in mind when developing a research project, not trying to answer too many questions in one trial.
Kevin Schulz
Editor's note: This is the second of a three part series sharing how producers can implement on-farm research into their operation.
Jesse Hall's research experience through South Dakota State University has followed him to his farm near Arlington, S.D. Here are five tips he offers fellow farmers wishing to research farming practices on their own farm:
1. Formulate a goal. "You've got to know what type of change you want, and why you want to make the change," Hall says.
Whether farmers are curious about planting rates, fertilization rates or row spacings, Hall recommends they have a specific goal they want resolved by on-farm research. Also, do not attempt to answer too many questions in one research plot.
2. Make contacts. Hall stresses the importance of leaning on Extension personnel, or others who may have a scientific background who can help you achieve your goals. Also, know that you can't beat experience, and Extension personnel may know of someone, or you may have neighbors, who have tried something similar to what you are hoping to accomplish. "Why reinvent the wheel," he says.
Part 1: On-farm research keeps farmer fresh
Farmers have the practical experience, while the Extension personnel can provide the scientific and statistical background. "And the farmer needs somebody who understands science and statistics, because observation does not always indicate cause," Hall says. "You need somebody with a statistical background that can tell you 'perhaps there's something else going on here.'"
3. Be patient. "Give it time, and do a good job of observing," Hall says. "Then repeat the experiment on a small scale," adding that he's heard horror stories of producers switching their entire operation to a new practice before seeing if it will actually work on their specific farm ground.
"Keep it small; keep it cheap," he says, adding that farmers don't have to modify their equipment when they are still in the experimentation phase. "You can hire a neighbor or rent the equipment. You've got to figure out a way to make it work with what you've got."
4. Don't set yourself up for failure. While working in Extension, Hall had a number of conversations with farmers, with some farmers saying, "I tried no-till once and it didn't work." In an attempt to get to the root of the issue, Hall found that the farmer had a wet spot that couldn't get worked one fall. They had decided the next spring to hire the neighbor to plant no-till soybeans on June 20. "Then it started to rain, and it flooded out, so that no-till don't work," the farmer told Hall. As a follow-up, Hall asked, "Would it have worked if you would have worked it and planted it?"
"Well, no," was the sheepish reply.
"OK, you see, you set it up for failure," Hall told him, understanding the reasoning of maybe not experimenting on your best land. "I can understand their point," he says. "If you're experimenting, you don't want to use your good land if you don't think it's going to work. So you put it on the worst land. Well, you can't do that. But I can see the logic behind it."
5. Don't worry what anybody thinks. "Not sure if that's the biggest hurdle, but it's a big one," Hall says. In addition to seeking input and advice from Extension personnel and other producers, he also suggests looking within the family. "If your kid has an idea, don't stop him," he says. "Heck, you know what, put your kid in charge of the experiment."
About the Author(s)
Subscribe to receive top agriculture news
Be informed daily with these free e-newsletters
You May Also Like
---