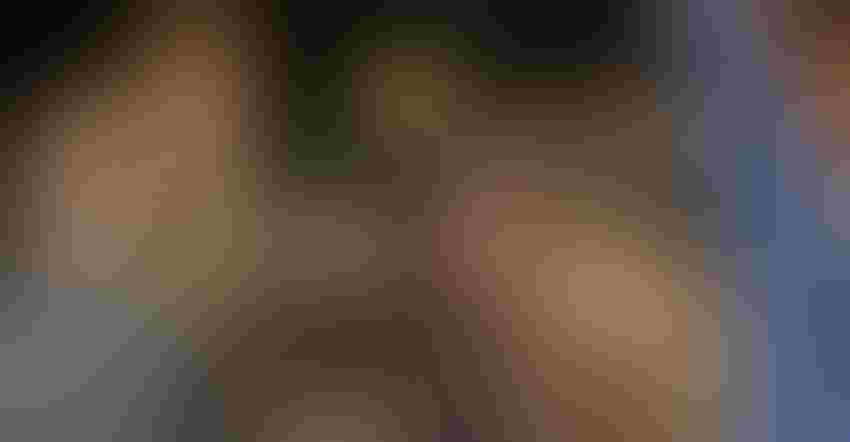 DISCUSSION BEGINS: Sen. Debbie Stabenow visits with those attending the signing of the last farm bill in East Lansing in February 2014. Discussions have already started on the 2018 Farm Bill, with the second listening session May 6.
The U.S. Senate Committee on Agriculture, Nutrition and Forestry will hold its second field hearing for the 2018 Farm Bill in Frankenmuth May 6. It will be from 10 a.m. to 12:30 p.m. at the Saginaw Valley Research & Extension Center at Michigan State University, 3775 S. Reese Road.
"The farm bill is critical to Michigan agriculture, which supports 1 in 4 jobs across our state," says Debbie Stabenow, ranking committee member. "Thanks to input from our farmers and stakeholders, the 2014 Farm Bill has Michigan on every page and was signed into law here at Michigan State University. We made historic investments to support our small towns, protect our land and water, help our farmers export and sell more products locally, and end unnecessary subsidies and programs — saving taxpayers $80 billion more than we first expected. As we begin our work on the 2018 Farm Bill, I'm committed to making sure Michigan's voice is heard again so we can continue to support our state's farmers and families and create new jobs." 
The hearing, titled "Growing Jobs and Economic Opportunity: Perspectives on the 2018 Farm Bill from Michigan," will feature testimony from a wide variety of agricultural producers and farm bill stakeholders, examining agriculture, as well as conservation, rural economic development, research, forestry, energy and nutrition policies that affect Michigan. Witnesses will be announced shortly. All stakeholders and the general public are invited to submit testimony or comments in writing for the official committee record.
"Listening to producer perspectives from across the country is a critical step in writing the next farm bill," says committee Chairman Pat Roberts. "We had a successful first field hearing in Kansas, and I look forward to continuing the tradition of listening to farmers, ranchers and other stakeholders with Sen. Stabenow in Michigan."
To attend, email your name and organization (if representing a group) to [email protected].  If submitting testimony or comments for the official record, do so no later than May 12, either online at agriculture.senate.gov/farm-bill-input or by mailing it to the Committee on Agriculture, Nutrition, and Forestry, 328A Russell Senate Office Bldg., Washington, D.C. 20510.
The hearing will be webcast live on ag.senate.gov.
Source: Office of U.S. Sen. Debbie Stabenow
Subscribe to receive top agriculture news
Be informed daily with these free e-newsletters
You May Also Like
---