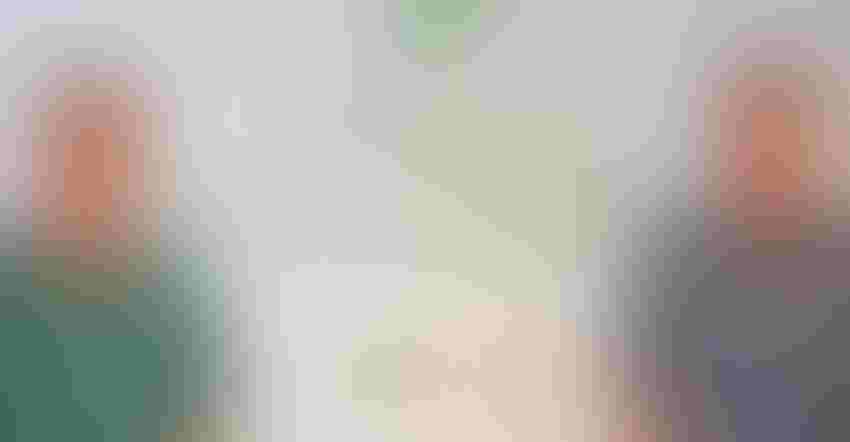 NEW CO-OP: Two major regional co-ops merged Sept. 1, creating Ceres Solutions Cooperative, which covers 35 counties in Indiana and Michigan. Pictured are Board Chairman Rob Versprille (left) and CEO Jeff Troike.
If you did business with Ceres Solutions in west-central Indiana or North Central Co-op in northern Indiana or parts of Michigan, you now will do business with Ceres Solutions Cooperative. Other than the new name name, don't expect many major changes.
Ceres LLP merged with North Central Co-op on Sept. 1. The merger was approved overwhelmingly by shareholders of both co-ops. Jeff Troike, former chief executive officer of Ceres LLP, is the new CEO of Ceres Solutions Cooperative. Rob Versprille, former secretary of the North Central Co-op board, is chairman of the new cooperative. He farms in Hamilton County, Ind.
Troike says customers will see the same service and deal with the same people. "This move was primarily to maintain a strong position in the marketplace," he explains.
"Two very financially strong co-ops merged together," Versprille says. "It should help us do many things down the road, including help retain quality employees."
Troike adds, "It gives us increased flexibility. If opportunities come along that require more capital investment than one co-op could do alone, we now will be in a better positon to consider those investments."
"Having more capitalization in the business is important," Versprille notes.
Maintain integrity
The need to retain personal service, an attribute both co-ops were noted for previously, will continue to be the hallmark of the new co-op, Troike insists. "We still intend to get 'belly to belly' with each customer and provide the service they expect. Our goal is to seem like a small business to the customer, even though the business will be bigger than before."
Stretching out the service area both the length of Indiana and into southern Michigan may also help spread risk, both note. Two years ago, for example, northern Indiana was hit by excessive water that damaged crops early, while southern areas were unaffected.
"We know there will be challenges ahead," Versprille says. "Things are tight in agriculture. We've got to integrate some things. But Jeff has spent his whole career in the industry, and we're confident he can guide us through the transition."
Some of the counties in Michigan that are part of the service territory for the new co-op are noted for specialty crops. Producers there can expect the same competent service they have become accustomed to, Troike says.
One change is already underway. "We're phasing out the feed mill at Fremont, Mich., and building a new one at White Cloud, Mich.," Troike explains. With an expanding livestock industry in the area and the opportunity for a growing pork industry — since a new packing plant near Coldwater is opening its doors — they saw the need to build a larger feed mill.
"It wasn't practical to do it at Fremont, so we're investing in a new facility at White Cloud," Versprille concludes.
COVERAGE: The newly formed Ceres Solutions Cooperative service areas are shown in green. (Source: Ceres Solutions Cooperative)
Subscribe to receive top agriculture news
Be informed daily with these free e-newsletters
You May Also Like
---