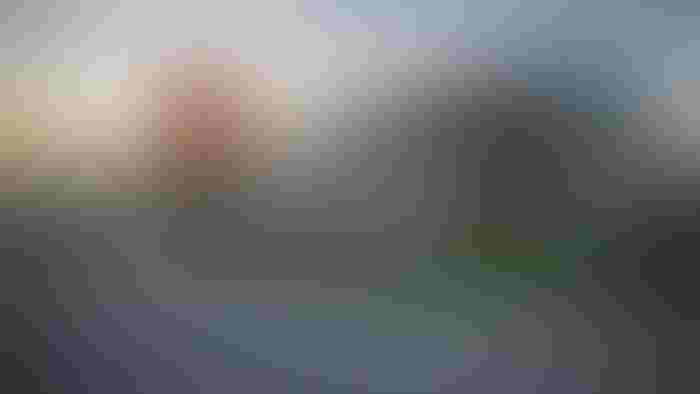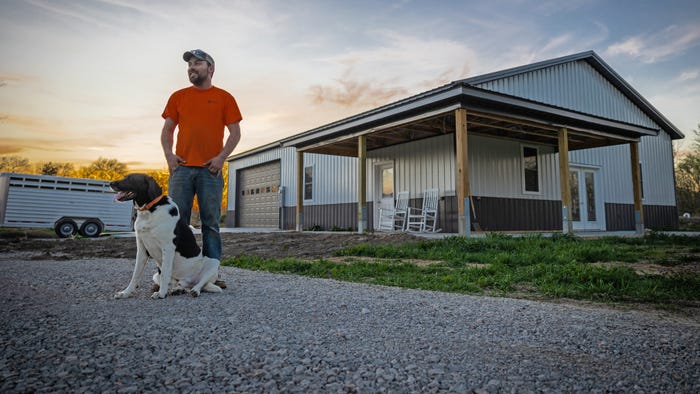 Young farmer Matt Sampson had always dreamed of living on his family's Menard County, Ill., farm. But with home prices skyrocketing, interest rates at 8% and material expenses at an all-time high, both buying and building seemed out of his reach.
Sampson had heard the buzz about pole barn homes and shouses, or combination shop houses, and thought it seemed worth exploring. He could build on his family farm and wasn't afraid of a little sweat equity — so hiring a company to build a post-frame shell and finishing the interior himself in his spare time sounded like the perfect fit.
Lisa Bocklage, marketing manager for Morton Buildings, says the trend is toward more post-frame home construction in recent years, particularly in rural areas.
"We also saw an increased interest in post-frame home construction during the pandemic," Bocklage says. "Consumers were looking to invest in properties as places to get away, such as lakeside properties. The large garage with living quarters was a great option for storing their boat and recreational vehicles but also having living space to enjoy."
Bocklage adds that based on Google Trends data, there's been five times more interest in shouse- or barndominium-type homes in the past five years.
"As farm operations continue to expand, there's been an increased need for a farmer or farm manager to be on-site," Bocklage says. "The multipurpose shop and living space has been a great option for these growing farm operations."
Sampson started his building project by getting price quotes from Wick Buildings, Morton and Hillside Lumber Products in Cuba, Ill.
"I was looking for the most cost-effective option, and the Graber pole barn from Hillside Lumber Products came in about 35% cheaper than everyone else," Sampson says.
He was also drawn to the open floor plan, energy efficiency and variety of options available in a post-frame offering. Sampson opted for a 40-by-56-foot, 2,240-square-foot building, with 1,150 square feet of finished living area and the remaining area used as a shop or garage.
"I wanted a 10-foot-tall garage door so I could pull equipment in to work on," he explains.
During the day, Sampson works as a plumber, but as soon as he's off work, he's back at the farm, finishing his home's interior. He says it's been a family project, and his father, uncle and brother-in-law also pitch in on their days off.
"I hired someone to pour the concrete, put the counter tops in, and someone to install the insulation, but everything else we've done ourselves," Sampson says. "I'm living here while we're finishing it out, so it's a little messy right now."
For now, the finished portion of the home has two bedrooms, one bathroom, and a living and kitchen area. He says he plans to live in the home for the rest of his life, so in the future he hopes to finish the garage area to accommodate additional bedrooms and bathrooms. Sampson adds that he's been pricing storm shelters because the home is built on a concrete slab and lacks a basement.
His advice for someone interested in this type of construction?
"You definitely have to know exactly what you want," Sampson says. "But if you're interested, go for it. I'd do it again in a heartbeat."
For additional information about what it takes to build a shouse or post-frame home, see One more way to build a farmhouse.
Subscribe to receive top agriculture news
Be informed daily with these free e-newsletters
You May Also Like
---