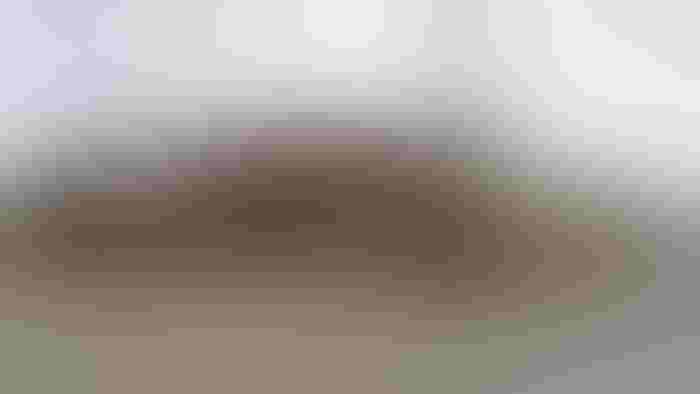 Photos by Jennifer Kiel
If you're seeking the strength of steel and the economy of wood in a clear-span building, K Buildings might be your answer. It combines both.
Steel mainframes, often referred to as red iron, provide strength and post-free spans, while a wood secondary framing (purlin and girt design) provides a blend of price and performance, says Doug Hemm, director of marketing for K Buildings.
K Buildings, a division of Elgin Service Center Inc., an Ohio corporation, fabricates buildings on-site in the northwest village of Elgin and sells through more than 25 dealers located from Pennsylvania to Iowa and from Kentucky through Michigan.
From farm shops to dairy barns, and commercial to residential, K Buildings offers clear-span widths from 24 to 100 feet and sidewall heights from 8 to 20 feet.
Hemm says manufacturers of all-steel buildings weren't developing buildings with the agricultural market in mind, providing an opportunity to service an industry increasingly using larger equipment.
"We have a lot of design flexibility with an extensive list of options. Each building can be customized to ideally suit the intended purpose," he says, while noting pricing compares favorably to name-brand pole manufacturing. Customization may include curtain side exterior walls, overhead doors or a variety of roof pitches, to name a few.
"We first started building the K Building in the early '70s," Hemm says. "It's pretty much the same building; it's just gotten a lot bigger with a lot more options."
The pre-engineered frame of K Buildings removes any question of how it should be built.
"When you compare K Buildings to say post framing, it's built the way the engineers envisioned with everything needed, including all the hole locations already predetermined and the fasteners included into the building," Hemm explains. "The clips holding the secondary lumber are all welded in place, so it's going to be built the way the engineer designed, and the quality of the building is not going to be subject to the builder's expertise."
More space
The space created by the K Building's vaulted ceiling can turn the unusable dead air space of the pole barn into ideal space for lofts, bulk storage or open shop space. The exposed open web truss design also makes running electrical wiring quick and easy.
The shop can be insulated in a variety of ways depending on its usage. With a steel liner package, insulation values of R-25 are available.
The sidewall header system permits sidewall doors up to 43 feet in width.
Down the road, if a producer wants to make changes or additions to a K Building, Hemm says that's no problem. "On the end walls of every K Building there is a riveted ID tag with the date the building was completed, a unique ID number and phone numbers for contacts within the company," he says.
All specs are saved in the company system for easy retrieval.
To start, CAD drawings are created, and the foundation plan and anchor bolts are sent to the dealer or sales center so the site preparation can begin. A production date is established, which helps ensure all foundation and related site work will be completed, and the erection of the K Building can begin immediately upon arrival.
Often, Hemm notes, trucks leaving the Elgin Center have an entire building on board. Every stick of lumber, nut, bolt, steel mainframe and siding, as well as all related accessories, are included.
For construction, some customers use contractors, but many, Hemm says, build their own buildings with the help of a provided erection manual and telephone support for assistance.
Lead times vary within the calendar year. Hemm says it was about six to eight weeks, but for the past three years the lead time has been quite a bit longer. "We are currently booking orders for December 2023 fabrication," he says.
For more information, contact the Elgin Service Center at 800-758-0307, or a K Buildings dealer.
Subscribe to receive top agriculture news
Be informed daily with these free e-newsletters
You May Also Like
---