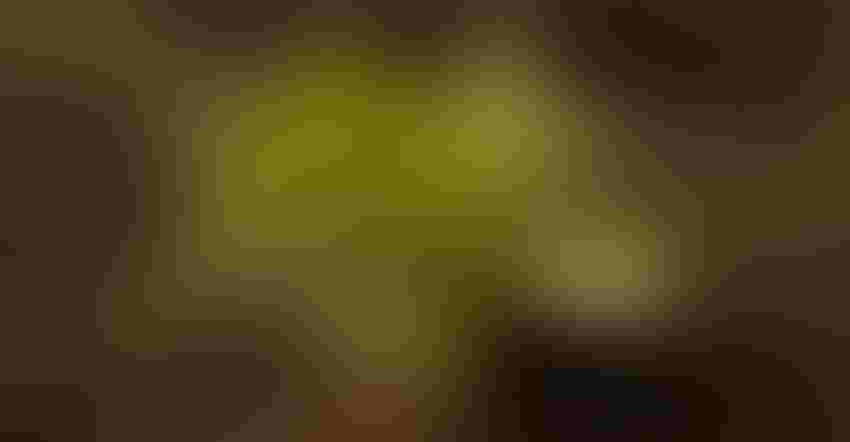 FRESH FROM THE WILD: When cooked, leeks like this one have a very delicate flavor, like a mild onion but with a hint of sweetness.
Photos by Scott Woodbury
There are a couple meals that I will always remember, and they weren't served at a restaurant. One such meal was enjoyed with Tom and Angel Kruzen, founders of Pan's Garden, a native plant nursery that specializes in Missouri native woodland plants.
The Kruzens invited me for brunch, where they served mayapple jelly on toasted homemade bread, tomato salad, and wild leek omelets. All of the meal's ingredients were from a neighbor or foraged from the garden.
Wild dishes
The mayapple fruits were hand-picked from the garden, then processed and canned into a mildly sweet, light-yellow jelly. The byproduct of the seed pod cleaning (clean seeds) was discovered sprouting in the compost pile, where Angel had dumped them the year before. Those transplanted seedlings have grown into big patches in the Whitmire garden.
The wild leeks were dug from the Kruzens' shady kitchen garden. They looked like short, plump, green onions. The bulbs and leaves were chopped and then sautéed to produce a heavenly aroma and flavor, especially when combined with free-range, dark-yolked eggs.
Missouri native onion species are tricky to grow in the garden. Don't mistake them for wild garlic, the non-native weed. Wild garlic can be prolific in gardens and farm fields. It has slender, vertical, tubular dark-green leaves and deep bulbs that need to be carefully dug out with a shovel or dandelion digger so they don't sprout again.

MAKE WAY FOR ONIONS: Don't let the color fool you — this is a type of onion. The glade onion grows in the wild near rocks. It can be used in many mealtime dishes.
Know your onions
By comparison, wild onions and leeks are a challenge to grow and have showy flowers. It took several attempts to establish a small patch of wild leeks in the Whitmire Wildflower Garden. They failed in early attempts in the lower woods, where soils are moist, but succeeded in a drier area of the garden.
We have had mixed success growing nodding onion and fall glade onion, perhaps because our soils are too rich or because we don't have the right soil mycorrhizae. Nodding onion is about 14 inches tall in bloom, and it has showy white to light pink flowers in early summer. Fall glade onion is about 8 to 10 inches tall and has rose-pink flowers in September and October. Both are small, clump-forming perennials that fit into small garden spaces. They prefer full sun to part shade, and well-drained or rocky soil.

ALL COLORS: Onions bloom in all colors aboveground during the summer months. This is a nodding onion that is native to Missouri.
Glade onions especially prefer growing in rock gardens, dry-laid flagstone walkways, retaining walls or along the edge of a gravel path. When planting in these areas, scoop out some of the gravel base; mix it 50/50 with topsoil and mycorrhizae in a bucket; and then, backfill the pocket between flagstone pavers, in openings in walls, or along gravel edges. Put in small onion plants because they are easier to fit into narrow pockets. They will naturalize (spread from seed) if they are suited to your conditions.
The memory of wild leek omelets sizzling in butter, filling the kitchen with onion aromas easily comes to mind as if it happened yesterday. Memories and meals like these are a rare treat — but not out of reach if you have patience and a shady, well-drained spot in the garden where you can start your own patch of wild leeks. Missouri Wildflowers Nursery sells local-ecotype wild leeks in seed packets and containers.
Woodbury is curator of the Whitmire Wildflower Garden at Shaw Nature Reserve in Gray Summit, Mo., and an adviser to the Missouri Prairie Foundation's Grow Native! program.
About the Author(s)
Subscribe to receive top agriculture news
Be informed daily with these free e-newsletters
You May Also Like
---