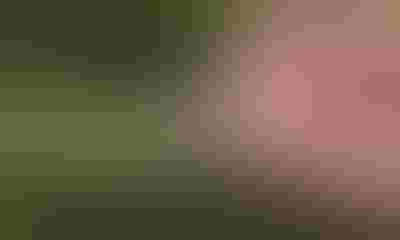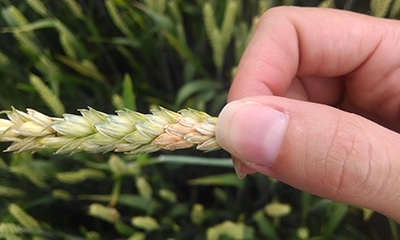 On Wednesday, Pennsylvania Department of Agriculture released a warning to farmers to minimize risks of Fusarium head blight, also known as wheat scab. While the concern is valid, the timing may be a little late for many farms to achieve cost-effective control of the organism and resulting mycotoxins.

WAY TOO LATE: Fungicide spraying on wheat must be timed to early flowering to effectively control scab.
Conditions have been ideal. "Our unseasonably wet spring has increased the likelihood of growth of Fusarium, and the mycotoxins it may bring, in wheat or other small grains," says Ag Secretary Russell Redding. "As wheat is beginning to flower across Pennsylvania, the time to prevent Fusarium Head Blight is now. Producers – particularly in the western half and southernmost parts of the state – should take precautions now to safeguard their crops."
Earlier warning
Two weeks ago, American Agriculturist posted Keep your eye peeled for wheat scab. With warm, wet weather, most wheat moves quickly to the Feekes 10 stage and flowering, noted Nathan Kleczewski, University of Delaware Extension specialist.
Wheat head flowers don't all appear at once. Flowering starts in the middle of the head, then moves to the lower and upper segments. There's a tight window for effective spraying, so prepare to spray when first flowers appear. Wait for emerging anthers (thin green spikes on the flowerets) to be visible.
University of Illinois research shows that approved scab fungicides worked best at beginning of flowering. The data showed that spraying five days after the ideal timing was better than spraying when no anthers were present. Early detection is crucial for protection.
Anyone planning to use a recommended fungicide for scab suppression (Prosaro, Caramba or Proline) needs to understand that these fungicides won't result in control of scab similar to the controls of rusts and powdery mildew, cautioned Kleczewski. Due to variability with developmental stage of tillers and other factors, one can expect – at best – around 42 to 45% reduction in vomitoxin or DON, a De-Oxy-Nivalenol toxin produced by Fusarium and Aspergillus strains
If flowering is over
According to this week's Fusarium Head Blight Prediction Center, if you have had fields flower over the last two weeks, you should scout 18 to 21 days after flowering to assess scab. Fields or field areas with high levels of scab should be stored separately from low scab fields or areas if possible.
Harvest should occur as early as possible and grains dried to at least 15%. In severely affected fields, growers should increase combine fan speed to remove tombstones during harvest.
Subscribe to receive top agriculture news
Be informed daily with these free e-newsletters
You May Also Like
---