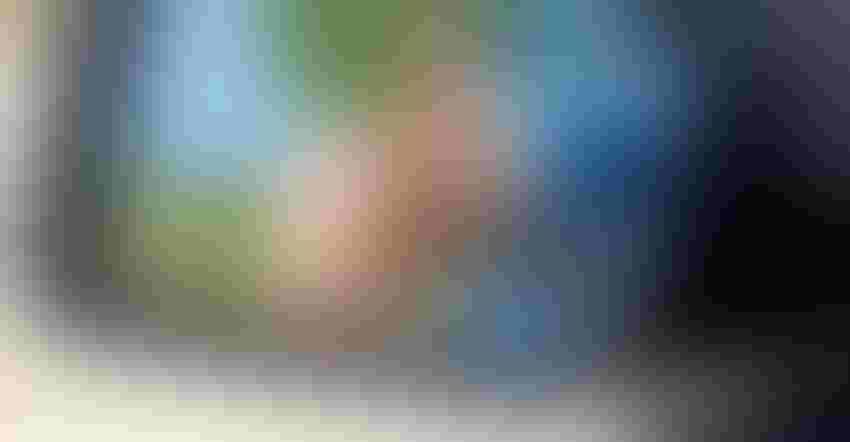 CAN-DO LIFE VIEW: These farmers know it helps maneuver the ups and downs of business and life.
fotojog/iStock/Thinkstock
Despite historically narrow profit margins, Northeast farmers are a resilient bunch — thanks to wisdom-sparked enthusiasm. That's why Farm Progress asked 225 mostly farmers (men and women) attending the New York Farm Show the same question: "What positive wisdom has helped you?"
Many shared passed-down wisdoms, inspirations from others and lessons learned from life. We couldn't include all responses, but you'll come away feeling more upbeat from at least a few of them:
From Amenia, N.Y.: "Know your strengths. Hire people to do what you don't do well."
From Bethlehem, Conn.: "Work on a family farm."
From Attica, N.Y.: "No decision is still a decision, so control your life through decision."
From Weedsport, N.Y.: "No matter where you go, there you are."
From Manheim, Pa.: "Don't be greedy; learn to anticipate supply-demand changes."
From Delanson, N.Y.: "Believe in God. Don't smoke. Work hard. Love your woman!"
From Waltham, Vt.: "Never learn to do something you don't want to have to do."
From Port Byron, N.Y.: "Always try to leave things better than you found them!"
From Cambridge, N.Y.: "If you don't take a step to improve, you'll always be a step behind."
From Mifflintown, Pa.: "Be honest and clean-speaking."
From Canton, Ohio: "Life comes one day at a time; live it that way."
From Fulton, N.Y.: "Keep your eyes and ears open and your mouth shut."
From Camden, N.J.: "Smile. It's free and doesn't cost anything to give away."
From Roxbury, N.H.: "Follow your dreams!"
From Rushville, N.Y.: "Help your neighbor and you will be helped someday."
From Newfield, Pa.: "Remember, most people are good, just not perfect."
From Freeville, N.Y.: "The best manures in the fields are the farmers' footsteps."
From Clayville, N.Y.: "Endure the bad days; treasure the good ones."
From Belvidere, N.J: "Stay ambitious; never lapse into laziness."
From Himrod, N.Y.: "Enjoy your work and do something that makes you feel good."
From Niveveh, N.Y.: "Be a professional."
From Owego, N.Y.: "Mother always said, 'A fool's wit comes late.'"
From Whitingham, Vt.: "Involve youth in your operation."
From Elmer, N.J.: "Don't buy it if you can't afford it."
From Greene, N.Y.: "Always believe you can succeed! Be kind to others."
From Freeville, N.Y.: "Everything is temporary; be patient."
From Edmesdon, N.Y.: "Help those who cannot help themselves."
From Macedon, N.Y.: "Love each new day and enjoy what you're doing."
From Middleburg, Pa.: "Always think ahead!"
From Northeast. Pa.: "Never give up on your dreams, but be adaptable."
From Lorraine, N.Y.: "Don't worry about what you can't control."
From North Blandford, Mass.: "Do your best to start each day with a positive event."
From Moravia, N.Y.: "Live for today; tomorrow isn't promised to anyone."
From New Hartford, N.Y.: "Live like you won't live forever."
Faith and scriptural thoughts
From Argyle, N.Y.: "Trust in the Lord. He'll always carry you through."
From Troy, N.H.: "Read the Bible daily."
From Warners, N.Y.: "No matter how crazy things seem, God's still in control."
From Berwick, Pa.: "Find a church that grows on you."
From Poland, N.Y.: Proverbs 3: 5-6: "Trust in the Lord with all thine heart; and lean not unto thine own understanding. In all thy ways acknowledge him, and he shall direct thy paths."
From Richford, N.Y.: "Do unto others as you would want to be done for you."
From Gilboa, N.Y.: "Except the Lord build a house, they labor in vain that build it. (Psalm 127)
Maybe the best for last...
From Snydertown, Pa.: "Every morning, I wake up here in rural America — not 200 years ago, not in Syria, Afghanistan, Siberia, North Korea, Mozambique or even Venezuela. So laugh; it helps."
Have a reaction to these wisdoms? We'd like to hear it. Email your responses to [email protected].
About the Author(s) Editor, American Agriculturist
For more than 38 years, John Vogel has been a Farm Progress editor writing for farmers from the Dakota prairies to the Eastern shores. Since 1985, he's been the editor of American Agriculturist – successor of three other Northeast magazines.
Raised on a grain and beef farm, he double-majored in Animal Science and Ag Journalism at Iowa State. His passion for helping farmers and farm management skills led to his family farm's first 209-bushel corn yield average in 1989.
John's personal and professional missions are an integral part of American Agriculturist's mission: To anticipate and explore tomorrow's farming needs and encourage positive change to keep family, profit and pride in farming.
John co-founded Pennsylvania Farm Link, a non-profit dedicated to helping young farmers start farming. It was responsible for creating three innovative state-supported low-interest loan programs and two "Farms for the Future" conferences.
His publications have received countless awards, including the 2000 Folio "Gold Award" for editorial excellence, the 2001 and 2008 National Association of Ag Journalists' Mackiewicz Award, several American Agricultural Editors' "Oscars" plus many ag media awards from the New York State Agricultural Society.
Vogel is a three-time winner of the Northeast Farm Communicators' Farm Communicator of the Year award. He's a National 4-H Foundation Distinguished Alumni and an honorary member of Alpha Zeta, and board member of Christian Farmers Outreach.
Subscribe to receive top agriculture news
Be informed daily with these free e-newsletters
You May Also Like
---