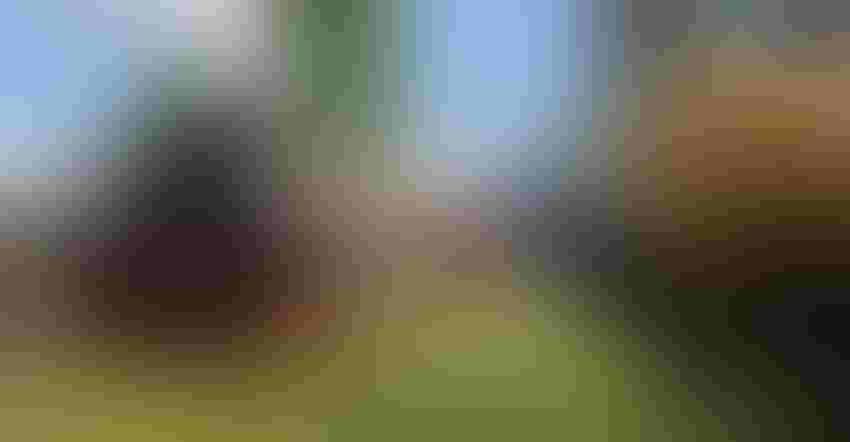 KEEPING MEMORIES ALIVE: Few people today have memories of what farming was like before combines, both in terms of labor needs and social relationships. Volunteers offer reminders of those old days by threshing grain at Pioneer Village at the Indiana State Fair.
By Howard Doster          
What fun to just now read Tom Bechman's wheat threshing machine story on Ohio Farmer's website. He talked about how many more people it took to thresh wheat and serve dinner prior to World War II versus now.
I remember some of those days — I was the water boy. I took water to the men in the field who were pitching wheat bundles up to the men on the horse-drawn wagons, using a long-handled three-tined pitchfork. 
I carried water in a 1-gallon glass jug that I got from Grandpapa's apple cider orchard. I made a twine handle and placed it over the horn of my pony's saddle. 
After first swiping a hand over it, and tossing a little water to clean the spout, each of the men drank out of the same jug. 
As Tom mentioned, dinner was a big deal. Neighbor women helped the hostess prepare, serve the meal and clean up afterward. Just washing was a big deal. The men hand-pumped water outside, and splashed themselves, using sometimes homemade soap and water they put in a pan.
More memories 
I ate at the second table, with the women, after the men had returned to the field. 
I remember something peculiar too. At one farm, one or two men remembered they had to go home and pump water for their hogs; thus, they didn't eat at that host farm. 
Now, they were our closest neighbors and sometimes my babysitter, and I mowed their yard. But, while all the men threshed wheat and shredded corn together, they didn't all eat together. That had to hurt our closest neighbors, but they never let on. 
Dad and one other neighbor got a combine and corn picker in 1940, but he stayed in the threshing and shredding ring for several years. He farrowed gilts around straw stacks, and he fed fodder to his horses.  
Dad spent 40 hours per acre producing that corn and fodder. That was an hour per each of the 40 bushels per acre of his open-pollinated corn. Our tenant now spends way less than a minute per bushel to grow corn, sometimes around 200 bushels per acre. 
As more farmers used a combine, the ring farmers argued about how to dispose of the threshing machine, which was stored in May Harlan's shed. Then, the shed caught fire and destroyed the thresher. 
As a high school senior, I went to the Ohio State-Michigan football game on the Saturday after Thanksgiving in 1950. It became the "Blizzard Bowl." I got home, through the snowdrifts, on Tuesday evening. 
I rode the last 2 miles on Dad's horse-driven water-tank sled. He sold his last team in the spring of 1951, just after I enrolled early at Ohio State University. I still have some harness. 
Thanks for sharing your stories and making some good points, Tom. And thanks for letting me share some of mine.
Doster is a retired Purdue University Extension agricultural economist, a former farm manager and also an Honorary Master Farmer, named by Indiana Prairie Farmer in 2004. He and his wife, Barbara, spend most of their time today in Ohio, near where Doster grew up on a farm and where they still own farmland.
Subscribe to receive top agriculture news
Be informed daily with these free e-newsletters
You May Also Like
---