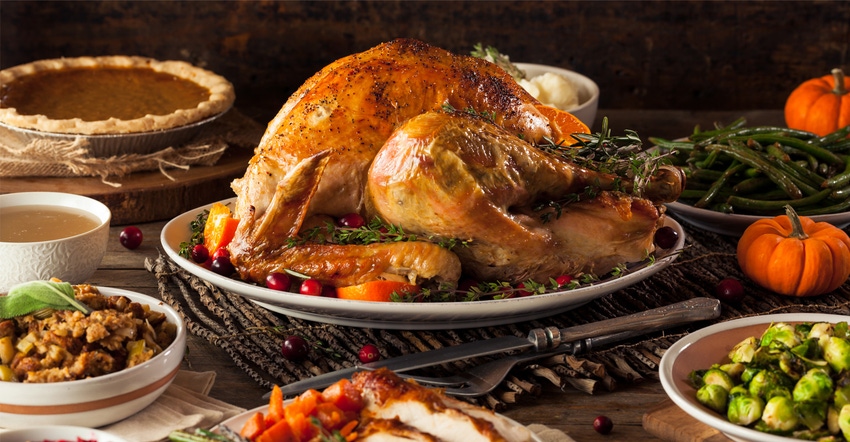 bhofack2/iStock/Getty Images Plus
Getting roasted turkey, mashed potatoes and gravy, stuffing, green bean casserole and pie on the table this Thanksgiving is going to cost consumers more than it did in 2021.
Rodney Holcomb, Oklahoma State University Extension food economics specialist, said consumers can expect to pay 35%-45% more for their turkey this year, which typically is the centerpiece of most Thanksgiving tables.
"Bird flu has impacted the availability of turkey, which has also impacted the egg and poultry industry as a whole. While there isn't necessarily a shortage, we're not going to see the excess supply and after-holiday sales we've seen in the past," Holcomb said. "It's a good idea to go ahead and clear out some freezer space and purchase your turkey as soon as possible to help ensure you get the size you need. Consumers might also want to go ahead and pick up their Christmas turkey now if that's what is on the menu."
Holcomb said something else that is affecting the availability of turkey is the demand for turkey meat. People are consuming more turkey year-round in products like lunch meat, turkey bacon and turkey sausage and as substitutes for red meat.
It's not just the turkey that's going to cost more this year. Just about everything consumers traditionally buy for their Thanksgiving meal costs more than it did a year ago, including:
Bread and rolls – 14%-17%

Cakes and other retail bakery items – 17%

Canned fruits/juice – 14%

Sugar and chocolate – 8%-10%

Salted/roasted nuts – nearly 200%
"Overall, food is about 12% higher than it was a year ago," he said. "If you normally purchase a fully prepared smoked turkey for the holiday, be prepared to pay at least 50% more due to increased labor, energy, transportation and delivery costs."
How can consumers keep the price of their traditional Thanksgiving meal more manageable? They may have to be more creative and flexible when planning this year's menu. Holcomb suggests substituting products. While beef is still expensive, prices have come down from a year ago, due partly to the impact the drought has had on ranchers having to liquidate their herds.
The challenge can be that for some families, Thanksgiving tradition is strong, and it simply isn't the holiday without specific foods. If that's the case, be prepared to take a bigger bite out of the budget to accommodate for those foods.
"It can be difficult to break away from tradition because 'we always have this food for Thanksgiving,'" Holcomb said. "Instead of making a large turkey the star of the show, consider a smaller turkey and pull in a brisket or ham. Another option is to make the meal a potluck. This will help ease the cost of the meal for the host family."
Cutting down the amount of food prepared can help cut the budget, too. Leftovers are nice to have around for a couple of days, but if cost is a factor, preparing less food will save money.
Source: Oklahoma State Universtiy extension
Subscribe to receive top agriculture news
Be informed daily with these free e-newsletters
You May Also Like
---