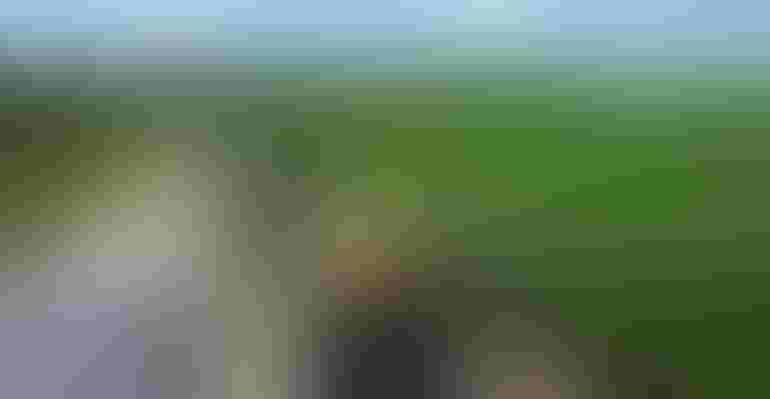 NEW SPRAYER DREAMS: If it was up to Mike Reskovac, he'd have a new sprayer by now. But Sheilah thinks it's better to wait until the ag economy improves.
Photo courtesy of Mike Rescovac
Like everyone else, we are feeling the effects of the 2018 harvest.
Low yields, bad weather and less-than-desired prices left us more than pinched on budgets for the new growing season. It took me a little longer to realize that, or maybe I should say accept.
For years, I have been telling Sheilah (she's the saver, deal finder, bill payer) that we were in an OK financial position. And for years she has been saying, "OK. But if we have a couple bad years, that won't be the case. We are farmers. We won't always have a good year."
She was right. But thankfully, she had enough foresight to see this could happen and had some money saved up.
Had it been up to me, I would have spent every penny in the bank on something. Like the new sprayer I wanted to buy for this season. We started to talk about getting one last summer. Sheilah was in favor of upgrading, eventually. I, however, had it in my head that we would be getting one in January or February.
Even after we knew the results of the 2018 season, I still thought we could swing a sprayer.
"Are you crazy?" Sheilah said. "We'll hardly have enough money to pay our current yearly loans and bills! And you want to make us even tighter by buying another piece of equipment? Now, I can't believe you're seriously still thinking about this! I know why you want one and I understand the benefits, and I am all for you getting one when the time is right. Now is not that time. We need at least a year to get back on our feet. If we have another bad year, there is no way we'll be able to afford it."
She doesn't hold back.
"But we're selling the hay equipment that we don't really use," I said.
"We're selling that equipment to help pay for stuff that we actually need!" she told me. "Just because you sell a piece of equipment doesn't mean you just get to go buy something else. That defeats the purpose of selling it to help us get ahead!"
Needless to say, I did not get my new sprayer.
But I did shop around more when it came to chemicals, fertilizer and seed. I found better financing and better reward deals, which led to better cash flow this spring. And that got me some bonus points!
Now, hopefully we'll have a better year and I'll keep dreaming of that sprayer!
Sheilah and Mike Reskovac and their sons farm near Uniontown, Pa. Check out all of their "Two Hearts, One Harvest" blogs.
Subscribe to receive top agriculture news
Be informed daily with these free e-newsletters
You May Also Like
---