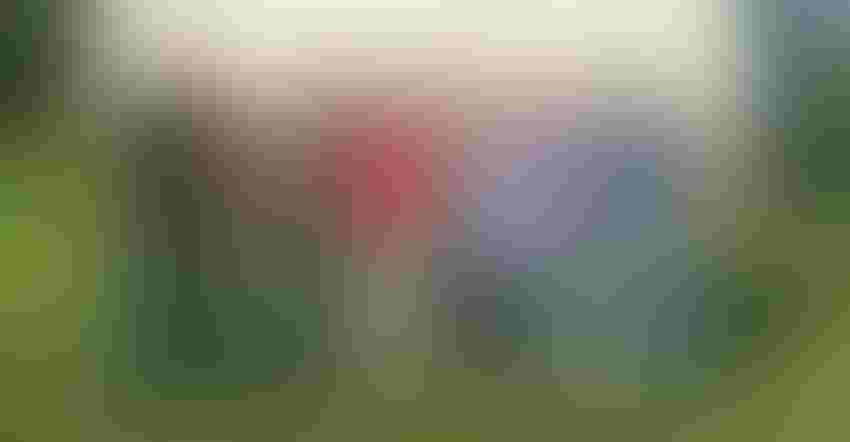 MEET THE MEARS FAMILY: This family believes in preserving the past when possible. They are Shon and Hannah Mears McIlrath (left); Benjamin and Taylor Mears; John and Mary Mears, with John holding grandson Warren; and Nancy and Martin Mears.
Tommy Kleckner
Kent Yeager once thought like many other farmers. Why pour money into an old barn with lots of unusable space? But Yeager, Mauckport, Ind., was friends with the late Mauri Williamson, Wayne County, Ind., and Williamson was passionate about old barns.
"He told me that if we let them all fall down and disappear, we would lose a part of our rich Indiana rural traditions we couldn't get back," Yeager says.
Williamson stirred up enough interest to organize the Indiana Barn Foundation, a nonprofit group dedicated to showcasing old barns and providing advice and help when possible. Learn more at indianabarns.org.
Yeager is now president of the Indiana Barn Foundation. "We hope others will think a little more about fixing up and preserving an older barn instead of tearing it down," he says.
Shining example
The Mears family of Carroll County, Ind., believes in preserving not only older barns but also as many buildings as possible, including houses. The family was recognized in 2019 with the John Arnold Award for Rural Preservation, co-sponsored by Indiana Landmarks and Indiana Farm Bureau Inc. Tommy Kleckner is director of the Indiana Landmarks Western Regional Office. Learn more at indianalandmarks.org.
Three generations of the Mears family help maintain a working farm, making use of older structures. The late Sherry and Lois Mears bought the 275-acre homestead in 1949. It features an 1852 Greek revival-style farmhouse and a barn built around 1880. Sherry and Lois bought another farm across Deer Creek in 1966, featuring a 19th century farmhouse and an English barn, also built around 1880.
John Mears says his mother was instrumental in preserving both farmsteads. John and his wife, Mary, own the farmstead that was purchased in 1966. Their son, Benjamin, and his wife, Taylor, live in the original farmhouse that Benjamin's grandparents purchased in 1949. John's brother, Martin, and his wife, Nancy, own land adjacent to the original homestead buildings. John works off the farm, but with the rest of the family's help, he keeps the farm going.
The Arnold award was named for a Rush County, Ind., farmer who believed in modern farming techniques, but who also treasured preserving the past. Preference is given to families operating a working farm with original buildings still in use, even if they're not used for their original purpose. Both Mears farmsteads feature poultry houses built in the 1920s, plus other structures.
Consider nominating a family for the Arnold award. If you have a historic barn you would like to share, email [email protected], or write to: Indiana Prairie Farmer, P.O. Box 247, Franklin, IN 46131.
Enjoy old barns

OLD BARNS BOOK: Marsh Williamson Mohr's "Indiana Barns"
is now available in paperback.
Marsha Williamson Mohr, Mauri Williamson's daughter, spent 20 years compiling photos of old Indiana barns. First published in hardback, "Indiana Barns" from Indiana University Press is now available in paperback and as an e-book.
In paperback, it's still an impressive coffee table book featuring 155 large-format photos of barns from all over Indiana, identified by style and type. No doubt you'll recognize some of them. Learn more on the IU Press website.  
About the Author(s)
Subscribe to receive top agriculture news
Be informed daily with these free e-newsletters
You May Also Like
---