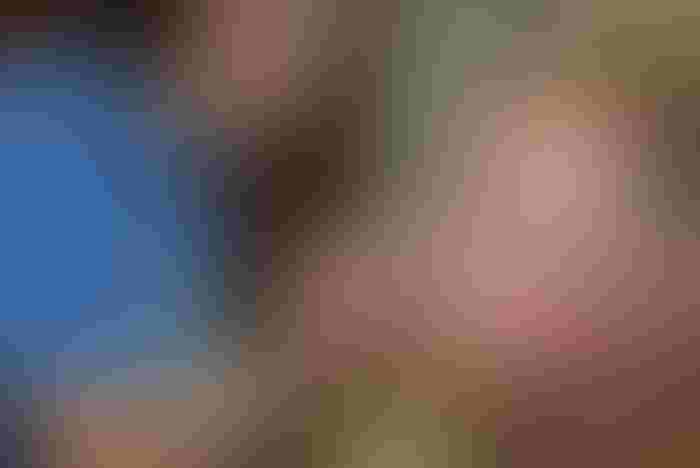 May is National Melanoma Skin Cancer Prevention Month and clinics throughout the U.S. are hosting free skin cancer screenings to identify any skin spots that may be of concern and need to be treated by a dermatologist. The University Medical Center Southwest Cancer Center in Lubbock, Texas, hosted one such event, Saturday, May 12. And after checking sprinklers, my farmer and I headed to Lubbock to have our skin checked.
I am a child of the generation that thought laying out lathered in baby oil was a good idea. All to say, I've had some pretty major sunburns. My farmer, Preston Huguley, on the other hand, is red-headed and fair skinned and has been working under the sun's harmful rays since he was a boy. 
If I ever wondered if my farmer loves me, after Saturday, I have no doubt. Not only did he take the morning off from planting but he agreed to be photographed and in a hospital gown, no less, for this gallery! But if this encourages one farmer, one rancher and or their spouses to have their skinned checked, it will all be worth it.
Dr. Ashley Sturgeon, a farmer's wife and assistant professor of dermatology at Texas Tech University Health Sciences Center, performed our screening. As she looked at my husband's skin she found areas of concern she says will require a broadcast application of treatment, in other words, a lotion that is spread throughout an entire area, whereas other spots she identified, she says will only need to be spot-sprayed or burned off. She did label one spot on my farmer's hand as a "big careless weed," which he will get treated this fall or when and if it decides to rain. 
"If you catch things early, its most often an easy fix," says Sturgeon. "I would plead with farmers to get their skin checked. It's so important — if I catch something early, it's no big deal. If you wait until it becomes noticeable to you that's when it can be a problem. And skin cancer can go from not a big deal to a really big deal and just a matter of months so get your skin checked."
To find a free skin cancer screening location or to learn more about skin cancer, go to: https://bit.ly/2jlBjOs. 
Sturgeon says common areas that farmers and ranchers develop skin spots are on the top of their ears, noses, hands and back of the neck. She recommends wearing sunscreen with an spf of 30 and wearing long sleeves. Most importantly, she urges those work outdoors to reapply their sunscreen every couple of hours. 
See Farmer's wife/dermatologist urges farmers, ranchers to protect their skin.
See Videos: Melanoma Skin Cancer Prevention Month kicks off, free skin screenings offered, Melanoma Monday: Part II
To learn about the ABCDEs of melanoma.
Subscribe to receive top agriculture news
Be informed daily with these free e-newsletters
You May Also Like
---