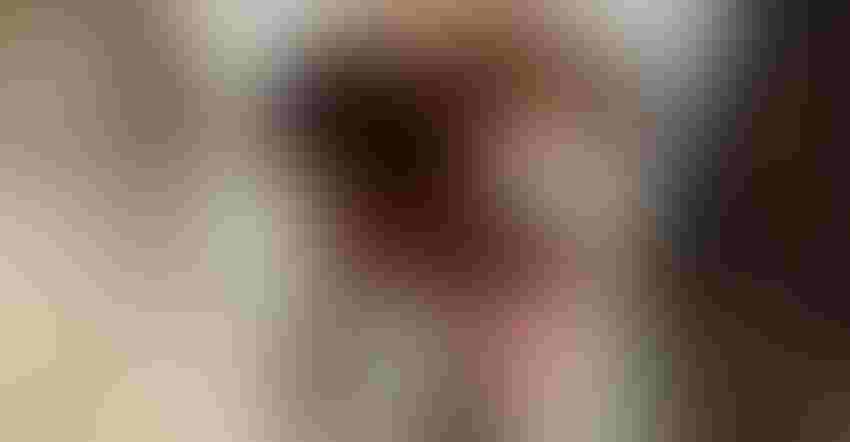 COMING HOME: After another trip to the vet, I sent this photo and a text message to tell my girl her dog is not dying but returned to the farm.
Mindy Ward
"She's coming home — again." That was text message sent to my daughter regarding her dog, Riley, after the latest visit to the veterinarian, proving once again that this farm dog has more lives than farm cats.
Riley is our 14-year-old chocolate lab. About eight years ago, she started having health problems. There was a mass under her chest that grew rapidly. Our vet, who we also showed sheep with and did not want her to die on his watch and cause any anguish to our daughter (that is a whole other blog), fought to remove the mass, stop the blood loss and suture up the massive wound. It worked. He warned us another may develop. It did.
Five years later, we were back at the vet with another mass in the same spot. Our valiant vet performed another miracle. Two years ago, Riley started developing small tumors. He methodically took them off. Then about six months ago, he said the risk of more surgeries is great. So, when she started developing a limp on the front foot, then the back and finally not being able to stand much, we knew the outcome.
In all the years of our trips to the vet, we used a sheep halter. But on this occasion, my husband decided to buy a collar and a leash. "She deserves this for the last ride," he said.
After blood tests, the vet came out and pronounced, "Riley has ehrlichiosis. It's a tick-borne disease. We'll give you some antibiotics and some muscle relaxers, and she should be fine in a month." To which I leaned over to my husband and said, "Good thing we got that leash and collar."
We do absolutely love our farm dog. She's taught us to never count her out. She keeps pressing on living life, and we keep caring for her. She's been loyal. Riley deserves our devotion. I guess that new leash and collar will be stored away for another time as she enjoys freedom on the farm.
Now, about ehrlichiosis.
Ehrlichiosis signs and symptoms
Our vet said ehrlichiosis was high this year in dogs.
When I first saw Riley limp, I thought she hurt her front leg. Within the week, it moved to her back leg. Then she struggled to get up and catch her breath. I never thought of a tick disease.
There are three phases of ehrlichiosis. There is a sub-clinical phase where the organism is present, but not causing any outward signs of disease. Riley did not have that.
Then there is the acute phase where the infected dog has a fever, swollen lymph nodes or respiratory distress. Riley is a little overweight, and it was hot in Missouri, so I may have mistaken the respiratory distress for just being hot and heavy.
Clinical ehrlichiosis occurs because the immune system is not able to eliminate the organism. Dogs are likely to develop a host of problems: anemia, bleeding episodes, lameness, eye problems — including hemorrhage into the eyes or blindness — neurological problems and swollen limbs. This was where Riley's limp came in.
Left untreated, this tick disease can cause bone marrow failure, and the dog becomes unable to manufacture any of the blood cells necessary to sustain life.
We were able to get a long course of antibiotics and pain medicines to help her recovery. The vet said prevention starts with tick controls such as pour-ons. And while humans cannot get ehrlichiosis from a dog, they can get it from the same tick. The disease is only transmitted through the bites of ticks.
Therefore, even though the disease is not transmitted directly from dogs to humans, infected dogs serve as a warning of the presence of infected ticks in the area.
The same symptoms appear in humans as they do in dogs — fever, chills, headache, muscle aches and sometimes upset stomach. And it is the same antibiotic treatment — doxycycline.
Here's hoping your summer has been free of ticks for both dogs and humans.
Subscribe to receive top agriculture news
Be informed daily with these free e-newsletters
You May Also Like
---