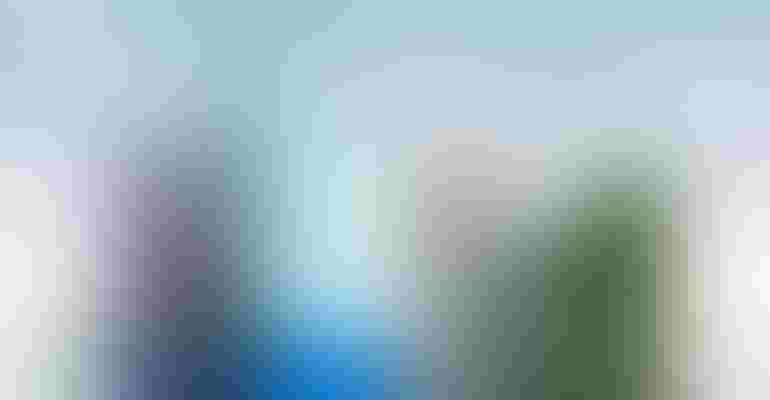 ICESat-2 illustration provided by NASA's Goddard Space Flight Center
Droughts, devastating fires, beetle-kill of trees – the plants are talking, and the science community is about to get a new and free tool to help understand what they are saying.
When that space-borne tool is launched, Texas A&M University's Dr. Sorin Popescu will be represented on the front lines of discovery.
Popescu, a Texas A&M AgriLife Research ecosystem science and management scientist in College Station, is on the mission team of competitively selected scientists helping NASA define its science goals and provide guidance to the Ice, Cloud and Land Elevation Satellite-2, or ICESat-2, mission.
The mission will offer prospects for mapping and monitoring biomass and carbon of terrestrial ecosystems over large areas using photon counting Light Detection and Ranging, or LiDAR, data.
Popescu said their task is to be sure the mission meets its science requirements and objectives. The satellite has two priorities: study ice sheets to see how that environment is changing, and characterize terrestrial elevation and vegetation.
There are only two vegetation scientists on the team – Popescu and Dr. Amy Neuenschwander at the University of Texas – who have expertise in dealing with lasers and forests.
While he has been on this project for four years now, this is the year the satellite will be launched from California. When that happens on Sept. 12, it will be algorithms developed by Popescu and Neuenschwander that process ICEsat data to characterize vegetation height and 3-D structure.
"They didn't want to start with just data after launch; they wanted to have software to immediately process the data for use in science projects," Popescu said. "The biggest goal is to be science-ready when the project satellite is up."
Most satellite sensors take pictures, he explained, but ICESat-2 will have laser technology, a photon-counting laser, which is a new technology that allows direct 3-D structure measurements of vegetation.
Popescu said the illuminated area or footprint with this laser from space is about 46 feet. It measures the terrain and vegetation elevation with 10,000 pulses per second, with footprints spaced every 2.3 feet along a track, to get the highest levels of accuracy. The sensor has six laser beams in three pairs and each pair is spaced about 2 miles apart to provide a mesh of measurements to capture the height profile.
The National Snow and Ice Data Center will receive all the data and makes it available to users, he said.
Already projects have been established for ICESat-2 early adopters. These scientists or groups have clearly defined needs for ICESat-2 data, an existing application, an interest in utilizing a proposed ICESat-2 product, and are capable of applying their own funding, personnel, facilities, etc. to demonstrate the utility of ICESat-2 data for their particular system or model, Popescu said.
Popescu will act as an adviser on three of the early adopter projects: Evaluation of ICESat-2 ATLAS Data for Wildland Fuels Assessments; Detection of Ground and Top of Canopy Using Simulated ICESat-2 LiDAR Data; and Forest Carbon Stock Assessment and Monitoring: A Study in Indian Tropical Forest Using ICESat-2 Data.
Plant height is important because if it increases at a higher rate, that indicates there's higher carbon sequestration in the plants, which relates to many environmental factors – temperature, moisture availability and carbon levels in the atmosphere.
"No matter what the cause of change is, whether human or natural, we need to understand the environmental effects," Popescu said. "The events in California and Colorado – drought combined with beetles not destroyed by freezing temperatures ended with massive fires and then the rain and mudslide events – that's an example of the changing climate effects on vegetation."
Popescu created a novel methodological framework with two essential steps for characterizing terrain and canopy height using Multiple Altimeter Beam Experimental LiDAR, or MABEL, data and simulated ICESat-2 data with various vegetation conditions.
This is anticipated to advance understanding of the Advanced Topographic Laser Altimeter System, or ATLAS – the instrument sensor on ICESat-2, data; provide insights into the challenges to be expected from data processing; and pre-validate the upcoming ICESat-2 mission, Popescu said.
Ultimately, he said, his algorithm could allow a more rapid adoption of ICESat-2 data once available by a large scientific community for a range of ecosystem studies through the probable incorporation of existing remote-sensing data.
The vegetation data will be used by the scientific community to improve estimates of vegetation height, biomass and analyze the way those physical parameters are changing by incorporating existing remote-sensing.
"It's a tool that will enable us to take measurements of much greater accuracy and apply it at a global level," Popescu said.
Right now, he said, the best tool for doing this is airplane LIDAR and data acquisitions are limited to small-scale projects, and the information is costly for scientists to obtain. The new data will be free to everyone and allow analysis at multiple scales.
"This will allow us to better understand how vegetation responds to climatic effects and show us what is going on with our environment at multiple levels," Popescu said. "By understanding what is going on, other scientists and policy makers can determine how we should mitigate the change."
For more information on Popescu's work or the project, go to: http://bit.ly/2E5hgQn.
Subscribe to receive top agriculture news
Be informed daily with these free e-newsletters
You May Also Like
---