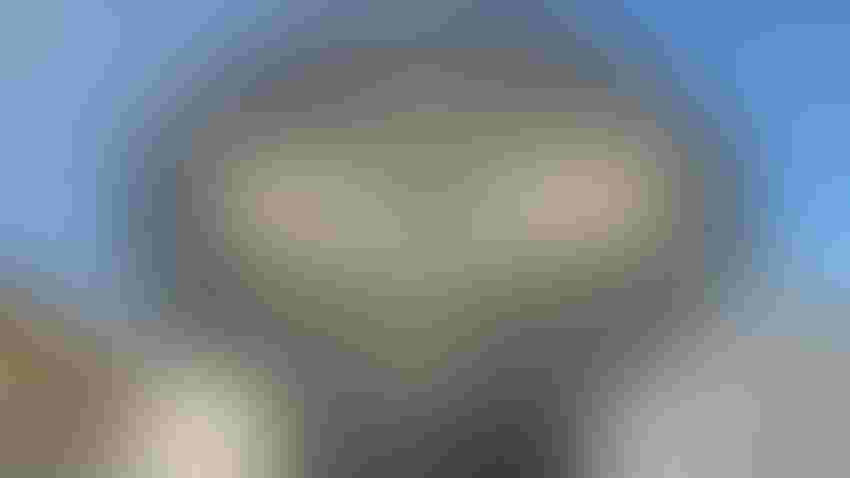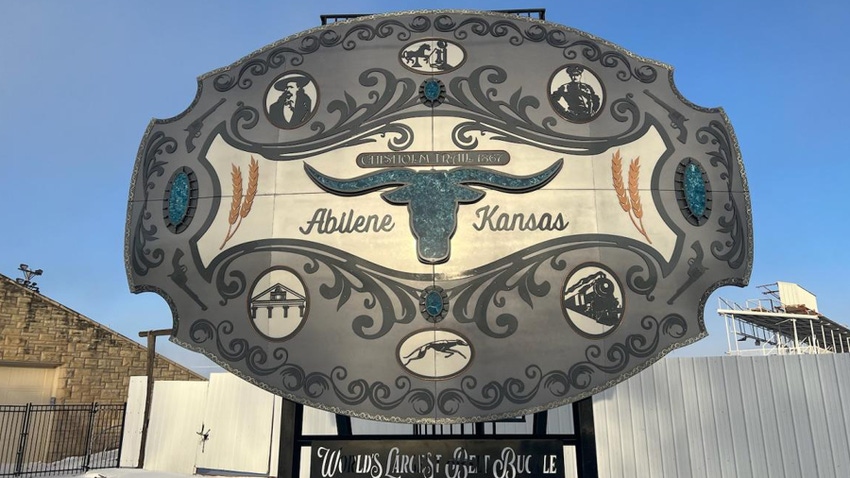 BIG BUCKLE: The World's Largest Belt Buckle is 19 feet 10½ inches wide by 13 feet 1 ¼ inches tall, not including the frame. It features Wild Bill Hickok (clockwise from top left), a C.W. Parker carousel horse, a C.L. Brown telephone, Dwight D. Eisenhower, an Abilene & Smoky Valley Railroad train, a racing greyhound, the Seelye Mansion in Abilene, and a Chisholm Trail longhorn inlaid with blue quartz in the center.
Jennifer M. Latzke
by Colby Sharples-Terry
The saying "go big or go home" was taken quite literally by certain Kansas artists and entrepreneurs. And while some came by as happenchance (like the cow hairball in Garden City) Kansas is home to many "world's largest" attractions and roadside oddities. If you are looking for a quirky themed road trip this summer, look no further. Here are the nine attractions in Kansas bearing the "world's largest" title:
Abilene. One of Kansas' newest attractions, the World's Largest Belt Buckle was designed by local artist Jason Lahr. It features Dwight D. Eisenhower, Wild Bill Hickok, a train engine from the Abilene & Smoky Valley Railroad, the Seelye Mansion in Abilene, a C.W. Parker carousel horse (Parker invented the carousel in 1898), a C.L. Brown telephone (Brown founded the Brown Telephone Co., which became Sprint Corp., which merged with T-Mobile), a racing greyhound (the Greyhound Hall of Fame is in Abilene) and a Chisholm Trail longhorn inlaid with blue quartz.
Lucas. This quirky north-central Kansas town has two "world's largest" collections. The World's Largest Travel Plate is a fiberglass dish 14 feet in diameter depicting a visual history of the town. The other attraction you must visit is a mouthful — it is known as the World's Largest Collection of the World's Smallest Versions of the World's Largest Things Roadside Attraction & Museum.
Cawker City. One of Kansas' most well-known roadside attractions has been inspiring visitors to come to the Sunflower State for decades. The World's Largest Ball of Twine was created by local farmer Frank Stoeber in 1953. Frank had not been well and decided that rolling his abundance of excess twine, saved from years of feeding his cows bales of hay, into a ball would be good exercise and a way to occupy his time. Want to add your mark to this big ball of twine? Contact Linda Clover, the WLBT caretaker, at [email protected], and she'll make sure you receive the tour, a history lesson and your very own sisal twine to wrap.
Wilson. A tribute to the area's Czech heritage, the World's Largest Czech Egg is a huge example of the Czech tradition called kraslice. These beautiful, intricate patterns are instantly recognizable, and seeing such a large example really helps you admire the beauty of the smaller versions you can find around town.
Garden City. The World's Largest Hairball Found in a Cow's Stomach was removed from the stomach of a cow that was processed in a nearby packinghouse. This mammoth trichobezoar, or hair ball, was nearly 40 inches in circumference and was said to have weighed 55 pounds wet when first removed. Though smaller and drier now, it's still a very impressive sight. Visitors are allowed to touch the artifact.
West Mineral. Miles before you reach this retired giant, you can see it on the horizon south of West Mineral. The World's Largest Operational Electric Shovel, Big Brutus, Bucyrus Erie model 1850B, was the second-largest electric shovel in the world at the time. Standing 16 stories tall (160 feet), weighing 11 million pounds and having a maximum speed of 0.22 mph, Big Brutus cost $6.5 million in 1962.
Leawood. The World's Largest Stained-Glass Window, found at the Church of the Resurrection, is an art installation made through a combination of 21st-century techniques, where fused glass is combined with the time-honored tradition of stained glass that dates to the seventh century. It's 100 feet wide and 35 feet high, the design of the window is a triptych, or art in three scenes intended to be appreciated together in telling the story of the Bible.
Goodland. An iconic 24-by-32-foot replica of one of the paintings of sunflowers by Vincent van Gogh sits on the World's Largest Easel. The 80-foot easel weighs 40,000 pounds and is one of only three in the world. The project's intent was to reproduce all seven of Vincent van Gogh's sunflower paintings on giant easels in seven different countries around the globe.
To learn more about record-setters in Kansas, check out the latest Kansas Magazine or visit travelks.com.
Sharples-Terry is public relations and communications manager for Kansas Tourism. Kansas Tourism aims to inspire travel to and throughout Kansas to maximize the positive impacts that tourism has on the state and local communities. For more trip inspiration and to order a free Kansas Travel Guide, visit travelks.com.
Subscribe to receive top agriculture news
Be informed daily with these free e-newsletters
You May Also Like
---