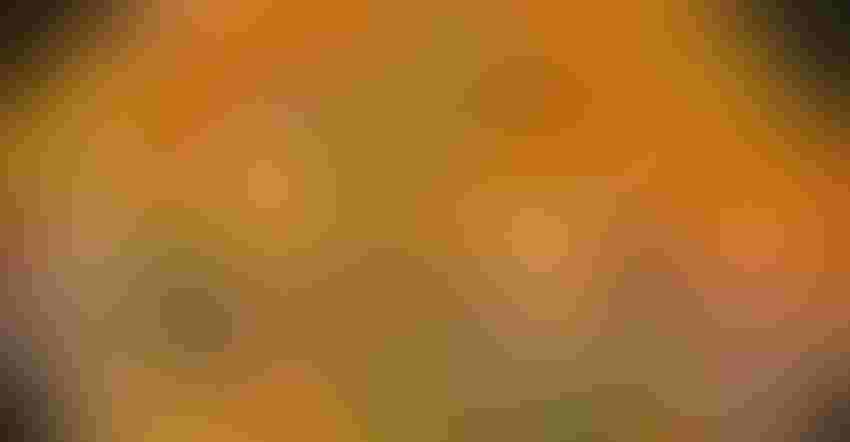 SOUP: My mom made the best vegetable soup, and in true farm fashion, she didn't skimp on the meat.
Charlyn Fargo Ware
A steaming bowl of soup is comforting and warming, like cuddling under a blanket next to the fire in the fireplace. My dad used to say it warms you from the inside out, and just the mention of homemade vegetable soup stirs up memories of home for me.
Mom made the best vegetable soup — chock full of veggies and beef roast, flavored with her favorite V-8 juice. I have never been able to exactly replicate it, but it's not for lack of trying. Mom would often have a pot of vegetable soup going on her stove or in the slow cooker in the fall and winter. Most times, they would have had roast and potatoes and carrots the night before. The leftovers were made into soup.
Soup can be the perfect bridge between those heavy holiday meals (and extra pounds) and January's realization that we need to eat a little healthier, and a little less.
What else?
Soup is good for you. While cream-based soups can devastate a diet, most serve as a great vehicle to meet your daily quota for veggies. Soups are an opportunity to cash in on nature's bounty. Winter crops, including pumpkin, butternut squash, carrots and parsnips, won't wilt or get limp when you cook them. If you have fresh vegetables that are about to pass their prime, toss them into a soup. You can even drop frozen vegetables into boiling broth without compromising taste or texture.
Soup is inexpensive and easy to prepare. Soups and stews don't require a large amount of hands-on time. Once you cut up the meat and vegetables, sauté if you like, then simply let it cook in your slow cooker or even faster in your Instant Pot. Add whole-grain bread and a salad, and you've got an easy weeknight meal.
Soup makes your house smell good. There's nothing better than walking into your home with the slow cooker going and breathing in dinner simmering. And dinner's ready.
Soup freezes well. You don't have to eat a batch of soup for days. Have soup for a meal or two and freeze the rest. It's simple to reheat in the microwave.
Soup keeps you hydrated. We don't drink enough water in the winter. And even though we may not be sweating as much as in the summer, we still lose fluid through daily activities. Because soups are mostly liquid, they help us stay hydrated and full.
Soup boosts your immune system. That's something we all need more of during flu and continued COVID season. The boost comes from the vegetables, which offer disease-fighting nutrients. The hot liquid even helps a sore throat.
Soup in the slow cooker is richer. Because the soup is cooking longer, flavors are more intense. There's very little evaporation in the slow cooker (be careful not to add too much liquid — it will make its own).
So, whether it's vegetable or tomato, minestrone, chicken noodle or a black bean, soup can be a healthy choice. Making it from scratch adds the benefit of controlling the sodium, which can be high in canned soups. Start with a couple of easy steps that can make a difference: chop your vegetables the same size so they cook consistently, sauté your veggies and meat to bring out the flavor before you put it in a slow cooker, and use no-salt-added or lower-sodium stock. There's typically enough sodium in the other ingredients you add.
Here's Mom's Beef and Vegetable Soup, the best I can recreate without her here. She didn't skimp on the meat. And another favorite family recipe — Homemade Chicken Noodle Soup. It's simple but delicious.
Mom's Beef and Vegetable Soup
1½ pounds boneless beef chuck roast, cut into cubes
3 medium potatoes, peeled and cubed
1½ cups carrots, peeled and cubed
1 medium onion, chopped
3 stalks celery chopped
2 cups frozen peas
2 cups frozen green beans
2 cups frozen corn
2 cups V-8 juice, low sodium
1 cup beef broth, low sodium
1 bay leaf
Salt and pepper to taste
Sauté the beef until lightly browned. Add the onions, celery, carrots, potatoes and let cook five minutes. Remove from heat and add to slow cooker. Add the peas, corn and green beans. Add the V-8 juice and beef broth. Add the bay leaf (remove before serving). Cover and cook on low until meat is tender, six to eight hours. Season with salt and pepper.
Homemade Chicken Noodle Soup
1½ pounds boneless, skinless chicken breasts
Salt and black pepper to taste
1 small yellow onion, peeled and chopped
3 medium carrots, peeled and cut into ¼-inch coins
2 large celery stalks, sliced
2 large garlic cloves, minced
3 stalks fresh rosemary
1 bay leaf
6 cups low-sodium or no-salt-added chicken stock, divided
6 ounces whole-wheat egg noodles or brown rice
Sauté chicken breasts, onions, carrots, celery and garlic in a pan on the stove for five minutes. Sprinkle with salt and pepper. Add all to the slow cooker. Add the rosemary and bay leaf. Pour 4 cups of stock over the top. Cover and cook on low for four to six hours or high for two to three hours. The temperature of the chicken should reach 165 degrees F. Remove the chicken, bay leaf and rosemary from the slow cooker and shred the chicken with two forks. Set aside.
Cook the noodles or rice on the stove in remaining 2 cups of chicken stock. Cook until al dente, as they will be added back to the slow cooker. Add back the shredded chicken and the noodles or rice. Cook on low 10 to 15 minutes. Adjust with additional stock if needed.
Fargo Ware is a registered dietitian with Southern Illinois University Medical School in Springfield. Send recipe ideas to her at [email protected] The opinions of this writer are not necessarily those of Farm Progress/Informa.
About the Author(s)
Subscribe to receive top agriculture news
Be informed daily with these free e-newsletters
You May Also Like
---