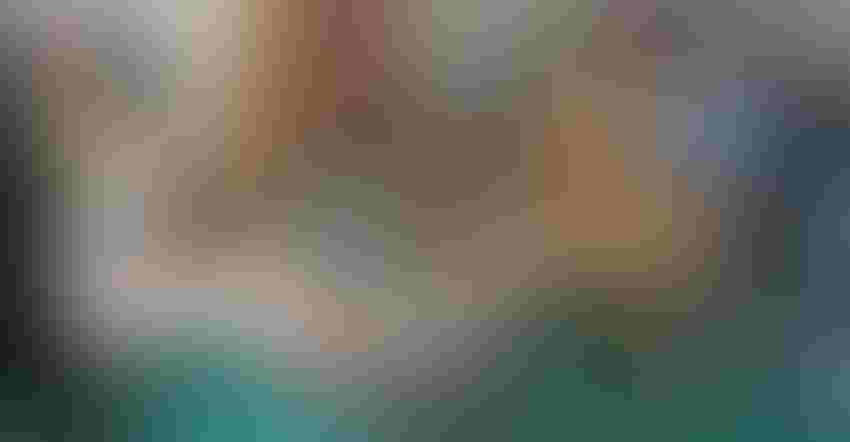 SELF-CONTROL: Madyson Eskew of Spring Hill Go-Getters 4-H participates in the robotics project. While she likes building robots, she enjoys using her own computer programming to manipulate movement.
With just a few computer key strokes, Madyson Eskew enables her EV3 Lego robot to move forward, backward and turn around. She's been dabbling in computer programming for five years.
"We actually had a class at our school in the sixth grade," says Eskew, now a sophomore at Chillicothe High School. "And that really sparked my interest." She continued learning honing her computer program skills each year as her school participated in the Hour of Code event, where one hour is set aside every year for each student to learn the basics of coding and computer science.

MOBILE BOT: The EV3 Lego robot teaches building and programming small robots. The University of Missouri Extension has them in each region of the state for use by 4-H clubs.
But Eskew wanted to take her skill beyond the computer keyboard. So, she enrolled in a 4-H robotics project that uses Lego Mindstorm EV3, a kit to program and build Lego robotic creatures and inventions.
At first, the project seemed a little overwhelming. "When I started to code, I thought 'This will be hard,'" says the Spring Hill Go-Getters 4-H member. "But it was really fun and easy to learn."
And when her robots started moving, she could see the final product. "It was such an accomplishment."
Robotics in Missouri
There are three types of 4-H robotics projects in Missouri, according to Lynna Lawson, University of Missouri Extension state youth specialist robotics coordinator. The junk drawer robotics project allows 4-H members to take anything they find around the home, like rubber bands, paper clips and bottle caps, focusing on structuring them into a moving robot arm. Like Eskew, 4-H'ers can program and build complete movable robots with EV3. Another project includes all other robotic platforms like Raspberry Pi, Vex, Tetrix and Ozobot.

COLOR BOT: This unique ozobot is a huge draw during robotic workshops, according to Madyson Eskew. 4-H members draw, and the bot follows the color lines, changing its light color to match the drawing.
There are roughly 40 EV3 robots in the state, with some in every MU Extension region, Lawson says. "We are seeing a lot of community support for this project," she says. "For those kids who don't have livestock at home, they are really grasping on to robotics." Still, she finds even some with livestock are interested.
Eskew raises and shows goats. Her other 4-H projects include sewing, photography, dogs, shooting sports and woodworking. "I think robotics is a good fit for anyone who likes learning with their hands."
Extension loans the robots out to 4-H clubs for meetings or after-school programs.

Madyson Eskew
Sharing skills
Once a shy girl, Eskew says robotics helped her come out of her shell. In her eighth year of 4-H, she now helps educate 4-H members and other students about computer programming and robotics.
As a Northwest Regional 4-H Camp counselor, she presented a workshop to 350 kids using the EV3 Lego robots. She also helps her mother with after-school robotics programs in the region.
"It is fun to work with kids one on one," she says. "Sometimes they start off a little scared, unsure of what to do. Then you see others who get frustrated when it doesn't work the first time. I just encourage them, telling them that they can do it. And they do. It is fun to see their faces."
Use for future
More girls are now in Eskew's workshops and classes than ever. "I think we no longer see robots and computers as just something guys like to do," she says. "We are finding it fun and challenging. It is really for anyone. "
While she does not plan to be a computer programmer, Eskew says understanding technology will help her career goals.
"I would like to work with film, either directing or editing," she says. "There is a lot of technology and working with computers in this area now, so this type of training will help."
What is the 'Hour of Code'?
The "Hour of Code" started as a one-hour introduction to computer science, designed to explore "code," show that anybody can learn the basics, and to broaden participation in the field of computer science.
It has since become a worldwide effort to celebrate computer science, starting with one-hour coding activities, but expanding to all sorts of community efforts — complete with tutorials and activities. More than 400 partners and 200,000 educators worldwide support this grassroots campaign.
The Hour of Code takes place each year during Computer Science Education Week, typically in December, but schools can host an Hour of Code all year-round. Computer Science Education Week is held annually in recognition of the birthday of the late computing pioneer Rear Adm. Grace Murray Hopper.
For more information on the Hour of Code, visit hourofcode.com.
Source: Hour of Code
About the Author(s) Editor, Missouri Ruralist
Mindy resides on a small farm just outside of Holstein, Mo, about 80 miles southwest of St. Louis.
After graduating from the University of Missouri-Columbia with a bachelor's degree in agricultural journalism, she worked briefly at a public relations firm in Kansas City. Her husband's career led the couple north to Minnesota.
There, she reported on large-scale production of corn, soybeans, sugar beets, and dairy, as well as, biofuels for The Land. After 10 years, the couple returned to Missouri and she began covering agriculture in the Show-Me State.
"In all my 15 years of writing about agriculture, I have found some of the most progressive thinkers are farmers," she says. "They are constantly searching for ways to do more with less, improve their land and leave their legacy to the next generation."
Mindy and her husband, Stacy, together with their daughters, Elisa and Cassidy, operate Showtime Farms in southern Warren County. The family spends a great deal of time caring for and showing Dorset, Oxford and crossbred sheep.
Subscribe to receive top agriculture news
Be informed daily with these free e-newsletters
You May Also Like
---