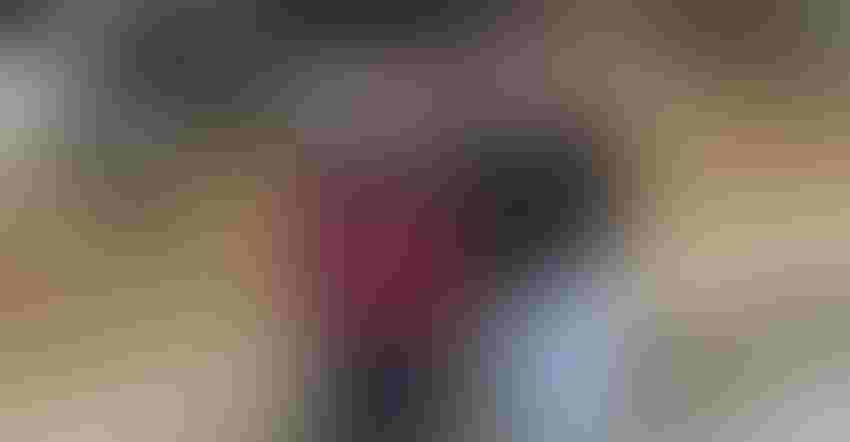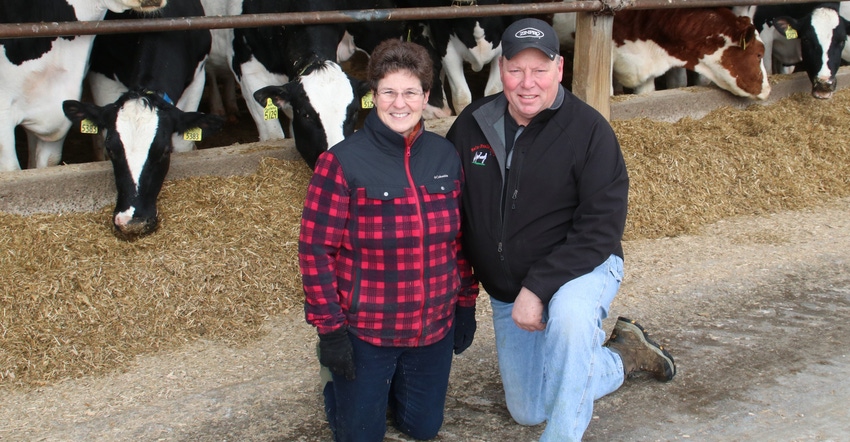 OPEN DOOR: Pam Selz-Pralle and Scott Pralle have been farming together near Humbird, Wis., for more than 30 years. "We always have an open door to dairymen," Pam says.
Harlen Persinger
Selz-Pralle Dairy is home to 475 registered Holstein cows near Humbird in Clark County, Wis. The herd is respected nationwide for high production, breed leading type and outstanding bloodlines.
The 2022 Master Agriculturist team of Pam Selz-Pralle and Scott Pralle developed their passion for dairy farming as youngsters. Pam grew up on the Selz Farm near Humbird under the mentoring of her father, John, who was named a Master Agriculturist in 1985. At age 4, she milked two special old cows every morning and groomed her herdsmanship skills through her teens. After college graduation, Pam wanted to return to the home farm.
However, her dad thought it best that she gain off-farm work experience. She did a stint as a radio farm director before becoming a communications specialist at East Central Breeders in Waupun. After four years, she formed a partnership with her father on their 100-cow, 300-acre farm.
Meanwhile, Scott's parents, Earl and Gladys, milked 45 cows near Bangor. While his parents focused on fieldwork, Scott managed the dairy herd and filled his spare time with 4-H, dairy judging and Junior Holstein activities.
The couple met in the late 1980s while attending a Select Sires promotional meeting. They got married in 1991, and Scott moved 20 cows to the Selz farm.
Over time, the herd grew, and so did the farm's facilities. As Pam and Scott looked to future needs and lifestyle options, they opted to expand to 400 Holstein cows and built a double-10 parallel parlor in 1998.
Today, the couple own 800 acres and rent 150 acres. They raise all their heifers and select breeder bulls, which are sold domestically and internationally.
Their farm is a recognized leader in cattle genetics. Holstein USA ranks it second in the nation for herds over 275 cows for breed age average for type. In 2017, Selz-Pralle Aftershock 3918 achieved the world milk production record with 78,170 pounds of 4% milk, 3,094 pounds of fat and 2,393 pounds of protein. Her next lactation record stands second in the nation to her own world record.
The herd has averaged the gold standard of 100 pounds of milk per day for well over a decade. Advanced cow management has always been a priority, and aggressive use of innovation earmarks their success.
Sharing their experiences
What makes this couple unique is their willingness to share both the success and failure of their trials and how they've adapted management to achieve goals. Their farm-hosted events always garner huge crowds of dairy producers.
Each spring, busloads of fourth graders enjoy a day of hands-on experience at Selz-Pralle Dairy. They attend education stations targeting key messages spoken at a level kids can connect to. After a Farmers Olympics relay race depicting a day in the life of a farmer, everyone gets to milk a cow.
Pam has produced Dairy Farmers of Wisconsin training videos and June Dairy Month spots. Through an organization called Common Ground, she's conducted national radio tours, participated in national cooking shows and interacted with dietitians.
Through Discover Dairy's Adopt-a-Cow program, she writes blog posts, makes YouTube videos, holds Facebook Live chats, emails classrooms across the country and will be hosting an on-farm event. Pam participates in podcasts and travels, speaking at several national conferences about her modern calf-care practices. She sits on the National Dairy Heifer and Calf Association Gold Standards Review Committee.
"Pam has a knack for connecting with the public and telling our dairy story," Scott says. "She takes what we do every day and turns it into something they can relate to in their life. The passion and enthusiasm in her voice really connects and creates positive relationships with consumers."
A decade ago, Pam and Scott were at a crossroads of enlarging the dairy. Without a next generation waiting in the wings, the couple opted to leverage their breeding program vs. investing in concrete. They have sold 10% to 20% of the milking herd annually. As the price of replacements has declined to barely breakeven, the operation has still been able to sell surplus cows and heifers. Presently, their 2-year-olds are the best they've assembled.
"Dairymen respect science and appreciate grassroots learning." Pam says. "[In one recent] week, we had a multi-international tour of our ventilation system, an Italian dairyman inquired about our calf barn, a Pennsylvania dairyman called about a cow family, and a Wisconsin dairyman stopped in for a calf barn tour. We always have an open door to dairymen."
The couple is proud of their three children, all graduates of the University of Wisconsin-Madison. Their son, Ryan, an assistant professor in the School of Agriculture at UW-Platteville, is married to Brooke McClurg. Their eldest daughter, Jessica, is married to David Trimmer. She is the dairy manager at Miltrim Farms, a 3,200-cow operation in Athens, while their youngest daughter, Nicole, is a nutritionist at ProVision Partners in Auburndale.
"We believe that being a Master Agriculturist means doing not only an excellent job of farming, but also making sure you leave this industry better for having been in it," Pam says. "We do this by providing producers with outstanding herd replacements that can be future foundation animals. We are active leaders in dairy organizations. We give consumers a front row seat to our dairy. We share our knowledge and experience with other dairymen so they too can maneuver the constant challenges of dairying."
Leadership and awards
Scott has served as a dairy judge for 30 years at state 4-H and national contests. He was a member of the UW-River Falls collegiate dairy judging team and is an accredited dairy judge.
Scott is past president of the Wisconsin Holstein Association, Clark County Holsteins and District 4 Holstein Breeders. He serves on the Central Star Advisory Committee and was chairman of the Central Wisconsin Summer Event Sale for 10 years.
Pam is the Wisconsin Holstein president; past president of Professional Dairy Producers, AgSource and Central Wisconsin DHI; and past vice president of CRI. Her list of involvement in ag activities is extensive.
The couple won the Holstein USA Out-standing Younger Breeder Award in 2000.
Persinger writes from Milwaukee, Wis.
2022 Master Agriculturist
Pam Selz-Pralle and Scott Pralle
Ages: 60 and 58
Location: Humbird, Clark County
Farming enterprises: Registered Holsteins, crops
Size of farm: 800 owned acres, 150 rented acres, 475 cows
Years farming: 31 and 38
Family: Son Ryan (Brooke), daughter Jessica (David Trimmer), daughter Nicole
Subscribe to receive top agriculture news
Be informed daily with these free e-newsletters
You May Also Like
---