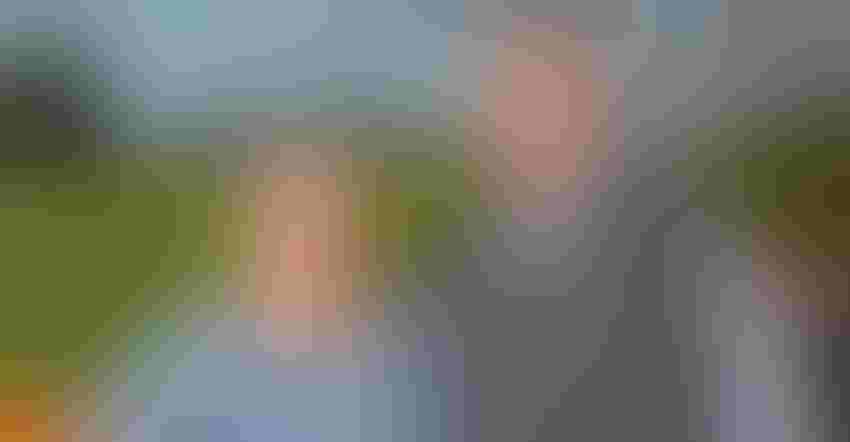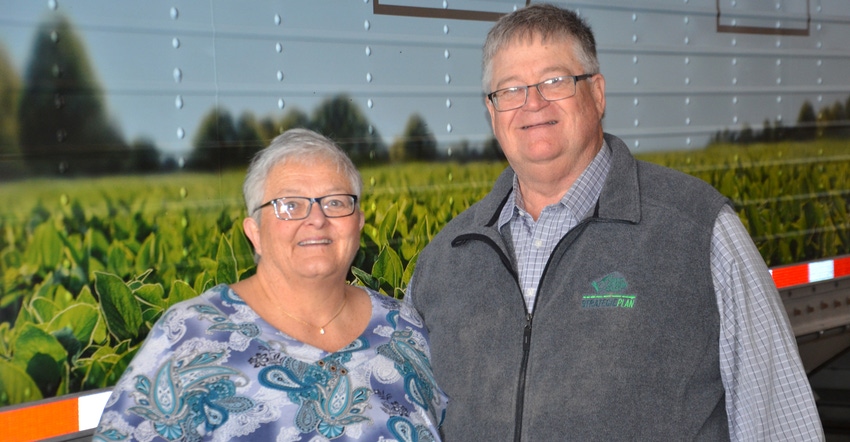 FARMING AND SERVING: Sheryl and Mark Seib, Poseyville, Ind., have dedicated their lives to farming and to serving others in agriculture. They promote soybeans whenever their semitrailer (behind them) is on the road.
Photos by Tom J. Bechman
Mark and Sheryl Seib's address is 186 N. Cale St., Poseyville, Ind. It sounds like they live in town because they do, about 2 miles from their farm operation. Even so, they are receiving the Master Farmer award, co-sponsored by Indiana Prairie Farmer and the Purdue College of Agriculture.
Ironically, four of this year's five Master Farmer families don't live at the farm headquarters. But in all four cases, that's where similarity to urban life stops. The Seibs are passionate about agriculture — so passionate that it spills over into how they operate their farm and engage others in their community, state and nation, telling the story of agriculture.
Related: Welcome Indiana's new Master Farmers
Farming was in Mark's blood at an early age. He began with a few sows as an FFA project. After attending the Purdue Agriculture Short Course, he began farming full time with his dad. Soon, they had 110 sows and were selling feeder pigs.
"We don't have livestock today, but for a long time, hogs were an important part of the farm," Mark recalls. "We exited hogs a few months before the big crash in the '90s. Our buildings were getting older, and it was the right decision. But in some ways, it was hard for me to give them up."
Related: What others say about Mark and Sheryl Seib 
Mark's brother Wayne, six years younger, joined the farm operation in due time. Today, they grow corn and soybeans, primarily in a 50-50 rotation. They moved away from conventional tillage over the years, and now primarily rely on vertical tillage. They've also added cover crops where they're needed most.
"We utilize modern technology in our crop operations if it makes sense," Mark says. "We utilize RTX for autosteer and have collected yield data and grid soil sample information for over a decade. We use it to make variable-rate planting decisions and make variable-rate nitrogen applications via sidedressing where it fits."
The Seibs believe strategic use of cover crops translates into increases in organic matter. They've also greatly reduced soil erosion on rolling fields, using a combination of minimum tillage and cover crops.
The farm today
On Jan. 1, 2021, a big change took effect. "We formed an LLC [limited liability company], and my nephews now have designated roles," Mark says. Since Mark and Sheryl's daughters aren't involved in the farm's day-to-day operations, Wayne's sons, Carl and Matthew, joined the partnership, with Carl working into management.
"We utilized a consultant, and we worked on this plan as a family for about a year," Sheryl explains. "The consultant was very thorough, and interviewed everyone, including Carl and Matthew. We wanted to make sure this was what they truly wanted to do."
Mark adds, "Looking back, the time invested in planning for succession and money spent for consulting were time and money well spent. Our operation can now move forward with certainty."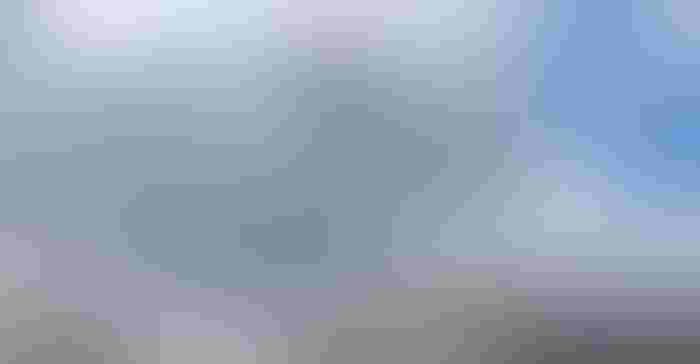 Mark provides guidance to Carl and Matthew, and Sheryl insists he's a master, exhibiting patience and letting them learn by doing. "Mark is there to make sure things stay 'on the rails,' but he gives them lots of leeway," Sheryl says.
Through the years, it's taken family to keep everything humming when Mark and Sheryl were involved in off-the-farm activities, including in farm organizations. Sheryl owned and taught at Kinder Schule Academic Preschool for 27 years, plus participated in farm groups. Mark traveled often, both for Farm Bureau and the United Soybean Board.
"There are benefits to serving that don't seem apparent at first," Mark says. "We've gained much personally and for the farm through networking. Plus, things we've learned about marketing and the inner workings of agriculture globally often mean we're better informed when it's time to make key decisions."
Mark and Sheryl Seib at a glance
Age: 63 (Mark)
Location: Poseyville, Posey County, Ind.
Beginning: Mark did farming-related activities in high school. He started farming with his father. His brother, Wayne, later joined the operation.
Farm today: Seib Farms enacted an LLC to operate the farm on Jan. 1, 2021, with Wayne's sons, Carl and Matthew, joining the operation. They use minimum tillage, raise corn and soybeans in rotation, and make strategic use of cover crops. Seib Farms raised hogs until the 1990s.
Children: Andrea and husband Eric Gentry, Wadesville, Ind; Sarah and husband T.J. Martin, Omaha, Neb.; and four grandchildren
Employees: A.J. Reynolds
Leadership: Mark served on the United Soybean Board for nine years, three months, completing service this spring. He is past president of the Indiana Soybean Board, now the Indiana Soybean Alliance. Mark served on numerous committees for Farm Bureau at local, state and national levels. He is president of the Posey County Area Plan Commission and a member of the Posey County board of zoning appeals. He also serves on the Purdue Council for Agricultural Research, Extension and Teaching Committee. Past service includes time as a volunteer firefighter and service on the Posey County Sheriff's Merit Board. Seib Farms hosted the Purdue Farm Management Tour in 2021. Sheryl is a longtime Agriculture in the Classroom volunteer for Indiana Farm Bureau. She served on the Posey County 4-H Council and was the first female president of Posey County Farm Bureau in 2009. She is District 9 education and outreach coordinator for the INFB State Women's Leadership Committee.
Nominator: Hans Schmitz, Purdue Extension, Posey County
Notable: Mark's great-great-grandmother signed the deed to 77 acres in 1898, and later sold it to her son Charles, Mark's great-grandfather. The land is still in the family.
About the Author(s)
Subscribe to receive top agriculture news
Be informed daily with these free e-newsletters
You May Also Like
---