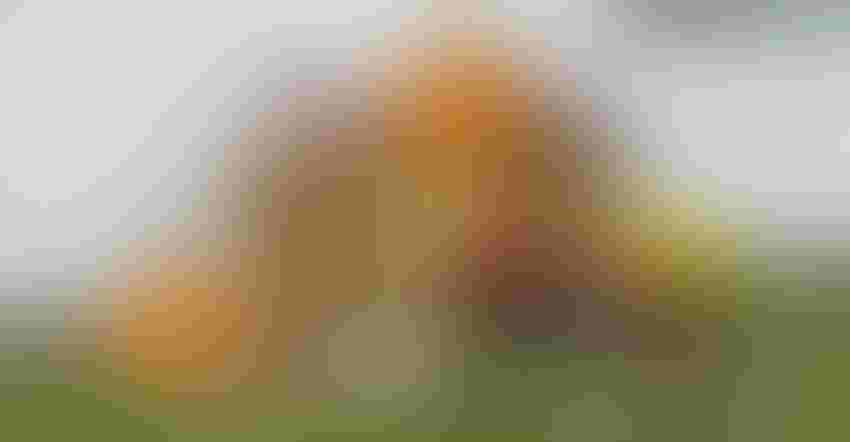 SIGNS OF HARVEST: Pumpkins, mums and corn shocks show up everywhere to celebrate fall. For most of us, fall is about the harvest, so please be careful on roads and in fields.
Carol Ann Gregg
This is my favorite time of year. The colored leaves, pumpkin decorations and the warm colors of autumn emit a comfortable, cozy feeling.
For most of you, fall is all about the harvest. Let's pray for clear, dry days with no mud, and grain bins filled to the top with no breakdowns.
I'm sure machinery breakdowns are part of your daily life, but they are never welcome. Thank goodness for cellphones and overnight shipping to get the part you need the next day.
Keeping equipment moving is the name of the game. Tractors and grain buggies, tractor trailers, and combines move from field to field getting crops into storage.
Moving this equipment can be a challenge. The driving public often does not realize that the farmer can't pull over or speed up. Being patient isn't always easy for them, and a piece of farm equipment on the road with an orange triangle on the back isn't a pretty sight to them, either.
Drivers should just slow down, take in the scenery and stay back from farm implements on the road. The interruption doesn't take that long, most of the time.  
In our area, farm safety has always been important. For more than 20 years, there was a one-day safety day camp held in our area for kids. Parents were encouraged to attend, too.  
Recently, these safety events have been twilight meetings held on farms with different stations, focusing on how to be safer on the farm and around farm equipment. They are family-focused to make sure everyone is safe. Often, the featured speakers have been victims of farm accidents, and their stories make you think about how quickly something can go wrong.
Some organizations have given grain rescue tubes to local fire departments. Our local EMS provides first responder training in the use of grain rescue tubes. It is important for emergency responders to know how to use this equipment. As grain storage facilities get larger, it is more important than ever to know how to work around these bins and how to get help when needed.
Invite your local fire service to your farm and walk them around your buildings and equipment to point out some of the places where accidents could happen, and where some of the information they may need is so they can help you.  
A tour can also open your eyes to hazards that you can remove to make things safer on the farm.
Think about the remote locations where you work in fields. Does someone at home know where you are? Would that person be able to give directions to first responders if you needed them?
Harvest is one of the most dangerous times. Everything moves in a hurry. We're sometimes rushing so much that we forget to watch for hazards around us.
Accidents, no matter how minor, take up time that adds to stress. Major accidents completely disrupt the harvest process.
So please, slow down and be careful. Your family needs you.
Gregg writes from western Pennsylvania. She is the Pennsylvania 2019 Outstanding Woman in Agriculture and is a past president of American Agri-Women.
Subscribe to receive top agriculture news
Be informed daily with these free e-newsletters
You May Also Like
---