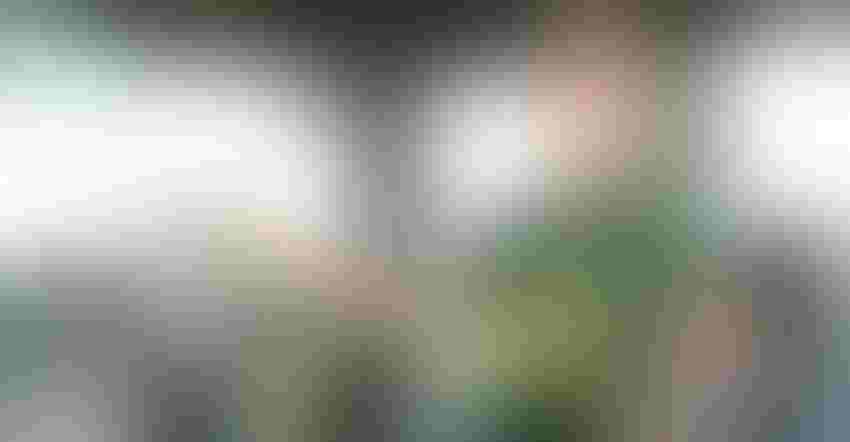 HER TRACTOR: Carie Moore, in her four-wheel-drive Steiger, left a full-time off-farm job to handle more of the farm work this year.
Lon Tonneson
Many women work off the farm while their husbands work on the farm.
Carie and Jason Moore, of Rock Lake, N.D., are doing the opposite. Jason works full time off the farm and Carie currently works full time on the farm.
"I switched to full time at home last spring. It's worked out better for us this way," says Carie, president of North Dakota AgriWomen.
The Moores farm on shares with Jason's parents, Lanny and Dianne. They operate about 650 acres and grow soybeans, wheat, barley and canola.
Carie and Jason decided that he had more opportunity off the farm to pick up more paid hours than Carie did. He drives a truck, hauling canola to the CHS plant in Hallock, Minn., and wheat to the North Dakota Mill and Elevator in Grand Forks, N.D. He puts in long hours, sometimes leaving at night or early in the morning.
WORKING TOGETHER: Carie and Jason Moore operate about 650 acres and grow soybeans, wheat, barley and canola.
Carie resigned her position as the Towner County, N.D., Soil Conservation District manager last spring to handle the farm's fieldwork and care for their children — Mady, 13; Carson, 10; and Greyson, 7. (She has one other son, Kaleb, who lives and works in Minot.)
It was easier for Carie than Jason to juggle the children and farm because Carie could set her own hours on the farm.
Carie has a good background for farming. She graduated from North Dakota State University-Bottineau with a two-year associate degree in fish and wildlife management and from Minot State University with a four-year degree in biological sciences. After graduating, she worked for a 1,200-cow dairy in Wisconsin and several large pig farms in Wisconsin and North Dakota.
She worked for several years as the district manager for the county soil conservation district. She helped farmers reduce tillage; plant windbreaks and shelterbelts; select cover crops; and adopt other conservation practices.
Carie had been an active partner with Jason in the farm business. She had helped with fieldwork and was involved in decision-making.
FAMILY TIME: Carie and son Greyson, 7, spend time together on the farm.
"I'm Jason's 'pre-banker,'" she says, laughing. "If he can't convince me, he isn't going to convince our banker."
This year, Carie handled much more fieldwork. She applied all the fertilizer, did all the tillage and planted some of the crop. Jason did most of the planting when he came in off the road after work.
"I'm learning how to do more things," Carie said. "When I ran into problems, Jason and I did a lot of video chats."
Wayne Wood, a neighbor of the Moores, was a big help, too.
"When Jason was on the road, he called Wayne to come and check on me if I needed specific help," Carie says. "Wayne was always willing to come over and show me what to do even though he was in the field as well."
LEARNING MORE: Carie stands in soybeans that she planted this year.
Carie may take an off-farm again. She enjoys working with farmers, rural women and children. She visits three schools each month as a "class farmer" and brings ag to life for the students.
She is also involved in local and state leadership, and she even puts her ag story out through social media so people can get a glimpse into her North Dakota ag life. Her blog is called Tractor Rounds and Coffee Grounds.
"I always want to farm," Carie says. "It's more than a job. It's something both Jason and I love.
Subscribe to receive top agriculture news
Be informed daily with these free e-newsletters
You May Also Like
---