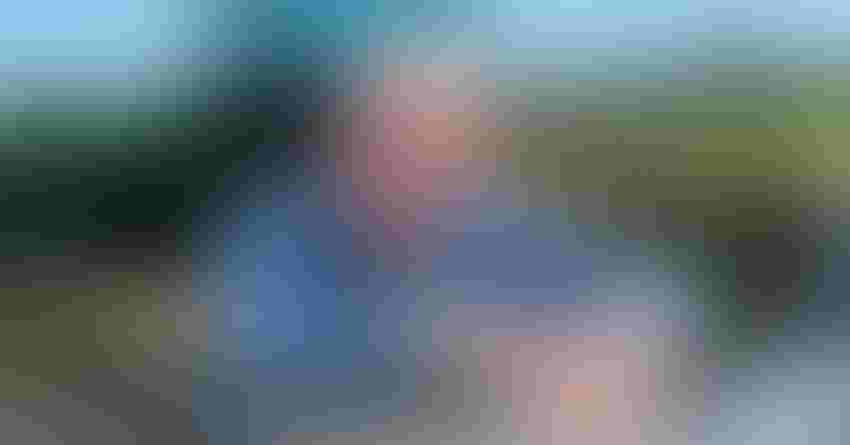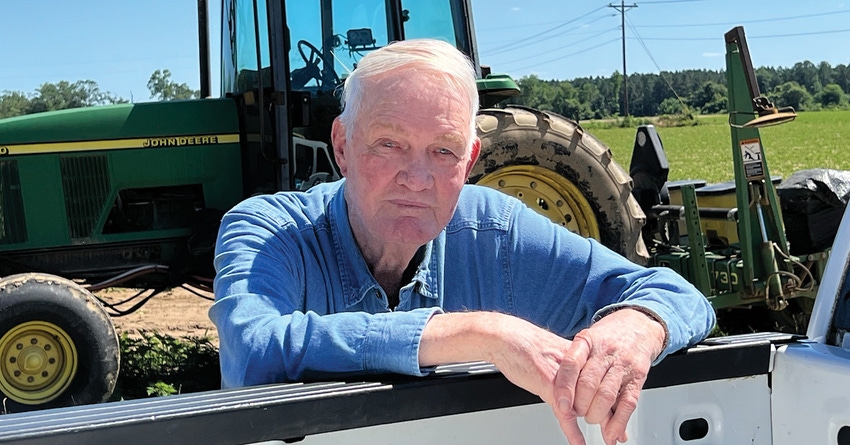 Mitchell Rogers enjoys growing in Covington County, Miss. He also sells green peanuts for boiling.
Brent Murphree
A good part of what makes a person stand out among others is how much they love and help their community. Mitchell Rogers, recipient of the 2022 Peanut Efficiency Award in the Delta region is one of those who stands out as someone who loves to farm and is willing to share what he appreciates with others.
Rogers farms with his son, Mark, on land that has been in the family for nine generations. The farm is in Covington County, Miss.
The original farm was homesteaded in 1820. With the original farm and lease properties, together they farm about 1,500 acres of cotton, cattle, timber and peanuts.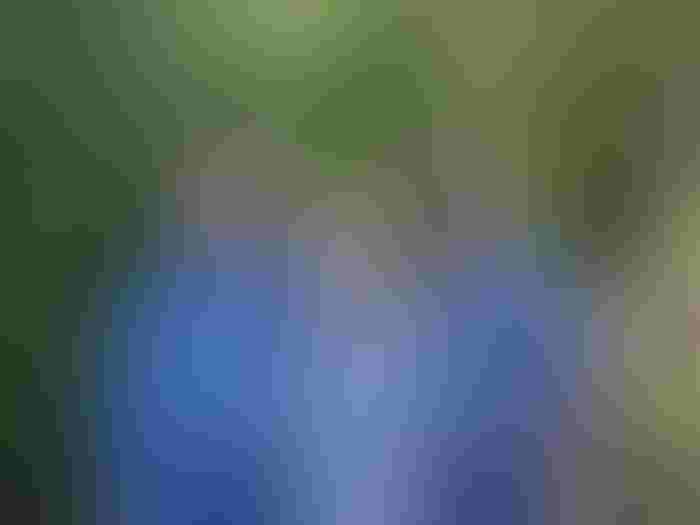 Mitchell Rogers, left, with wife, Ann, and son, Mark, outside of Hot Coffee, Miss. (Brent Murphree)
Rogers, who is 85 and still farms just outside of Hot Coffee, Miss., began producing peanuts on 30 acres in 1971 after he learned he could make $100 an acre from the crop. He notes that it was good at the time.
When he heard there was an allotment of peanuts available, he spoke to two other growers in the area about testing the crop with him.
"I checked into it and got James Carter and Dennis Mitchell to look into it," Rogers said. "They asked what's the least you would take. I said 30 acres."
They were each granted small allotments and each producer grew their operations from there.
Shared equipment
The first few years the three men purchased equipment together and shared costs. As they grew, they eventually separated operations, purchasing their own equipment as they bought more peanut allotments.
"I went and bought some allotments out of Clarksdale, Mississippi," he said. "I pretty well got what I could do and rotate, so I was planting three and four and 500 acres."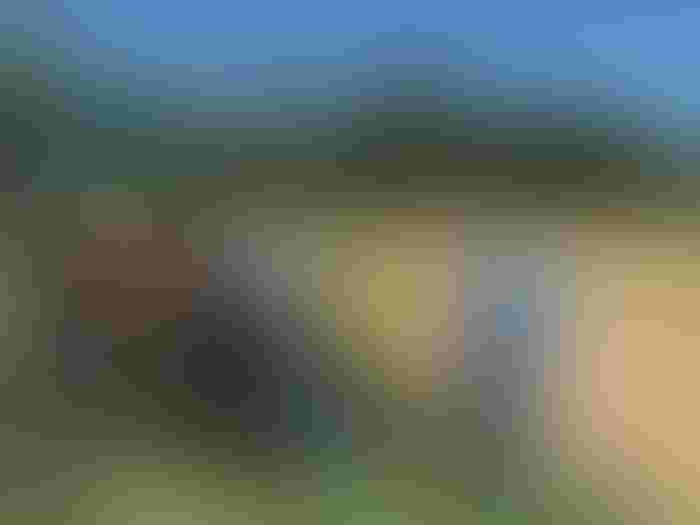 Mark Rogers, left, works on a peanut planter box as father, Mitchell looks on. (Brent Murphree)
He rotated the peanuts with cotton and cattle.
During the time when there were peanut allotments, Rogers said he had to plow up any overage. He started to bag up some of the overage green to sell as boiled peanuts.
It became profitable for him, and he has continued that part of the operation. He sells the bags locally, directly off the farm.
It is also a social outlet for him.
"He's met a lot of people over the years, made a lot of friends doing that," said Roger's son and partner, Mark.
Mark calls boiling peanuts his dad's hobby.
"He's been doing it since the mid-80s," Mark said.
"He likes green peanuts, boiling peanuts. He's given up hunting and he's given up fishing," Mark said with a laugh.
A quarter of Mitchell's crop is a green Virginia variety grown for the boiling market. He staggers the planting about every two weeks.
"That way they don't all get ready at the same time," he said. "We'll start digging them and bagging them in late July and go all the way to November, so you have to try to stagger them out."
Planting peanuts
For peanuts that go into the commercial market, he can plant from April into June.
"This year was supposed to be a warm spring, but it wasn't," Mitchell said. "It was cool. That was a problem. We're still running a little behind, but not by much. We are about caught up now."
This year he planted the Georgia 06G runner variety, which are all dryland produced. He plants 38-inch single rows.
Because of rotation, he does not need to use a lot of inputs on the peanuts. Following the cotton there are typically enough nutrients.
"We typically apply a little ammonium sulfate to get some sulfur," Mark said.
But usually there are enough residual nutrients from cotton to help push the crop through.
"If we rotate, we don't have problems with disease," Mitchell said.
Improvements made in the varieties have made a big difference, according to both Mitchell and Mark.
"When I started, you were lucky if you could get a ton per acre," Mitchell said. "Now we shoot for three tons. You don't always get it, but that's what we shoot for."
"We made good peanuts last year. We didn't harvest that well. It rained for two solid weeks every day and we lost a lot of it."
The peanuts still graded well and Mitchell said they graded better than he thought they would, but it did affect the amount they harvested in 2021.
Helping others
Pete Rutland nominated Mitchell for the Peanut Efficiency Award. Rutland thought Rogers would make a great nominee, not just because he was a good peanut grower, but because Rogers was always willing to help anyone who needed it.
When Rutland began farming at the age of 17, he received a lot of negative input from others who said he would never make much out of a particular piece of land.
"Mitchell happened to come by and he, he really encouraged me," Rutland said. "He said, you'll be fine. And it's all gonna work out. He was just always encouraging."
One day Rutland was out building a terrace row that he could not seem to get right. He knew Rogers was working on one, as well, so he went over to see how he was doing it.
"I went down there and was watching him," Rutland said. "That wasn't good enough for him. Eventually he put me on the tractor with him and I watched him.
"And that wasn't good enough. He got in his truck and came back to my place and helped me. That's honorable."
Rutland noted that Rogers is a fine man who serves his community well.
"He's diligent in his work, I think he's a fine Christian man," Rutland said. "I believe he shows that with his ability to want to help other people."
Lending a hand
Mark said his dad was always willing to lend a hand, giving young men in the area a job or teach them to operate equipment.
"There's no telling how many nephews and neighborhood young men that helped," Mark said. "I'd say there were probably 25 over the years. I think back when I was in high school. We ran all two-row peanut equipment. We'd have four or five combines and a couple of diggers going. We didn't even have dump carts to put them over in the trailers. The combines just dumped in those low sided peanut trailers, but it was all teenagers.
"I don't know how much stuff we tore up. And I don't ever remember him fussing."
Mitchell notes he instructed a few young people about hard work, including his three kids – Mark, John and Marilyn.
Mitchell's wife, Ann, a former schoolteacher, laughed when he mentioned an acre of cucumbers the kids picked one long summer.
"They worked hard," she said, chuckling as Mitchell and Mark laugh while sitting at the kitchen table.
Mitchell has no immediate plans to retire from growing peanuts. Why should he when he still enjoys it so much?
About the Author(s)
Subscribe to receive top agriculture news
Be informed daily with these free e-newsletters
You May Also Like
---