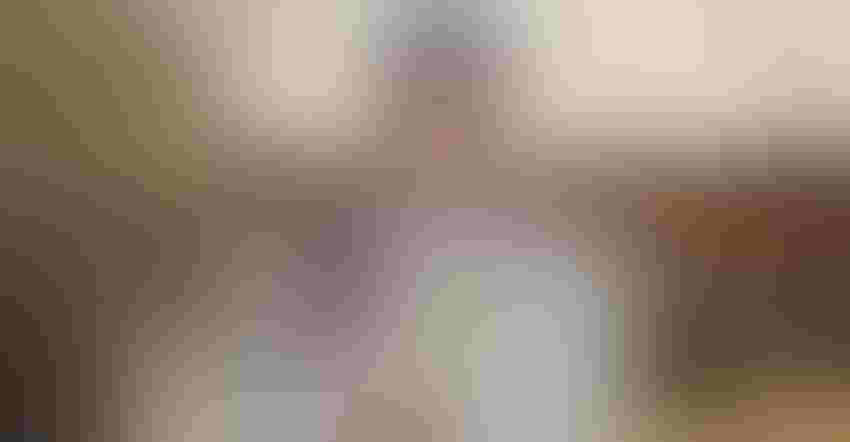 FARMER AT HEART: While many will remember Glen Cauffman for his 25 years at Penn State, he was a farmer at heart. After retiring from Penn State in 2011, he devoted the final chapter of his life to building a mohair and yarn business, Pure American Naturals, from the Angora goats he raised on his 190-acre farm.
Chris Torres
I was devastated to hear the recent news of the death of Glen Cauffman.
He was a mainstay of farmer meetings and workshops put on by Penn State Cooperative Extension when I was a reporter and then editor of Lancaster Farming in the 2000s. At that time, he was manager of farm operations and facilities at Penn State, a big responsibility that I could only imagine was time-consuming.
Still, he always found the time to share his knowledge of farming, in particular farm equipment, to the hundreds of farmers who attended Extension-sponsored workshops in those days.
I got to know Glen attending those meetings, and I found him to be a warm, generous man who always took time out of his day to answer questions from what at that time was a young, inexperienced ag reporter.
A few years ago when I was named editor of American Agriculturist, the first event I attended was the 2018 Mid-Atlantic Master Farmers banquet in Belleville, Pa. I was hired weeks before the event, and I was nervous about having to get up and introduce myself as the new editor.
Sure enough, the first person to greet me and say congratulations was Glen Cauffman. I always appreciated that. His warm welcome helped me get through that first banquet, and he's been a huge presence on the board of the Mid-Atlantic Master Farmer Association ever since.
Glen was born Oct. 2, 1947, in Harrisburg, Pa., the son of the late Robert and Ardella Cauffman. His obituary reads that he graduated from Greenwood High School and then went on to earn bachelor's and master's degrees at Penn State.
Greenwood High was always on his mind. He helped establish the ag education program at the school and supported the school's FFA program throughout the years.
Glen spent 25 years at Penn State managing the university's farm operations. A 2013 American Agriculturist article on Glen being named a Mid-Atlantic Master Farmer states that he converted the university's farms to no-till using extensive conservation practices, introduced nutrient management programs and started planting acres of cover crops. He also led the university's move into adopting biofuels, bio-hydraulic fluids, and even composting food wastes and manure. He did this all while farming on weekends.
Although he had the energy to continue at Penn State for many more years, he retired from the university in 2011. But the next chapter of his life was just beginning. After retirement, he devoted his life to developing a mohair and yarn business, Pure American Naturals, from the Angora goats he raised on his 190-acre farm. He was a big believer in Northeast farmers developing value-added options for their products, and this was his way of proving that with good management, small farms could be successful.
"We can no longer stop marketing at the farm gate," he said in the American Agriculturist article.
His accomplishments as a farmer and his contributions to the farm community were recognized in 2013 when he was named a Mid-Atlantic Master Farmer. He then joined the Mid-Atlantic Master Farmer Association board of directors, providing leadership and a long-term vision for the nonprofit board, which raises money for ag education scholarships.
In 2020, he became board president and helped steer the board's activities during a tough stretch when it had to cancel its annual banquet and tour and meet remotely for nearly two years.
Even during the height of the COVID-19 pandemic, Glen was committed to educating and helping farmers succeed. I visited his farm in April 2020 when he invited a group of prospective farmers to see how he sheared his goats, and collected data on the animals' health and quality of the mohair.
In hindsight, it was probably a little foolish to get a group of people together like that in the middle of the worst pandemic in a century — even though we were outside and all had masks on — but Glen was persistent in having it.
The last time I saw Glen was in November when we held our 2020-21 Mid-Atlantic Master Farmer banquet in Mechanicsburg, Pa. It was a smaller event, but I could tell the sense of relief and happiness in Glen that we finally got to recognize two years of Master Farmers.
He had some big ideas for 2022 and was committed to continue leading the board back from being inactive for nearly two years. Unfortunately, Glen will not be around to see the fruits of his labors.
Dave Reinecker, past president of the board and current member, said this about Glen: "I will always remember Glen as having a clear focus on what agriculture needs to look like in the future. His vision was an example for all of us."
John Vogel, former editor of American Agriculturist, who wrote Glen's Master Farmer story, said this upon hearing of his death: "When a longtime friend passes, you can't help but feel there's a hole in your world. That's my case with Glen, a true Master Farmer. He lived with humility and a strong desire to mentor others. He also shepherded his own sustainable agriculture farmland in Perry County and the Angora goats that produced mohair for his Pure American Natural business enterprise shared with his life partner, Dr. Judith Shoemaker. Glen was the whole package."
Glen is survived by his three sons — Todd, Mark and Eric; a granddaughter, Sydney; a grandson, Ethan; a brother, Dean; and his partner, Judith Shoemaker.
I will always cherish the moments I had with Glen. He lived a fulfilling life and was someone the ag community could look up to.
Rest in peace, Glen.
Subscribe to receive top agriculture news
Be informed daily with these free e-newsletters
You May Also Like
---