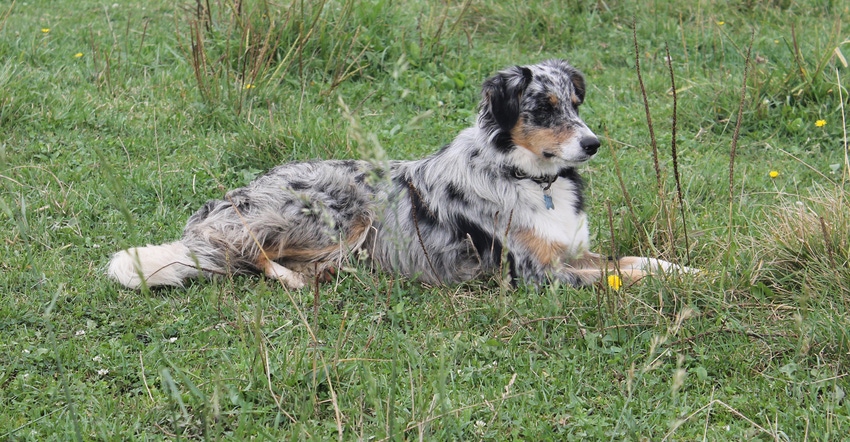 RAYNE: Julie Willis' 4-year-old border collie, Rayne, has proved a faithful companion on and off the farm, breaking up bull fights with uncommon bravery and nurturing nursing home residents as a therapy dog.
Yesterday, Prairie Farmer shared the story of winning farm dog Stella and her on-farm antics with her people, the Gorenz family of Maple Park, Ill. Today: the second and third place winners. Meet Rayne and Chloe, farm dogs extraordinaire!
Second place goes to Rayne, a 4-year-old border collie on the farm of Julie Willis, Belvidere, Ill., who wins $75 for Rayne's efforts.
Chloe earns third place for her owners, Jane and Nicki Adolph. The Adolphs win $50 thanks to the 4-year-old blue heeler's work on their Mount Carroll, Ill., farm.
Check back tomorrow for the honorable mention winners and more great stories. Here are Rayne's and Chloe's winning essays:
2nd place: Rayne
My border collie was aging but I was reluctant to get just any dog. I'm a firm believer in knowing the right dog will find you. So, when my sister called saying she saw a border collie puppy on Craig's List, I said definitely not! Long story short and a 10-hour trip to Iowa, Rayne came to live with us.
She fit right in, shadowed my old dog, learning quickly. We raise and show Belted Galloway cattle, and Rayne always makes sure the show heifers are in their feeding pens, following them into the fan pens. She patrols the fence line, checks gates and is always by my side.
Her sweet disposition allowed me to train her to become a certified therapy dog. In a care facility, she focuses on the patient, almost melting into them, and will stay with them as long as they like. Little did I know I was getting my own personal therapist in the deal! She was with me and my mom as mom dealt with the final stages of Alzheimer's disease. Rayne's speckled coat absorbed my tears, and she never flinched when I gripped her with one hand, while holding Mom's with my other.
Shortly after my mom's funeral, tragedy struck. I was opening a gate to move bulls, when two of them began to fight. Sensing I was in danger in the corner, Rayne rushed in to help separate them. In the fracas, one of her paws was severely crushed. The ensuing infection threatened to take her entire leg. After two weeks of intensive veterinary care, including a weeklong stay at University of Wisconsin-Madison's vet hospital, she is fully recovered (minus one toe), and back out helping me with the cattle and bringing joy to nursing home residents all over our community.
Julie Willis,
Belvidere, Ill.

CHLOE: Jane Adolph says Chloe has proved indispensable on their Mount Carroll, Ill., farm, herding cattle and watching over her 16-year-old daughter, Nicki, during the terrible cold and snowstorms this past winter.
3rd place: Chloe
Chloe, a purebred blue heeler, became a member of our family four and a half years ago. From day one on the farm, Chloe was a hard worker with high energy. Although she was only a couple months old, she walked miles with us those first nights as we exercised the show stock. She quickly learned our routine and has become our most loyal companion.
Occasionally around the farm we use the phrase "There's no time for tired," and Chloe is by our side every step of the way. Her herding instincts are strong, so she is a valuable asset when moving cows. To be completely honest, she can be somewhat of a nuisance when doing chute work, but her work ethic has to be admired nonetheless.
Chloe's sweet personality is admired by all who visit, and she has never met a stranger. She is adored by the mail lady, delivery drivers and Schwan's representative — all who sneak her treats as she welcomes them to the farm. Her hobbies include singing, chasing squirrels, deer and birds. Her athletic ability is impressive as she jumps up into trees, grabs a branch with her mouth and disrupts the birds, who fly away so she can chase them. Her favorite pastime is riding with us in the side-by-side.
Her loyalty to us runs deep. This winter during some of the harshest conditions, she never missed a late-night calf check. She ran alongside the skid loader (driven by our 16-year-old daughter, Nicki) 5 miles down the road, no doubt because she was concerned about Nicki safely reaching her destination on icy roads.
We feel truly blessed to have Chloe as a member of our family. She's smart, loyal, athletic, hard-working and puts a smile on our face every day.
Story by Jane Adolph and photo by Nicki Adolph,
Mount Carroll, Ill.
Subscribe to receive top agriculture news
Be informed daily with these free e-newsletters
You May Also Like
---