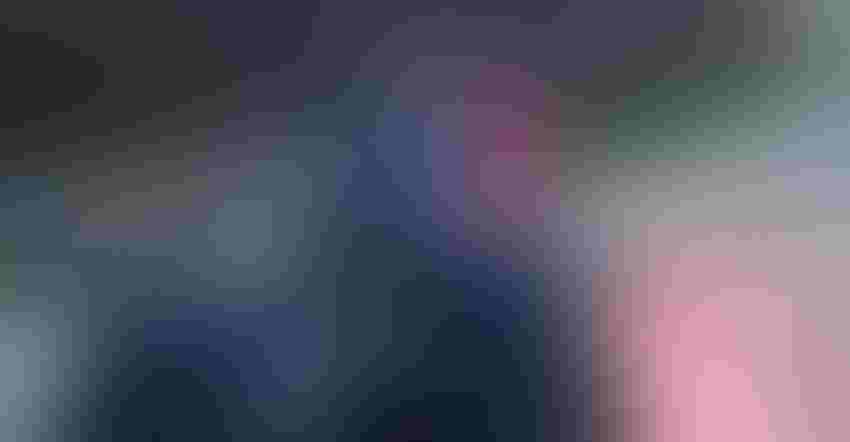 CHECKING IT OUT: Mark and Joanne Noll use a four-wheeler to check out newly emerging crops and take care of livestock. A plus, says Joanne, it's just plain fun.
This is the second in a series of stories about this year's Master Farm Family award winners.
Mark and Joanne Noll take pride in the six children they raised on the family farm near Hiawatha in Brown County, and in the fact that one son, Ethan, has chosen to return to become the sixth generation of his family to farm in Kansas.
"Eberhart and Leoba Noll came from Germany in the 1850s and settled near Winchester," Mark says. "Their son, Abe and his son, Ed continued to farm there. Then Ed's son, Tom, my dad, came home to farm with his dad and brothers."
But after four generations of farming and improving the land, a major change was forced upon the family.
"The decision was made to build the Perry Lake reservoir," Mark said. "We lost our farm to the lake, and my dad bought this farm from two retiring farmers and we had to start over from scratch. This land had been a stock farm for a long time and cleaning up was a big job. We were finding stuff that had been there for 150 years. You know how farmers are, 'Might need this one day, better hang onto it,'" he says.
The Nolls say their goal in crop farming is not to try every new thing that comes along, but to stay conservatively on the cutting edge of technology. "We take a practical, scientific approach to farming that puts the focus on quality of quantity and gives us great yields without buying us in debt," Mark says.
Farm-raised
Joanne Noll says she is grateful for the opportunity to raise their six children with plenty of room to run, play and use their imaginations.
"Some of our children now live in big cities, and I appreciate how the broad and open horizons that they grew up with offered a view of unending possibilities," she says.
Joanne says working side by side helped make the children closer to each other and to their parents. "When walking milo or working bales of hay, there is a lot of time for conversation about light subjects or serious matters," she says.
She says farm work also has the benefit of it being easy to see the results of your labor, such as clean fields, the full hay barn or animals in clean, comfortable beds. "You can see and appreciate a job well done," Joanne says.
The family grew up as members of St. Ann's Catholic Church, and the practice of faith was always an integral part of family life, Joanne says. "Our faith is the source of our passion, commitment and joy. Our world has not been always easy or perfect. We have experienced death, health concerns and the ups and downs of farming, but knowing that God has our back can buffer the grief, concerns and stress," she says.
Both Mark and Joanne have been Eucharistic Ministers for almost 40 years.
"Our children grew up with an attitude that learning and education are important and interesting. Their work ethic helped pull them through the school tasks that were not so much fun. We are proud that they all graduated from high school and college with honors," Joanne says.
KEEPER OF BEES: Mark Noll (left) and son, Ethan, don beekeeper gear to check on their bees. Beekeeping is a hobby of theirs.
It was sometimes noisy and messy, she says, "but it was a happy home. Living our life on the farm, working and playing alongside siblings, parents and grandparents, has given us all an appreciation and respect for the gifts we have been given."
The Nolls
While only one child, Ethan, has elected to return to the family farming operation, all of the next-generation Nolls are making their marks.
Michael, the oldest son, graduated from Kansas State University in 2003 with a degree in literature and journalism. He received a master's in creative writing from Texas State University in 2005 and was chosen to be the director of the Kathryn Ann Porter House in Kyle, Texas, managing their program of visiting authors and writing workshops.
He is currently program director of the Texas Writer's League in Austin. He has written several short stories and recently published his first book, "The Writer's Field Guide to the Craft of Fiction." He and his wife, Stephanie, have two sons, Xavier, 9 and Elias, 7. Stephanie is a writer as well and pursues her craft while also teaching in the English department at Texas State.
Aaron, the second Noll son, graduated from K-State with a degree in architecture. His first project was the renovation of the Royals baseball stadium in Kansas City, Mo. He has served as project manager on several projects, with a focus on the design of minor league baseball stadiums.
He and his wife, Annie, have endured every parent's nightmare: the loss of a child. Their first son, Jonah, was diagnosed with neuroblastoma on his third birthday in 2014. After two and half years of treatment, Jonah died on April 5, 2017, at the age of 5. Their second son, Harrison, is 16 months old. Annie has found her voice in writing and has full-time hours in freelance writing for various organizations.
Byron, the third son, graduated from K-State in 2006 with a degree in construction science and management. He began his career in South Bend, Ind., then on to Chicago. He has been part of the construction of two hospitals and other projects. He is working as a project representative of the Cubs organization on the renovation of Wrigley Field.
He and his wife, Stacia, were married in 2010 and recently celebrated the birth of a daughter, Pippa.
Stacia has her own practice in mental health counseling and therapy.
Anna, the fourth Noll child, graduated from K-State in December of 2008 with a degree in secondary education and social sciences. She is currently teaching in Pfluggerville, Texas. She and her husband, Achala Akuretiya, were married in 2014. He came to the U.S. from Sri Lanka to earn his master's in mechanical engineering and recently became a U.S. citizen. They have a daughter, Zuri.
Ethan, the fifth child, graduated from K-State in 2010 with a degree in agronomy. He began his career in Cody, Wyo., working for the Natural Resources Conservation Service, doing soil mapping of the rangeland. In 2012, he returned to Brown County to join his dad in the farming operation. In addition, Ethan works as an agronomist with Ag Partners Cooperative.
Ethan and his wife, Krista, were married in June of 2018. She works in the Topeka school district as a speech therapist.
Gabriel, the youngest child, graduated from K-State in 2014 with a degree in geography and information systems. He began his career at Burns and McDonnell in Kansas City as a geographic systems analyst. He currently works for Black and Veach as a geographic information system analyst in the telecom division.
He and his wife, Cloe, were married in September of 2018. She works as a registered nurse at Children's Mercy Hospital in Kansas City.
Mark says the most long-lasting notable thing that he and Joanne have done is raise their six children on the farm.
"A successful farmer forms a relationship with his livestock," he says. "Animals recognize their care giver. What takes longer to realize is land is also a living thing. It is a different relationship but there is a bond. I could have done other things, but I am glad I am a farmer."
About the Author(s)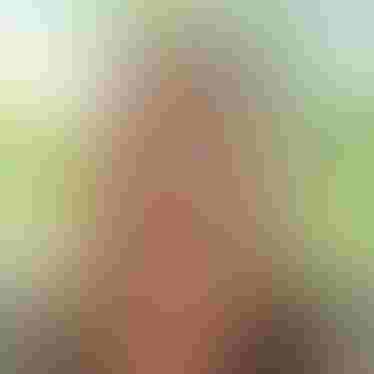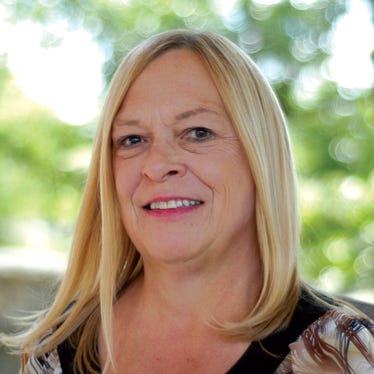 Phyllis Jacobs "P.J." Griekspoor, editor of Kansas Farmer, joined Farm Progress in 2008 after 18 years with the Wichita Eagle as a metro editor, page designer, copy desk chief and reporter, covering agriculture and agribusiness, oil and gas, biofuels and the bioeconomy, transportation, small business, military affairs, weather, and general aviation.
She came to Wichita in 1990 from Fayetteville, N.C., where she was copy desk chief of the Fayetteville Observer for three years. She also worked at the Pioneer Press in St. Paul, Minn. (1980-87), the Mankato Free Press in Mankato, Minn. (1972-80) and the Kirksville Daily Express in Kirksville, Mo. (1966-70).
Subscribe to receive top agriculture news
Be informed daily with these free e-newsletters
You May Also Like
---