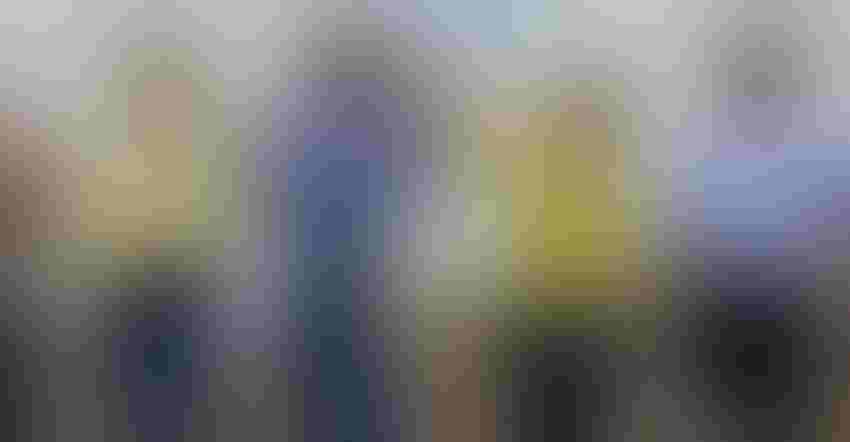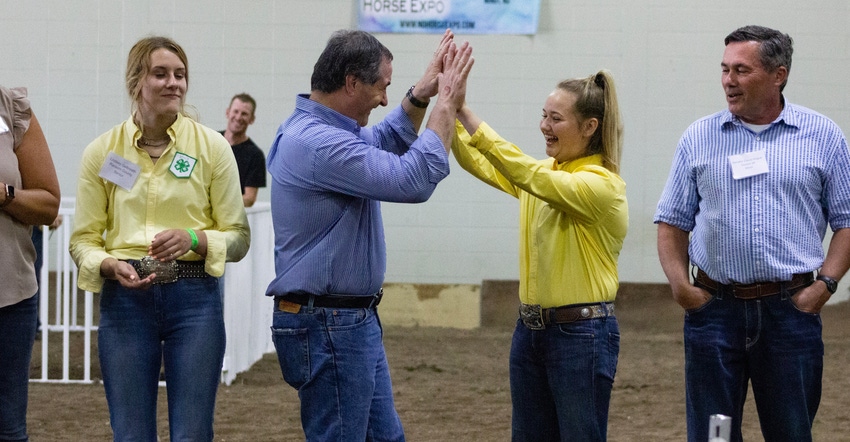 CHAMPION SHOWMAN: Ag Commissioner Doug Goehring high-fives his 14-year-old showmanship partner, Paige Zimprich, after being named champion swine showman.
Photos by Sarah McNaughton
The North Dakota State Fair had a new 4-H show in 2021. This event included four winning 4-H showmen from each species, who were matched up with a public leader. The youths then taught the public officials everything they could about showing animals. Then, the officials stepped into the ring and became the showmen.
This event was created by North Dakota State University Extension agents and the animal science planning team, modeled off of shows usually seen in the southern U.S.
"The goal of this is to connect today's leaders with our leaders of tomorrow, our young people," says Kurt Froelich, NDSU Extension agent in Stark-Billings County. "We want to give folks a solid understanding of what 4-H'ers do, and how much of a time commitment it takes to get to the state level. Most youth here are also competing in their species round robin contest."
Twenty-four public leaders were connected with 24 4-H youth, who were given an hour to teach their partners everything that goes into succeeding at showmanship. Each species of livestock was represented, with four leaders competing against each other in their respective species.
Youth opportunity
The youth who would be participating weren't known until the completion of the 4-H shows throughout the week, and the champion showmen were selected. Sydnee Johnson of Zap, N.D., was the champion senior beef showman during the 4-H beef show, and was partnered with Sen. David Rust of Tioga.
"I've been showing competitively since I was 11, and been involved with livestock basically since I was born," she explains.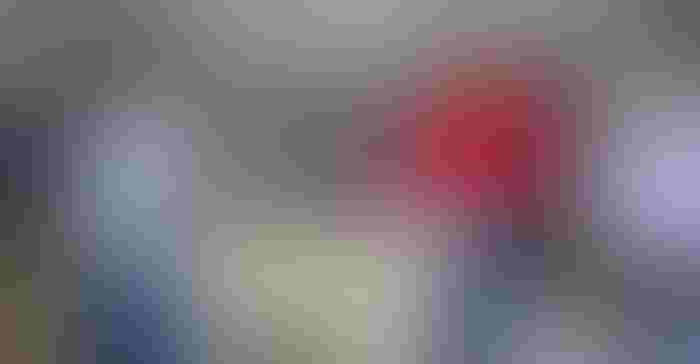 This show gave the 4-H'ers a turn at being the leaders, teachers and judges, while the public officials competed for top showman.
"I had the chance to be the judge and it was more stressful than I envisioned it to be," Johnson says. "Everyone was looking at me instead of me trying to find the judge."
Lilli Steeke of Rhame was one of the champion intermediate sheep showman, and says it was a surprise to be involved with the show.
"We knew from the start of the fair that there was this opportunity to show with our leaders, but we didn't quite understand what that really meant until after we completed showmanship and were told we'd be participating," Steeke says. "It's an awesome opportunity to get to meet those individuals and get to know their background, and then have them learn our background and how hard we work for showmanship and just overall with our animals and all of the hours in the barn."
Selecting leaders
"We went through a process to determine elected leaders from urban and rural North Dakota who could come participate in this. It's well-attended from all of those leaders for our inaugural event," Froelich says.
These leaders included North Dakota Gov. Doug Burgum, North Dakota Agriculture Commissioner Doug Goehring, Minot Mayor Shaun Simpa, North Dakota State Fair Director Mark Schaunaman, NDSU Vice President of Agriculture Greg Lardy, and 19 others from across the state.
"From a 4-H perspective, these young people today get exposure to a number of different public and elected leaders across the state and get that connection as a part of their leadership journey, and have leaders to look up to as role models," says Greg Lardy of NDSU Ag Affairs.
Lardy showcased a dairy heifer, and was partnered with Kassidy Job of Baldwin. "It's a great experience, and I learned a lot from her about showing dairy and the industry itself," Lardy says.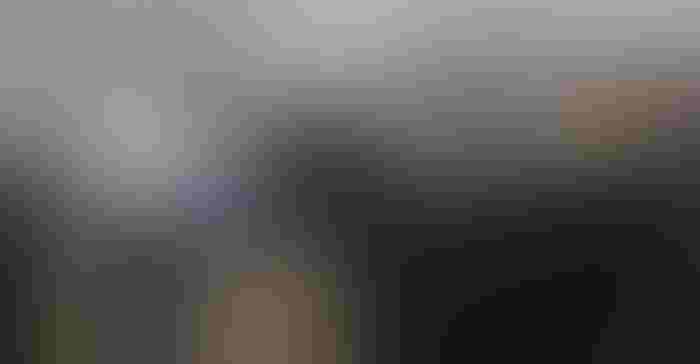 Goehring, who was partnered with Paige Zimprich of Milnor, showcased swine in the show. "This is a wonderful opportunity to interact with some of the kids. They had the chance to share and show some things they wanted us to know before we came in the ring," Goehring says. "I might've had a little advantage, as I was a 4-H'er and so were my kids. And it was great how all of the kids interreacted with everyone.
Goehring was selected as the champion swine showman of the evening, and shares that working with his assigned 4-H'er definitely helped. "Paige was so patient with me and was so good. She's got a great attitude and had a lot of animals she's caring for, and we decided to use a good one who was very manageable for the show," he says.
Agriculture issues
Another key component of this show was to connect leaders to the future of agriculture and livestock industries.
"I think it's really important for this type of opportunity, after all they're the people that run our state and they need to know how important this is and how we're being affected by drought," Johnson says. "If they can understand the importance, then they could reach out and do something to help all of us [in agriculture] and just be in our shoes for the day. I really liked visiting with them, and you learn a lot getting to do that."
"This has been a great inaugural event, and we're looking forward to see where it goes next year," Lardy says.
"We won't see immediate results like a basketball game, but this is going to come into play in the future," Froelich adds, "and the development of these young people going down the road into whatever career path they might choose."
Subscribe to receive top agriculture news
Be informed daily with these free e-newsletters
You May Also Like
---