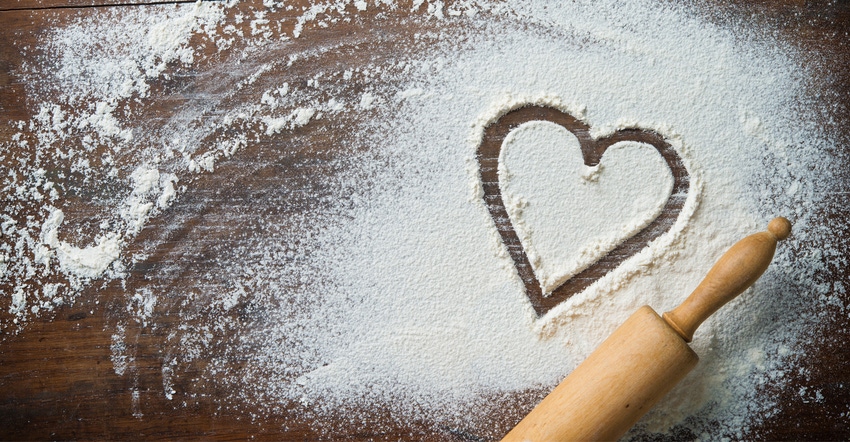 BAKED WITH LOVE: November is National Bread Month, and there's no better time than the holidays to bake up some love for your friends and family.
AlexRaths/Getty images
Look on Instagram today and you'll see account after account of homesteading and back-to-nature influencers. From building their log cabins, to growing their own produce and livestock, to making their clothes, it's a fad that's taken Generation X and millennials by storm.
I hate to break it to them, but my Momma Latzke was homesteading long before "homesteading" was a hot SEO phrase.
Making do
Farm families in the late 1970s and 1980s cut living expenses any way they could, and our family was no different. My mom had her 1-acre garden, and we raised beef so our freezers were always full. But her shining Mother Earth moment had to be when she and Dad bought an electric Mill & Mix stone grinder to mill flour from our own wheat.
It wasn't fancy. I mean, it was basically a faux-wood-panel box and two milling stones, but that thing was built like a tank. I wouldn't be surprised if there were 50-year-old units out there today still milling away.
The old Mill & Mix saw heavy service at our house. Dad would bring in a 5-gallon bucket of wheat from the field, and Mom would clean it and then mill it. And that mill kept us in whole wheat flour for years.
The only time Mom baked with store-bought white flour was for special occasions. But really, to this day, there's nothing like a warm slice of homemade whole wheat bread made from grain your family grew.
That's one thing today's homesteaders have in common with my mom.
Baking love
November is National Bread Month and I started thinking about that Mill & Mix and Mom's holiday baking marathons. The house would smell amazing from the first week of November on through to Christmas. And she'd fill Tupperware after Tupperware with cookies, zucchini, pumpkin breads and more. All destined for temporary storage in the deep freezer until company came. Our holiday dinners always featured her scratch rolls — a meal all to themselves if you asked my picky cousin.
If you asked me, they tasted better than anything I could get at the store. But maybe it's because love was baked into each bite.
That's the thing about baking for friends and family. It's a purposeful act of love. There's work that goes into each creation that makes it to the table. Sure, the TV bakers and the Instagram influencers make it look easy, but a home baker knows it's taken years to perfect the craft. You don't get to the big tent unless you've learned from a few failures along the way.
Share the love
If there was one thing to come out of the pandemic that gave me hope, it was a segment of society that reconnected to its baking roots. I had friends naming their sourdough starters and binging baking shows and trying their hands at baking for the first time in their lives. They have a new appreciation for the ingredients, and the people who grew them. And they have found that this hobby is a great way to show people we love them.
So, this is National Bread Month. Take a moment to bake up some love. Head over to the eatwheat.org website, and find a new recipe to try and make enough to share.
Don't worry if you aren't an expert. You don't have to have a 50-year-old Mill & Mix and a cutesy Instagram handle. You just need an oven and a heart full of love. 
Subscribe to receive top agriculture news
Be informed daily with these free e-newsletters
You May Also Like
---