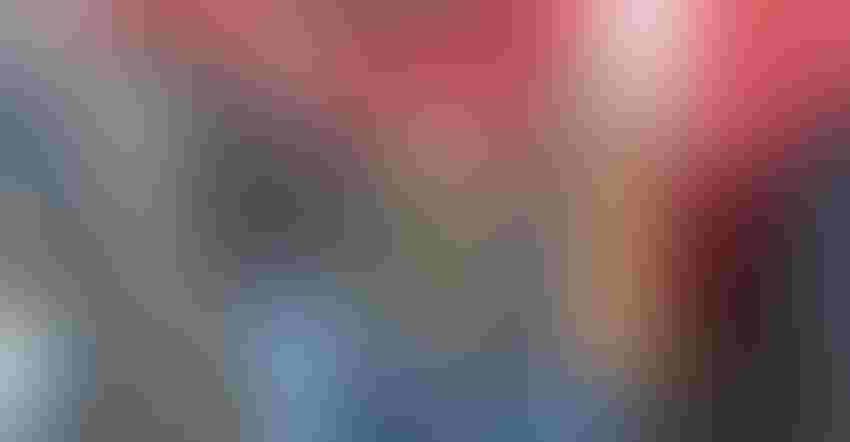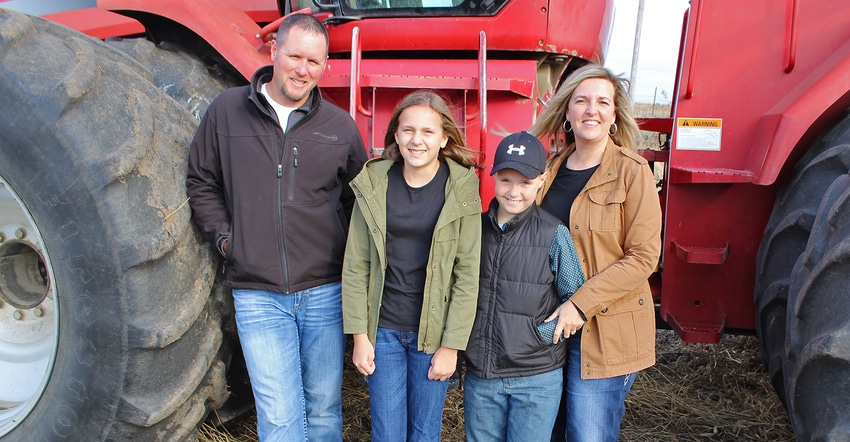 ORGANIC GENERATION: Derek and Lyndsey Davis, along with their son, Gage, and daughter, Gentrie, are changing the family farming tradition. Four years ago, the couple started farming using organic practices and are finding success with new markets and business endeavors.
The sun begins to fall over the recently harvested field. A tractor sits alongside the edge near the county gravel road. A disk attached to the back is idle waiting for a little drier weather. The field, the machinery, and the tillage resemble a traditional farm field in north central Missouri, but there is one major difference. This land has not been sprayed with chemicals, it is part of an organic farm.
Derek Davis grew up on a Saline County farm raising corn and soybeans conventionally. His family endured the ups and downs of the 1980s farm crisis. He saw farmland come and go. He wanted more for his family. And he found it in the organic agriculture industry.
Derek, along with his wife Lyndsey, son, Gage and daughter, Gentrie, farms 1,100 acres between Pettis and Saline counties in north-central Missouri. In 2015, they started transitioning 180 acres to organic production. After four years, they now have almost all 1,100 acres in some phase of the organic certification process. The goal is to have all of the land they farm either certified organic or producing non-genetically modified commodities.
Finding land, landlords
Land already certified organic is not easy to find. So, they must find landlords who are on board with this type of production practice and willing to stick with it for multiple years.
The family has a few fields nearby in their home county — Saline County — where landowners agreed to transition. "We have exceptional landlords," Derek says.  "They like the benefits organic farming has to offer."
SCOOPING UP SUPPLY: The demand for organic soybeans continue to increase whether for the health food market or as feed for organically-raised livestock.
After the first year, there were landlords in the area seeking out the couple. "Land owners are coming to us and asking if we would rent their farm," he says. Today, they farm land in two counties, making a 3 ½ hour round-trip with equipment to farm fields in Pettis County.
Financial transition
"If you are farming organically, you are going to take a yield hit those first few years," Derek says.
It is a challenge to remain profitable on transition to organic acres. The couple plants soybeans because of the lower input costs and increased marketing options.
But often price overcomes yield loss. "It depends on what you sell," Derek adds.
The couple seeks out niche markets and grows those commodities. They have a rotation of food grade yellow field peas, along with food and feed grade corn and soybeans and sunflowers.
Field peas are relatively new to the area and look like a soybean, but pack a powerful protein punch, according to Derek. They are used in the health food markets for protein shakes and protein bars.
"Growing for the food-grade market keeps our options open," Lyndsey says. "We can either sell on the food-grade market, or as feed grade for those buyers looking for organic feed ingredients."
Missouri has a strong poultry industry, with many companies shifting to a non-GMO and/or organic platform that provide a market for the Davis' crop. "This year, we did sell our organic corn as feed grade," Derek adds.
NEW ADVENTURE: When transitioning land to organic production, Derek and Lyndsey Davis found it difficult to find a storage facility near north-central Missouri, so they purchased the Gencom facility in downtown Marshall and are transforming it to a certified organic grain facility.
The other commodities — field peas and food-grade soybeans-are sold on a contract often before even being planted.
A location to source and deliver product is difficult to find in rural communities. Many Missouri farmers truck product many miles to a certified organic facility, but not for long. Lyndsey and Derek purchased a local grain elevator.
Building infrastructure
River Valley Ag Exchange is the couple's latest endeavor. The two bought the former Gencom facility in downtown Marshall, Mo., and are bringing it back to life.
The new facility will provide processing and storage of non-GMO and organic grains. The site has a 240,000-bushel storage capacity. The elevator currently provides help for farmers with seed selection, agronomics and marketing. The new facility offers fertilizer, biologicals, seed, cover crop seed, and organic consulting work. They will soon offer custom seed cleaning.
Derek says farmers are interested in both organic and non-GMO production. According to the USDA 2016 Certified Organic Survey, Missouri had 302 certified organic farms totaling 41,078 acres of certified land. Of those acres, 31,056 were cropland and 10,022 acres were pastureland. But it is still not enough to keep up with growing demand.
"I think more farmers would transition acres if they had help along the way," he says. "We want to help farmers avoid mistakes in the process if we can."
Market stability
Matching the market with the farmer is the goal of River Valley Ag Exchange. "We want to find a market and then work backward," Derek says.
Contracting for production as well as price is typically established ahead of spring planting.
One segment coming into the organic space is micro bakeries. These are niche buyers looking for different types of wheat with specific qualities.
He also says there is great interest from buyers looking for organic cover crop seed and small grains like wheat and rye.
TRUCKING COST: Derek Davis says the couple's new elevator will cut transportation costs for organic and non-GMO growers in the area by providing a local handling and storage option.
Organic agriculture has helped this young farmer return to the family business with a little more certainty than his parents and grandparents before him. Derek says the consistent and growing market allow him to better manage their farm portfolio. But it is not just about financials.
Standing in the freshly tilled field with her kids, Lyndsey points to the driving force behind their farming style. "This is something we are doing for our future and our kids' future," she explains. "Organic farming allows us to be sustainable for the next generation and hopefully, the generation after that."
About the Author(s) Editor, Missouri Ruralist
Mindy resides on a small farm just outside of Holstein, Mo, about 80 miles southwest of St. Louis.
After graduating from the University of Missouri-Columbia with a bachelor's degree in agricultural journalism, she worked briefly at a public relations firm in Kansas City. Her husband's career led the couple north to Minnesota.
There, she reported on large-scale production of corn, soybeans, sugar beets, and dairy, as well as, biofuels for The Land. After 10 years, the couple returned to Missouri and she began covering agriculture in the Show-Me State.
"In all my 15 years of writing about agriculture, I have found some of the most progressive thinkers are farmers," she says. "They are constantly searching for ways to do more with less, improve their land and leave their legacy to the next generation."
Mindy and her husband, Stacy, together with their daughters, Elisa and Cassidy, operate Showtime Farms in southern Warren County. The family spends a great deal of time caring for and showing Dorset, Oxford and crossbred sheep.
Subscribe to receive top agriculture news
Be informed daily with these free e-newsletters
You May Also Like
---