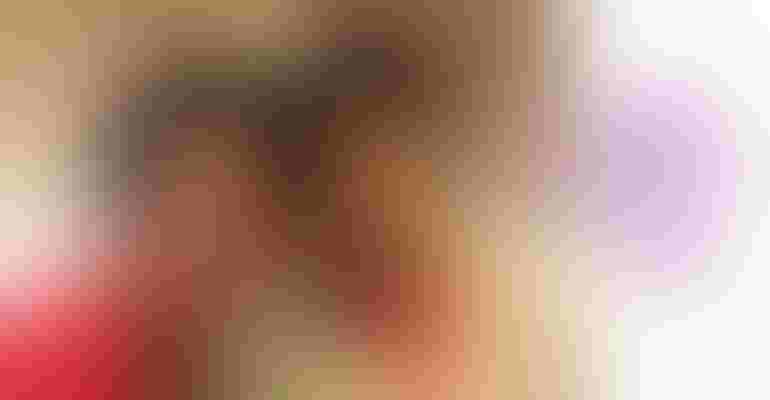 Diane Heitschmidt, left, with her mother Carol Hufnagel. "Very thankful for my mom and the life she made for us!  I love you, Mom!"
Mother's Day is right around the corner. To honor the mothers in our lives, I asked a few of the people I've interviewed or worked with in the last six months to tell me what they love about their mom and/or wife:
"Women in agriculture are often overlooked and taken for granted — I know I've been guilty," says Brownfield, Texas, peanut and cotton farmer Mason Becker. "I am blessed to have a wife and mother that are involved with our farming operations. My wife Megan Becker and I are partners in every sense of the word. My mom, Kathy Henson, is every bit an ag business woman. I have been fortunate to learn a lot from 'the real boss,' as my dad says. I love both of these women very much!"
AgriLife Extension agronomist Dr. Jourdan Bell, says her mother, Cathleen Ware, was "Tough but loving; hard but empathetic. She taught me to love the land. She would load my three brothers and I up in a 1980 station wagon with wood paneling and a cooler full of sandwiches. We would drive across the Panhandle; mumbling and grumbling kids without seat belts climbing all over the car, saying 'Where are we going? Please do not stop at another historical marker!' And a happy mom up front. No cell phone, no I-pads, we looked out the windows; we learned to appreciate the beauty of the land and love the Texas High Plains."
Lubbock, Texas, cotton farmer Jason Sturgeon says, "Both my mom and wife have always been very supportive and willing to sacrifice their interests to help me fulfill mine. When I was young, my mom, Mitzi Sturgeon, was always taking and picking me up from the farm where I always wanted to be. Now my wife, Ashley Sturgeon, is willing to do whatever is necessary to improve my operation. Also, she is happy to stay in West Texas where the dirt blows —  even though with her career, she could live in the most desirable and beautiful places in the country."
"My wife, Wanda Castellaw, as a military spouse, is among the elite," says retired Lt. Gen. John Castellaw USMC, Farmspace Systems, LLC CEO, Alamo, Tenn. "Raised on a cotton farm and accustomed to hard work, she raised our son while I was on long deployments, moved us 25 times around the world in 36 years, worked full time outside the home, completed her masters in her "spare" time, and was always there for other spouses in time of crisis.  Now that we are back on the farm, I am so proud to be on her team!"
Frederick, Okla., cotton farmer Roger Fischer, says, "When reflecting on the love and gentleness of my mother, Colleen Fischer, l am always reminded of an incident as a young boy where at the dinner table we all chose the choice pieces of fried chicken and I eventually noticed nothing was left for mother except one wing. I'll never forget her response, "I love wings." I thought, 'who could love wings?' Only a mother."
Oklahoma State University Cotton Extension Specialist Seth Byrd, Stillwater, says, "What I love most about my mom, Vickie Byrd, is that she has been 110 percent supportive of my countless relocations for education or career moves since I first left home.  Having that constant source of support and encouragement is priceless."
"My mother, Carla Bessent, is one of the most important people in my life," says Plains Cotton Growers Vice President of Operations and Legislative Affairs Kody Bessent at Lubbock, Texas. "She serves as an inspiration to our family and friends with a continuous bright smile and a love that is unconditional. She is an extremely compassionate, diligent and hard worker and caretaker of us all."
Dermatologist Dr. Ashley Sturgeon at Texas Tech University Health Sciences Center, Lubbock, says about her mom Darlene Rousselot, "My mom's commitment to me is limitless! Even as an adult, my needs are always her first priority. Her love for me is truly unconditional, and exemplifies how God loves us. I am so lucky to also have a wonderful mother-in-law, Mitzi Sturgeon, who would do anything for me. I don't deserve either of them!"
"We moved to a new farm in Oklahoma and she turned that old shack into our home for 21 years," says Nazareth, Texas, livestock producer Diane Heitschmidt of her mother Carol Hufnagel. "Improvising,  repairing, organizing — she loved that old house.  And she never once complained. Three hot meals a day for the seven of us. No dishwasher. No microwave. The meals were always good, sometimes thrown together in ten minutes, sometimes scarfed down in five. Sometimes they were thrown together with very little money. And she never once complained.
"Many years, family vacations consisted of a trip to the sale barn 60 miles away to sell cattle. Mom made it all fun. And we loved it. It wasn't a nice hotel. It wasn't Disney World. But she never once complained.
"Cattle coming and going. Processing new ones six days a week. Feeding, doctoring, fencing, plowing, haying, picking up brush, burning brush piles. It was non-stop. Mom was right in the thick of it with the rest of us. And when all five of us kids left home, it was her and Dad carrying on the business.  Days were long.  Nights were short.  And she never once complained. 
"She ruled with an iron fist.  'Tough love,' she called it. She had her expectations and rules and guidelines. We knew where we stood. We knew our boundaries. It was her job. She was a mom," says Diane. "And she never once complained."
Happy Mothers Day, Moms!
Subscribe to receive top agriculture news
Be informed daily with these free e-newsletters
You May Also Like
---