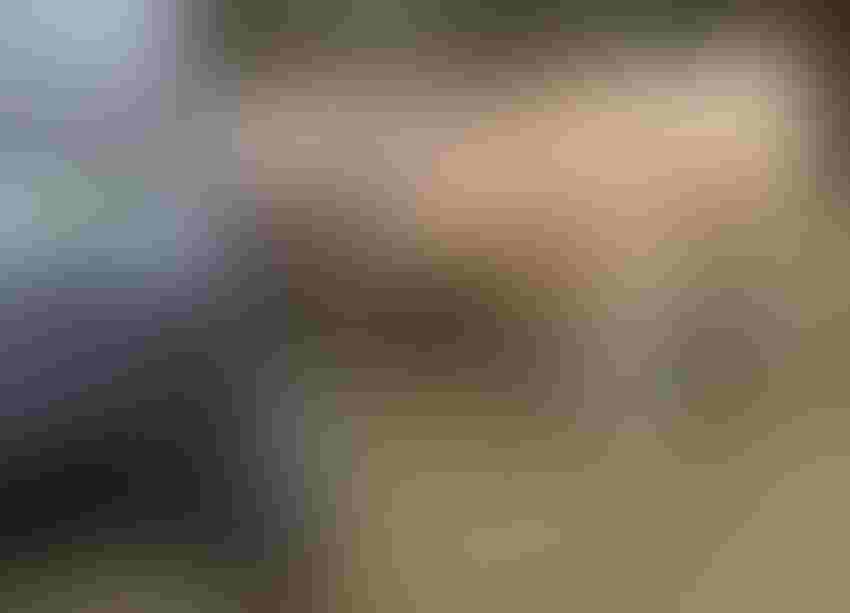 The Honda Dally: One cow in need of foot-rot treatment required Rachel to rope her and tie her off to the ATV.
Rebecca Bearden
One afternoon in November was all that Rachel asked of her bovine charges—one afternoon in which to take her two boys to a circus one county away.
After coordinating a team effort to cover childcare (me and Mama) and align cow punchers (my brother-in-law and his buddy), she successfully branded 27 replacement heifers that morning. Feeling productive, her next step was to check the rest of the cows, dress her boys and herself for town, and head to the show.
Post branding, we sent our exhausted Mama home (six straight days of babysitting was Granny's limit). After filling 16-month-old J.B. with chocolate and soft drinks, I took the afternoon shift with four-month-old Gary as Rachel hurriedly departed with J.B. and an ATV loaded with feed and an assortment of supplies.
True to form, the various herds got wind of her afternoon plans and commenced to execute a few performances of their own.
I received a text not long after noon. "And I present the Honda dally."
One cow in need of foot rot treatment required Rachel to rope her and tie her off to the ATV. "Lucky," Rachel admitted. "Slow elephant." The afternoon was young.
She managed to check two other herds without issue before discovering a big problem with the third.
"Do I have any milk left for Gary?" she texted. As he's guzzling down bottle number two, I texted back, "One bottle."
"Okay maybe that will be enough for later," she messaged. "Bringing a calf in to bottle feed."
Rachel had found this calf's mama in such a state of illness that she could barely move, much less stand. Hopeful but realistic, Rachel had given her a dose of oxytetracycline dihydrate and secured the calf in the bed of the ATV.
Gary finished his bottle and insisted I take him to the front porch to witness the next act. Upon a rushed arrival, J.B. seemed unphased by the hollering calf thrashing in the back and just wanted to be unlatched from his perch (baling twine works just as well to fasten car seats to the ATV—ranch mom hack). Rachel ran into the kitchen, hurriedly heated up some frozen milk, transported J.B. and the tethered calf to the barn, and procured the feeding tube from the shed.
After I saw that J.B. was granted his wish to "help Mama," I secured Gary in his car seat, and we headed out to assist where possible. By then, Rachel had unloaded the calf, tried to bottle-feed with no luck, and was positioning the calf near the feeding tube she had mounted on the pen panel. I set Gary outside the gate and held off J.B.'s requests to play just long enough to pour the bottle milk into the tube.
After successful completion of the feeding process, the confused calf was placed in the loving company of the current trap residents—a mama with twins. Upon assessment of the situation, the twins' mom gave my sister a look indicating shared frustration, "Fine, but just for tonight. You know I have two of my own."
I managed to keep J.B. from experimenting with just enough manure, dirt, and trough water to avoid a bath. We ran inside initiating a tornado of baby clothes and diapers and dry shampoo. After approving of which onesie in which to dress Gary, Rachel confessed that she had been watching one of the first-calf heifers pace in and out of a fenced-off area, laboring intensely for the last 30 minutes.
"She's clearly crazy and will probably calve in a gully," Rachel said exasperated. "I just want one afternoon with my family. I absolutely have to go."
For the rest of the story, check out next month's column.
Subscribe to receive top agriculture news
Be informed daily with these free e-newsletters
You May Also Like
---