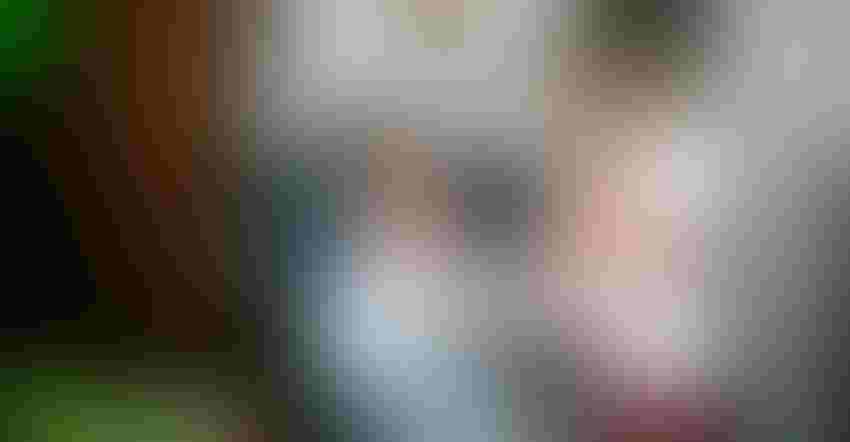 MEMORABLE MOMENT: That's me on the right, holding baby Chloe, to introduce her to her great-grandfather in his nursing home room in 2001.
Father's Day has come and gone again and with it poignant memories of the father with whom I no longer have the opportunity to share the day.
I did spend some time remembering all the things my dad taught me as a kid growing up on the farm in northeast Missouri. And I also spent some time regretting — as I do every year — that I didn't spend more time with him when he was still here on Earth.
It is reality that as you transition from child to grown-up, your life gets incredibly busy — work, keeping a home, raising children of your own. Throw in the distance that my career created between me and the family farm, and it's easy to see why opportunities to go back to the farm were not frequent.
During my college years, I was able to come home once a month. Then I moved on to my first job after graduation — an eight-hour drive from home. And then to even farther away — an airplane ride away. The expense of that, along with the distance, reduced visits to once or twice a year.
Shortly after I moved to Kansas (and back within driving distance) in 1990, Dad had a stroke and was left in such serious condition that he spent the remainder of his life in an assisted living facility where he could get the care he needed. Now you could add in the sadness of visiting — seeing him disabled after so many years of remembering him as the strongest man on Earth.
Gradually, I got used to spending more time remembering him the way he was in my childhood and early adulthood and pushed the picture of the old man in a wheelchair to the back of my mind.
I am incredibly glad that we did make a trip back to visit after the birth of my oldest granddaughter and that he got to see and hold his first great-grandchild. He did recognize me and my daughter and understood who Chloe was. He was incredibly happy to see us and his big, wide-open smile is something that is vivid in my memory from earliest childhood until today. Nobody enjoyed a good story or a good joke as much as my dad. And nobody I have ever met took as much joy in the daily routine of just going about life on the farm.
Dad was up every morning at daybreak. For most of high school, I was the one who was up with him, helping with chores before I headed back to the house to make breakfast for my siblings and make sure they were ready by the time the school bus arrived. We didn't share much time, though. Rather, we divided up the chores that had to be done and went our separate directions.
That's the way it was on the farm in those labor-intensive days. There wasn't time to just tag along; you had to pull your weight. I took care of milking the cow and screening the milk and putting it into the pasteurizer. He fed the hogs because I hated hogs. I turned the chickens out and gathered the eggs because that was quick and close to home. He hauled hay to the cattle because they were in pastures 5 miles from the house. I usually had breakfast made and everybody ready to eat by the time he got home, and then I made beds while everybody ate breakfast.
My mom had health problems, and I usually made something for lunch for Dad from the leftovers of the previous night's supper and left a covered plate in the fridge for him. If there were no leftovers, he was happy with a peanut butter sandwich and cookies. My sister cleared the table and washed the dishes. Then we all raced to catch the school bus at 7:20 a.m.
On weekends and during the summer we were incredibly busy, but we had a lot more time to spend together. I remember Dad trying to teach me to hunt. We all learned to handle guns and to shoot and hit a target early in life. After all, we lived miles from the nearest town in the hilly, wooded territory of northeast Missouri, and rabies was an annual spring scourge.
Hunting healthy animals, though, and killing them — even for food — was a tough sell to me when we had a freezer full of beef, pork and chicken. My contribution to the hunt was to walk along singing and making as much noise as possible to alert the animals of impending danger. Pretty soon I didn't go along anymore, except to hunt raccoons, which for some reason was worth the adventure of wandering around in the dark and listening to the dogs. We rarely if ever shot a raccoon, which was fine by me. It was the tromping through the woods in the dark I liked. I can remember my dad telling me time and time again to shine the flashlight where I was walking, not up in the trees.
"You aren't going to trip over a tree," he'd say. "Light up the path where you are walking."
But I liked spotting owls in the trees, and I loved the way the flashlight beam looked poking through the leaves into the night sky.
Sometimes early in the morning or just about twilight, we'd try our luck fishing in the creek that ran through the land we called "the other place" or the "Meyers place." We caught mostly crappie and catfish, and somehow catching and cleaning them never bothered me the way shooting the warm-blooded animals from the woods did.
I remember hours spent at Dad's side, running germination tests on certified soybean seed or cleaning beans at the "fanning machine" where we'd set a burlap bag on a scale under the hopper until it weighed 60 pounds, then move it off to the side, attach another bag and turn to sew up the top of the one just removed. After stitching, it went into the truck bed, ready for delivery.
I remember days in the hay field, first driving the tractor for picking up bales, then stacking bales on the wagon, and finally progressing to picking bales up from the ground and tossing them to my younger sisters to stack on the wagon.
At the time, it all seemed like hot, sticky, dirty work, and I was always glad to see my birthday in August arrive because it was almost time to go back to school and to the books and the classes that I loved.
Now it seems like a rapidly passing kaleidoscope of memories of days when I wasn't worried about much of anything, when the nuclear bombing drills were more a game than a threat and no one ever spoke of a faraway country called Vietnam.
Neither I, nor the world, will ever be that innocent again. That may be why, on Father's Day, my dad always seems a little closer than during the rest of the year. For just one day, I relive those days in my memories.
Subscribe to receive top agriculture news
Be informed daily with these free e-newsletters
You May Also Like
---